Arizona AG Blasts Election Fraud Claims Ahead of Kari Lake's Expected Win
Arizona Attorney General Mark Brnovich has dismissed an "absurd" suggestion that hundreds of dead people voted in the 2020 election following an investigation.
In a letter to Arizona state Senate President Karen Fann, who has frequently pushed the debunked claim of widespread voter fraud in the last election, Brnovich said his office's Election Integrity Unit looked into allegations of dead voters which were made in the heavily disputed audit from the company Cyber Ninjas.
The audit, which was ordered by Fann, claimed that 282 individuals who died before October 5, 2020, voted in the November 3 presidential election.
Brnovich said his team spent "hundreds of hours" investigating the claims from Cyber Ninjas and found that only one of the 282 individuals on their list was dead at the time of the election.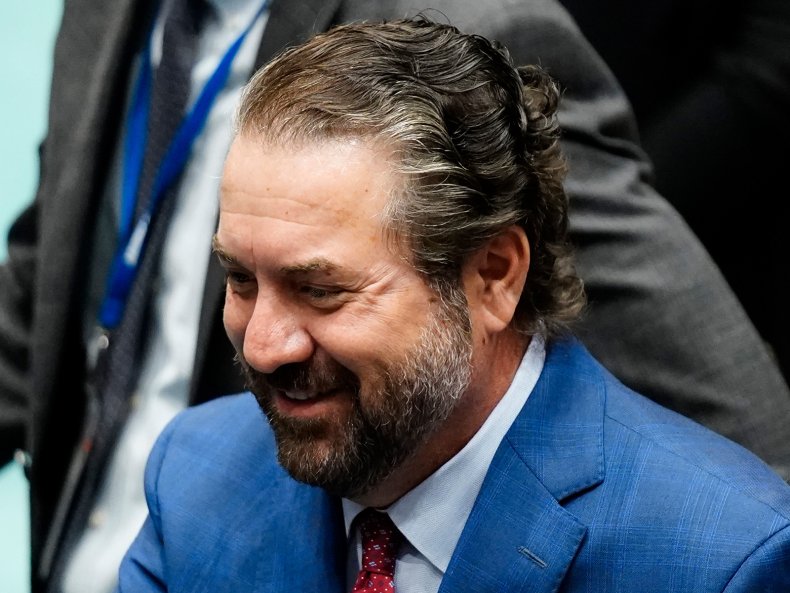 "Our agents investigated all individuals that Cyber Ninjas reported as dead, and many were very surprised to learn they were allegedly deceased," Brnovich said.
Brnovich's letter to Fenn was sent one day before the polls opened in the Arizona GOP gubernatorial primary, in which allegations of voter fraud have been the focal point for most of the competitors' campaigns.
The two main frontrunners for the Republican nomination for Arizona governor are the Donald Trump-backed Kari Lake, who has long supported the false claim that the 2020 election was "stolen" from Trump and is widely predicted by polls to win on Tuesday, and Karrin Taylor Robson.
Robson, a former member of the Arizona Board of Regents, said the last election was "absolutely not fair" but has stopped short of saying it was stolen.
Brnovich said the Election Integrity Unit also investigated claims of deceased voters from other sources, which combined totaled 409 dead individuals. The investigation only turned up a "handful" of potential cases of fraud.
"Some were so absurd the names and birthdates didn't even match the deceased, and others included dates of death after the election," Brnovich said. "While our office has successfully prosecuted other instances of dead voters, these cases were ultimately determined to be isolated instances."
Brnovich said another report which made "no distinction between dead voters and dead registrants" included 5,943 names.
In a statement to Newsweek about the investigation's findings, Fann said: "We're thankful for the tireless work from Attorney General Mark Brnovich and his entire team while answering some tough questions from voters and lawmakers who had grave concerns over how the 2020 General Election was conducted in Arizona.
"They asked us to do the hard work of fact finding, and we are delivering the facts. This step of the AG's investigation is critical to restoring the diminished confidence our constituents expressed following the last election. We're grateful for the increased voter integrity measures put in place after the audit revealed weaknesses in our election processes.
"We will continue to work on election integrity policies in Arizona with an end goal of making it 'easy to vote yet hard to cheat' within our state."
A number of Republican and far-right figures are still falsely claiming that there was widespread voter fraud in Arizona during the 2020 election, despite no evidence showing this.
Lake has already said there is voter fraud in the GOP primary election, without citing any proof.
"We're already detecting fraud and believe me, we've got cyber folks working with us, we've got lots of attorneys," Lake told her supporters at a campaign event in Phoenix, The Washington Post reported. "I'm hoping that we have the sheriffs that will do something about it. We'll keep you posted."
It remains to be seen if Lake will still push disputed voter fraud claims if she goes on to win Tuesday's primary, as expected.
A recent OH Predictive Insights poll found that Lake holds a 51 to 33 percent lead over Robson.
A Rasmussen Reports poll from around the same time also shows Lake with a 43 percent to 34 percent lead over Robson, with an Alloy Analytics survey giving Lake a 10-point lead (45 percent to 35 percent).
Update 08/02/2022, 9:30 a.m. EDT: This article has been updated with comment from Arizona state Senate President Karen Fann.