Donald Trump Plans Another Arizona Rally Amid Close Governor Race
Donald Trump is set to hold a rally in Arizona in support of a host of candidates he has endorsed in the state, with polls suggesting his choice for governor's lead is slipping.
The former president announced on Monday that he will appear in Prescott Valley on Saturday, where he will deliver remarks "in support of Kari Lake for Governor, Blake Masters for U.S. Senate, and the entire Arizona Trump Ticket."
The announcement arrived as polls indicate that the GOP primary for the Arizona governor looks set to be particularly close now the field has been narrowed down to two main frontrunners—the Trump-endorsed Lake and Karrin Taylor Robson, a former Arizona Board of Regents who has the backing of Gov. Doug Ducey.
According to a recent OH Predictive Insights poll, Robson appears to have benefited from former congressman Matt Salmon dropping out of the race to become the next Arizona governor.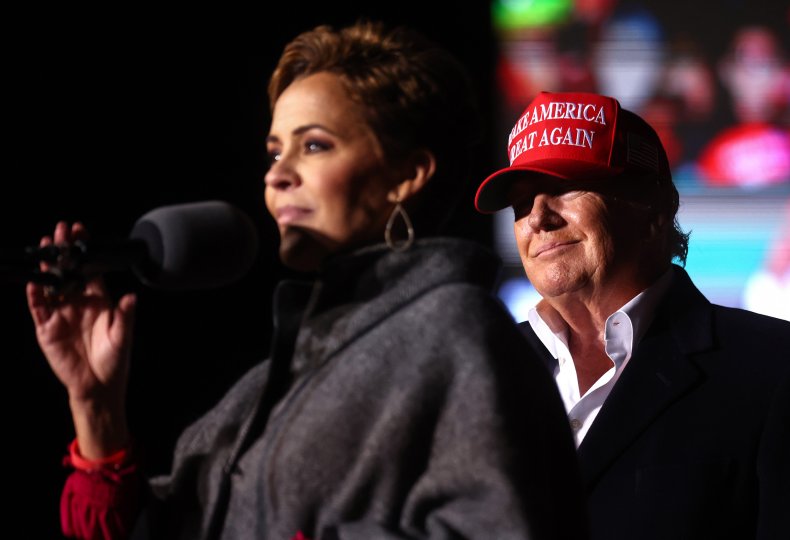 The survey found that when Salmon was still an option—attracting 6 percent of support—Lake led Robson by 39 percent to 31 percent. However when Salmon is removed from the poll, Robson gains an additional 4 percent, compared to Lake's 1 percent, giving the Trump-endorsed candidate a narrower 5-percent lead.
Pollsters believe that Salmon's endorsement of Robson after he dropped out of the race helped her as she picked up virtually all of Salmon's women voters and most of his voters over 65 years old supporters as a result.
"Seeing the comparison with and without Salmon gives an even closer look into what's going to happen at the polling booths in August," said Mike Noble, OHPI chief of research.
"Although Lake has kept a steady lead, Robson is the clear beneficiary in Salmon's drop-out; this plus his more recent endorsement might be just what Robson needs to stay competitive in this primary."
The survey was conducted before Ducey announced that he was supporting Robson in the race, which may also give Robson an additional boost ahead of August's primary.
"She's a native Arizonan and lifelong Republican who got her start working for President Reagan," Ducey said in his July 7 endorsement video. "Karrin is the real deal: pro-life, pro-gun, and pro-wall—and she'll stand up to Joe Biden and the radical left."
The endorsement sets up a battle between the MAGA candidate Lake, and the more traditional Republican and Ducey-backed Robson.
Trump has frequently attacked Ducey for not supporting his baseless election fraud claims.
Just like the rest of the candidates for the Arizona GOP primary, Robson has spread doubt about the results of the 2020 election—including saying during a televised debate they were "absolutely not fair."
Lake has also frequently pushed false claims about the results of the last election, and stated that she would not have certified the Arizona results in favor of Joe Biden if she were governor.
In his most recent backing of Lake when early voting started in the Arizona primaries, Trump said in a July 6 statement: "With Kari, you'll have Election Integrity, Strong Borders, Safe Streets, and all of the other things you've wanted for so long. Vote for Kari Lake. She has my Complete and Total Endorsement!"