Trump's Revenge Pick in Arizona Caught Promoting Jan 6 Conspiracy in Audio
A Trump-endorsed Senate candidate in Arizona was caught promoting another conspiracy theory in newly-obtained audio in which he suggested that the riot at the U.S. Capitol on January 6, 2021, may have been a false-flag operation set up by the FBI.
Senate hopeful Blake Masters told conservative activists at a meeting in Phoenix on March 30 that he would support investigating the federal intelligence agencies for "nefarious activities," CNN reported on Wednesday.
"Don't we suspect that like one-third of the people outside of the Capitol complex on January 6 were actual FBI agents hanging out?" Masters was heard asking those at the GrassRoots Tea Party Activists of Arizona event. "What did people know and when did they know it? We got to get to the bottom of this."
The attack on the Capitol was carried out by a pro-Trump mob aimed at blocking Congress from certifying the results of the 2020 presidential election. Five people died in connection with the riot.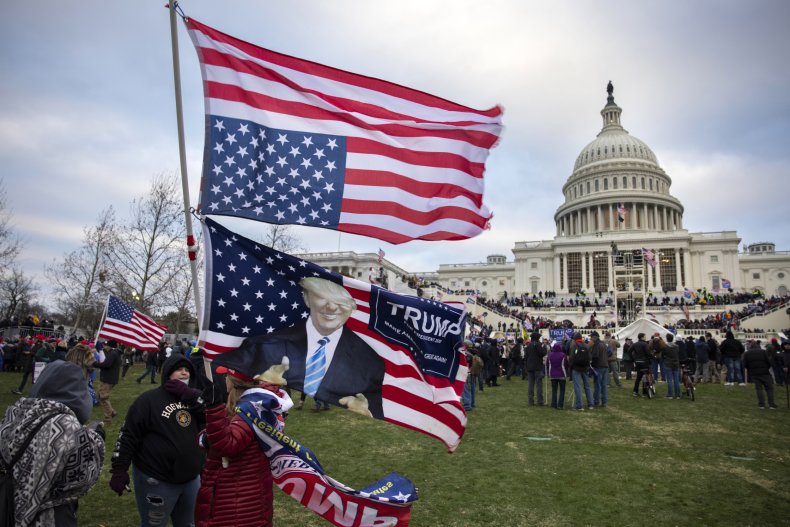 Masters, who has backed the former president's unfounded election fraud claims, earned Trump's support last week in what was widely seen as a revenge move against Arizona Attorney General Mark Brnovich, who failed to find widespread voter fraud in an audit of the election results in Maricopa County.
At the March event, Masters was also heard claiming that Big Tech modified its algorithm to help President Joe Biden win the White House and that the U.S. has a "two-tiered justice system" wherein liberal protesters receive lighter sentences than the rioters who were part of the pro-Trump mob on January 6.
This is not the first time Masters has promoted a conspiracy theory since announcing his bid to unseat Democratic Senator Mark Kelly in the midterm elections. In a November campaign video, Masters declared: "I think Trump won in 2020." His allegiance had not gone unnoticed by the former president.
In a statement announcing his endorsement of Masters in the Republican primaries, Trump hailed the candidate for his commitment to those claims, saying "Blake knows that the 'Crime of the Century' took place, he will expose it and also, never let it happen again."
Apart from conspiracies related to the election, the Republican has also pushed the "great replacement" theory that suggests immigrants are being brought into the U.S. to "replace" white voters for a political agenda.
He has previously accused the Democratic Party of changing the "demographics" of the country to "import an entirely new electorate. Experts have warned that the conspiracy has deadly impacts. A Newsweek analysis found that the "great replacement" has inspired a string of mass killings across the nation.
Masters has also recently come under criticism for his remarks blaming the nation's gun violence on "Black people, frankly."
Newsweek reached out to Masters for comment.