Trump-Backed Senate Candidate Blames Gun Violence on Black People
Republican Senate candidate Blake Masters, who was endorsed last week by former President Donald Trump in Arizona's GOP primary, admits that the country is facing a problem with gun violence but blamed the issue on "Black people, frankly."
"We do have a gun violence problem in this country, and it's gang violence," Masters said on an April 11 episode of The Jeff Oravits Show, a local Arizona radio show. "It's gangs, it's people in Chicago, in St. Louis, shooting each other. Very often, you know, Black people, frankly. And the Democrats don't want to do anything about that."
Trump endorsed Masters last Thursday in what was seen as a retaliatory move against state Attorney General Mark Brnovich, who refused to help the former president overturn the results of the 2020 presidential election.
"Arizona is a State where the 2020 Election was Rigged and Stolen, and a very thorough audit proved it," Trump said in a statement. "Blake knows that the 'Crime of the Century' took place, he will expose it and also, never let it happen again. It is my great honor to give Blake Masters my Complete and Total Endorsement!"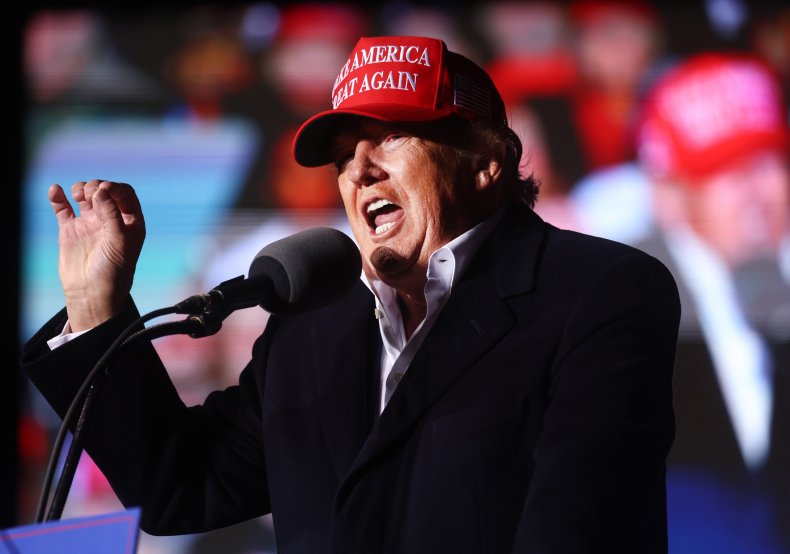 Masters, a venture capitalist and president of The Thiel Foundation, is among a number of Republican Senate candidates who have recently pushed the "great replacement" theory—a far-right conspiracy suggesting that immigrants are being brought into the U.S. to "replace" white voters for a political agenda. The theory has inspired a number of mass shootings across the nation.
Masters has previously accused the Democratic Party of trying to "change the demographics of our country," saying that "they hope to import an entirely new electorate."
On The Jeff Oravits Show, Masters called the Democrats "light on crime" and likened their approach to crime to "crocodile tears."
"What they mean by gun control is disarming you and me. I'm sure occasionally a ghost gun—a homemade firearm—is used in crime, but it's pretty rare...usually, it's just a black-market handgun," the Senate hopeful said. "What they do when they ban things like ghost guns, when they ban things like pistol braces, which they're trying to do, that's all about disarming law-abiding people."
Everytown for Gun Safety, a gun control advocacy group, has tracked 84 ghost gun shootings since 2018. In Arizona, Phoenix police recovered 30 ghost guns in 2020 and collected 31 in the first six months of 2021.
"Untraceable DIY ghost guns are the fastest growing gun safety problem in the country," the nonprofit's website says. "They've become a weapon of choice for violent criminals, including white supremacists. And because they can be obtained with no background check and no questions asked, they are undermining gun safety laws across the country."