Former President Donald Trump is continuing his revenge tour of endorsements—this time in an Arizona Senate race where a Republican attorney general is looking to unseat Democratic Senator Mark Kelley.
Running for Senate, Arizona Attorney General Mark Brnovich has shifted gears on the 2020 presidential election, expressing "serious concerns" over the state's election integrity despite initially refusing to overturn the results of the 2020 presidential election.
But Brnovich's change of heart was not enough to win over Trump, who endorsed Blake Masters—a venture capitalist and associate of billionaire Peter Thiel—in the GOP primary instead.
On Thursday, the former president didn't use his endorsement of Masters just to tout the candidate's platform. Trump also used the opportunity to slam Brnovich, who was once the frontrunner in the Republican race, for failing to find widespread voter fraud in his office's investigation of the 2020 results in Maricopa County.
A GOP-led audit of Arizona's largest county reaffirmed President Joe Biden's win in 2020, concluding that Biden won by a slightly larger margin than the 45,000-vote lead he originally had over Trump.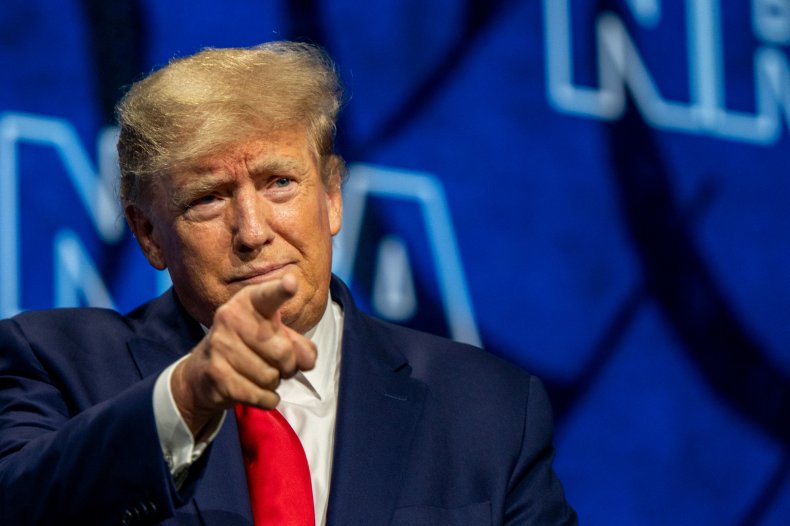 "Mark Brnovich is such a disappointment to me," Trump said. "He is the current Arizona Attorney General, and while he understands what took place in the 2020 Presidential Election, and that it was Rigged and Stolen, he only views it as something he would like not to see happen again."
"Arizona is a State where the 2020 Election was Rigged and Stolen, and a very thorough audit proved it," he added. "Blake knows that the 'Crime of the Century' took place, he will expose it and also, never let it happen again."
Trump and his allies, who unsuccessfully sought to challenge Arizona's election results, have been unsatisfied with Brnovich's response, arguing that it isn't enough for the attorney general to simply investigate the alleged fraud—the probe must result in arrests or prosecutions.
"All talk and no action!" Trump exclaimed on Thursday.
"The Maricopa County Board of Supervisors refused to comply with a lawful Arizona Senate subpoena, and Brnovich failed to use his authority to compel the County to turn the information over. He didn't want to make 'waves,'" he said.
Trump continued, "Brnovich, therefore, does not support clean and fair elections, or law and order, and could not properly represent the people of Arizona in the United States Senate."
Trump's latest endorsement of Masters suggests that the former president won't accept candidates who walk a fine line on the 2020 election, much like Brnovich has done.
Unlike some of his Republican colleagues, Brnovich has not called to decertify the state's results or adopt changes to Arizona's mail-in voting. But in recent months, Brnovich has raised questions about the legitimacy of the election process.
"It's frustrating for all of us, because I think we all know what happened in 2020," the attorney general said on an April episode of Trump ally Steve Bannon's podcast "The War Room."
Lorna Romero, a conservative political consultant, told The Washington Post that Brnovich's change in tune echos the approach of other Republicans across the nation who have realized they may need to recalibrate their stance if they still hoped to run for office.
"I guarantee you there's plenty of Republicans out there that saw that there was a massive groundswell and a good fundraising opportunity," Romero said earlier this year.
In a Thursday statement, Brnovich's campaign manager, Brandon Urness, said that he "intends to fight and win this Primary Election and we look forward to working with President Trump to defeat Mark Kelley this fall."
Update 06/06/22 2:10 p.m. ET: This story was updated with comment from Brandon Urness.