Conservative Legislators Call for Audits in 50 States in Bid to Decertify Joe Biden's Win
An open letter signed by 186 conservative legislators from 39 states has called for a 50-state audit of the 2020 presidential election. If fraud is uncovered, the U.S. House of Representatives should decertify the victory of President Joe Biden, the letter states.
The letter, shared via Twitter on Tuesday by Republican Arizona state legislator Wendy Rogers, claims that "our representative republic suffered a corrupted 2020 election."
"Sworn affidavits have accumulated from many states detailing rampant corruption and mismanagement in the election process," the letter states. "Fraud and inaccuracies have already been shown through multiple audits and canvasses in multiple states, as well as through lawsuits challenging the validity of election results in several counties in multiple states."
The letter does not specifically cite any specific instances of proven or alleged corruption.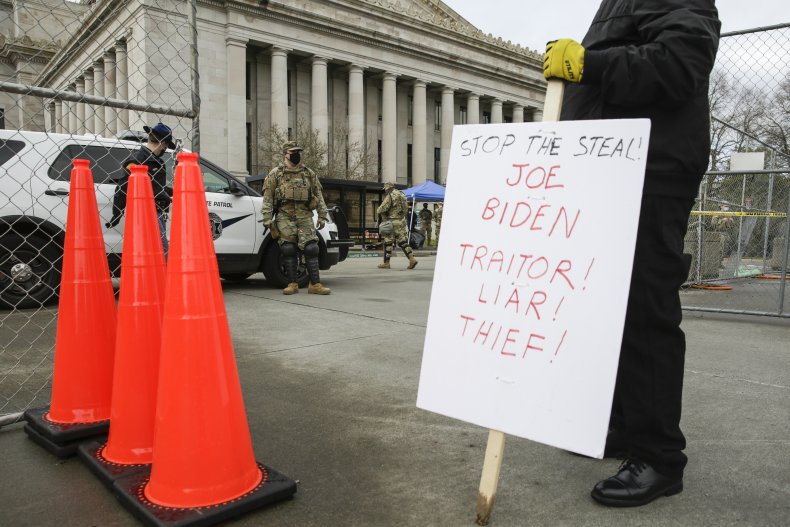 It also claims that it has been proven in Arizona that "an inaccurate election was held." But while several state Republicans have made similar assertions, other state politicians have referred to such claims as "twisted conspiracy theories."
The letter adds that states should "decertify its electors where it has been shown the elections were certified prematurely and inaccurately." It also suggests scrubbing voting rolls across the nation to "ensure future integrity of our elections."
The letter comes a few weeks after Republican former President Donald Trump issued a public statement asking Arizona and other states to "decertify" Biden's win.
Trump's statement mentioned Arizona Attorney General Mark Brnovich's recent launch of an investigation into the state's presidential election. Brnovich himself certified the state's election results in November 2020.
Former Maricopa County Recorder Adrian Fontes said that Brnovich questioned him in early November, according to Arizona NPR station KNAU. Fontes called Brnovich's investigation, "A sad and dangerous situation meant to advance conspiracy theories."
Liz Harrington, a Trump spokesperson, told USA Today that a September 24 report detailing a Republican-led audit of the election results in Maricopa County "clearly show the election in Arizona as counted should never have been certified."
However, the audit found that Biden won more votes than previously expected. The report found no evidence that voter fraud affected the election's outcome.
The audit's nearly $5.7 million in expenses were paid by five groups headed by Trump supporters seeking to delegitimize the election's results. The state Senate hired a group called Cyber Ninjas to conduct the audit even though the company had never conducted such an audit. Its CEO had previously spread conspiracy theories about election fraud.
The report suggested there were problems with Maricopa County's voter rolls. However, Jack Sellers, the Republican chairman of the Maricopa County Board of Supervisors, said that the Cyber Ninja's "opinions" about the voter rolls came "from a misuse and misunderstanding of the data provided by the county and are twisted to fit the narrative that something went wrong."
After losing the 2020 election by an Electoral College tally of 306 for Biden and 232 for Trump, the former president claimed that he had only lost due to an unprecedented nationwide conspiracy of voter fraud.
Trump's former attorney general, his former head of U.S. cybersecurity infrastructure, over 60 court cases filed by Republicans, as well as numerous statewide audits have all concluded that there's no real evidence that the 2020 election was stolen.
In early October, Stephen Richer, a Republican who serves as the Maricopa County recorder, said that the majority of Republican Arizona lawmakers he speaks with actually know Trump's and their own election fraud claims are "all BS."