Arizona GOP Official Says Majority of State Republicans Know Election Fraud Claims 'All BS'
A Republican official from Maricopa County said that the majority of GOP Arizona lawmakers he speaks to actually know that former President Donald Trump's and their own election fraud claims are "all BS," although many continue to give them credence anyway.
Stephen Richer, a Republican who serves as the Maricopa County recorder, previously explained how he voted for and campaigned for Trump. However, he has expressed frustration with fellow Republicans who continue to baselessly allege that Trump lost in his county and Arizona due to voter fraud.
Late Friday evening, Richer posted a tweet highlighting remarks from GOP Arizona state Senator Wendy Rogers attacking a conservative who helped with the widely criticized Cyber Ninjas audit of Maricopa County. Rogers, like many other Arizona Republicans, continues to baselessly claim that the 2020 presidential results were tainted by fraudulent ballots.
"At least Wendy Rogers is open about the goal. 3 types of gop state senators:
1) those like Rogers, true believers, for whom it was about overturning the election
2) those who know it's all BS, but need to be seen doing something
3) those who publicly call it BS," Richer wrote in Twitter.
"(Majority of GOP state legislators I speak to privately are in camp 2)" he added in a follow-up post.
Fellow Maricopa County Republican officials testified before Congress this past week, also criticizing GOP lawmakers for making false allegations about the way their county conducted the 2020 election.
"The 2020 election in Maricopa County—the general election—was the best election we've ever run in Maricopa County," Bill Gates, a Republican who serves on the Maricopa County Board of Supervisors, said in his opening statement before the House Oversight Committee.
"And the way that I know that is that it was the most scrutinized election in the history of Maricopa County. Election experts said that. Machine counts confirmed it. Hand counts confirmed it. The court system reconfirmed it," he said.
Gates went on to say that "unfortunately" some Republicans "have attacked the work that was done by our election workers in Maricopa County and they have fanned the flames of conspiracy."
Jack Sellers, a Republican who chairs the Maricopa County Board of Supervisors, accused fellow GOP officials of seeking power and financial gain through promoting the misinformation.
"It's become clear that there are those who don't care what the facts are. They just want to gain political power and raise money by fostering mistrust of the greatest power an individual can exercise in the United States—their vote," Sellers told the House committee.
In August, Richer released a 38-page open letter to fellow Republicans outlining why the claims of fraud were inaccurate and harmful to the election system.
"More than any moral code, philosophical agenda, interest group, or even team red vs. team blue, many politicians will simply do whatever it takes to stay in office." Richer wrote.
"Right now, a lot of Republican politicians have their fingers in the wind and think that conforming to Stop the Steal, or at least staying quiet about it, is necessary for reelection in their ruby red districts or a statewide Republican primary. So that's what they'll do. Multiple elected or hoping-to-be-elected Republicans have told me this explicitly," he said. "It's disgusting."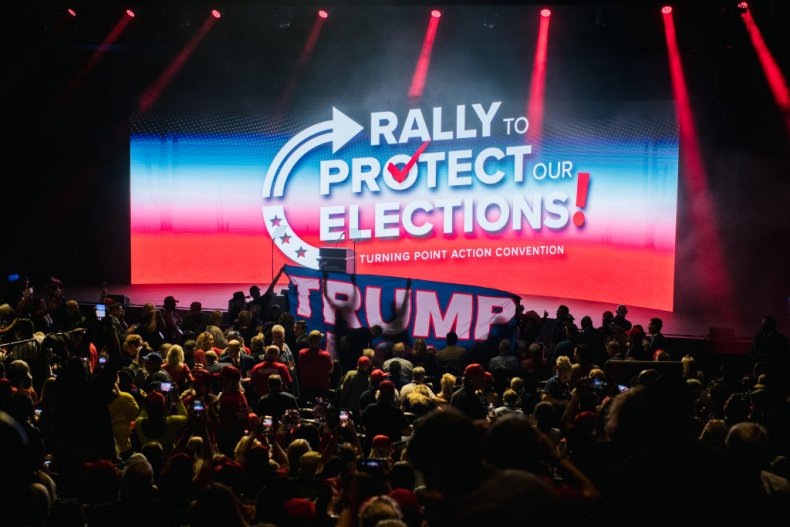 The GOP-backed Cyber Ninjas review of Maricopa County ultimately concluded that the original tally of votes was accurate, although election experts have said the company's audit was "laughable." There were previously three non-partisan audits of Maricopa's results which did not uncover any widespread fraud.
Meanwhile, Trump and many Republican allies are calling for the decertification of Arizona's election results. GOP Governor Doug Ducey has rejected that pressure campaign.
"When it comes to the audit, like the three audits that preceded it, it's now over. The outcome stands, and the 2020 election in Arizona is over," Ducey wrote in a September 24 tweet.
"There will be no decertification of the 2020 election. The audit does not call for one, and even if it had, there is no lawful way to decertify. As we have every step of the way, Arizona will follow the law," the GOP governor added.
Newsweek reached out to Karen Fann, the Republican president of Arizona's state Senate, for comment but did not immediately receive a response.