Ariz. GOP Official Releases Open Letter to Republicans Blasting Trump's Voter Fraud Claims
A Republican official from Arizona's Maricopa County blasted former President Donald Trump's baseless election fraud claims in a detailed 38-page letter to fellow members of the GOP, describing the controversial Cyber Ninjas audit in the state's most populous county as "an abomination."
Stephen Richer, Maricopa's county recorder, issued the scathing letter outlining the reasons why the Republican-backed audit is flawed and driven by misinformation promoted by Trump and his allies. The Cyber Ninjas audit, which was commissioned by Arizona's GOP-controlled state Senate, is winding down. But GOP officials in Maricopa have regularly criticized the inaccurate information being reported by the Florida-based company and Republican state senators.
"At this point, I hope my principal motivation for speaking out is abundantly clear: the Ninja audit is an abomination that has so far eroded election confidence and defamed good people," Richer wrote in his letter to fellow Republicans.
The county official explained at length how he had campaigned for Trump, as had his family. He also pointed out that he initially held back, choosing not to speak out as election challenge lawsuits went through the courts. But there was a point where he could not keep silent, he said.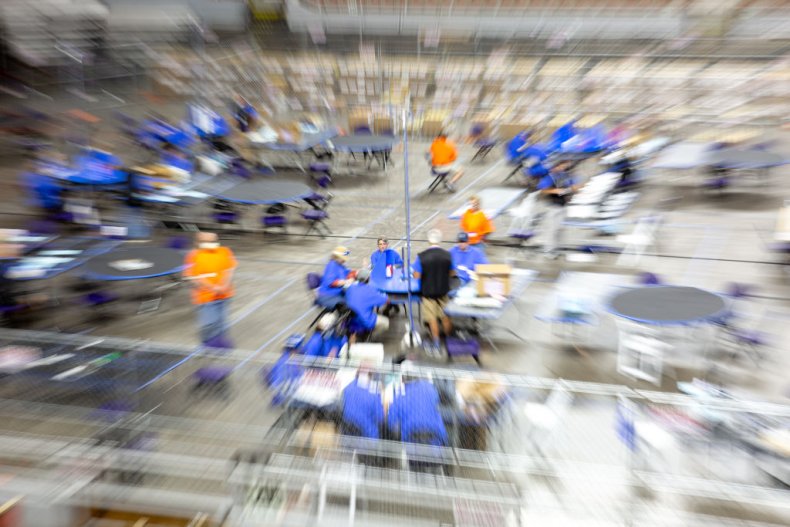 "More than any moral code, philosophical agenda, interest group, or even team red vs. team blue, many politicians will simply do whatever it takes to stay in office." Richer wrote.
"Right now, a lot of Republican politicians have their fingers in the wind and think that conforming to Stop the Steal, or at least staying quiet about it, is necessary for reelection in their ruby red districts or a statewide Republican primary. So that's what they'll do. Multiple elected or hoping-to-be-elected Republicans have told me this explicitly," he said. "It's disgusting."
Richer went on to write that he's "embarrassed" to hear Republicans "concoct the most outlandish theories (Chinese ballots!) to avoid accepting the reality: we lost the top two races in Arizona." He pointed out in the letter that many of the election officials now being attacked by Republicans had overseen elections in which former GOP presidential candidates handily won.
Arizona state Senate President Karen Fann, a Republican, has repeatedly defended the audit, saying it's necessary to ensure confidence in the state's elections. But GOP officials from Maricopa County have said the audit has done precisely the opposite. They've also said that the results were already formally audited, revealing no signs of fraud or significant discrepancies. Richer also pointed to this fact in his letter.
"After the November 2020 election, appointees from the Republican, Democrat, and Libertarian parties worked in bipartisan groups of three to hand count more than 47,000 votes. Though the County facilitated the hand count, the political party appointees performed the actual counting, not staff of Maricopa County. Those hand-counted votes matched the machine count 100%," he wrote.
"The County then ran another, post-election, logic and accuracy test to make sure the machines had not been disrupted in any manner during the election. The results again matched 100%," he added.
On Thursday, Arizona Secretary of State Katie Hobbs released a lengthy document outlining the flaws of the Cyber Ninjas audit.
"All credible audits are characterized by controls, access, and transparency that allow for the processes and procedures to be replicated, if necessary," her office wrote in the report. "As this report has described, the review conducted by the Senate's contractors has consistently lacked all three of these factors."
Jack Sellers, a Republican who chairs the Maricopa County Board of Supervisors, has repeatedly criticized and mocked the GOP-backed audit. In a statement earlier this month, he described the effort as an "adventure in never-never land."
"It is now August of 2021. The election of November 2020 is over," Sellers wrote in a letter. "If you haven't figured out that the election in Maricopa County was free, fair, and accurate yet, I'm not sure you ever will."
Newsweek reached out to Fann for comment but did not immediately receive a response.
Trump and his allies continue to baselessly claim that President Joe Biden won the 2020 election through widespread voter fraud. The allegation has already been thoroughly litigated in state and federal courts and wholly discredited.
Dozens of election challenge lawsuits have been rejected by state and federal courts. Even judges appointed by Trump and other Republicans have dismissed the lawsuits. Furthermore, audits and recounts in key battleground states—including in places where the election was overseen by pro-Trump Republicans—reaffirmed Biden's victory.
Former Attorney General William Barr, who was seen as one of Trump's most loyal Cabinet members, said last December there was "no evidence" of widespread fraud, as had been claimed. The Cybersecurity and Infrastructure Security Agency at the Department of Homeland Security described the 2020 election as the "most secure in American history." Led by a Trump appointee at the time, the agency said there was "no evidence that any voting system deleted or lost votes, changed votes, or was in any way compromised."