Arizona Election Audit Mocked by Maricopa County Chairman: 'Adventure in Never-Never Land'
The Republican Maricopa County Board of Supervisors chairman blasted state senators of his own party over their audit of the 2020 presidential election results, calling it an "adventure in never-never land," in a letter on Monday.
"It is now August of 2021. The election of November 2020 is over," Jack Sellers, a Republican, wrote. "If you haven't figured out that the election in Maricopa County was free, fair, and accurate yet, I'm not sure you ever will."
In the letter, tweeted by Brahm Resnik, a reporter for Phoenix-based news station KPNX-TV, Sellers wrote the State Senate GOP has not finished the audit because they "hired people who have no experience and little understanding of how professional elections are run."
He said the Board "has real work to do and little time to entertain this adventure in never-never land."
"Please finish whatever it is that you are doing and release whatever it is you are going to release," he wrote. "I am confident that our staff and volunteers ran the election as prescribed by federal and state law. There was no fraud, there wasn't an injection of ballots from Asia nor was there a satellite that beamed votes into our election equipment."
He called on all elected officials to "tell the truth and stop encouraging conspiracies." He asked them to release their audit report and "be prepared to defend any accusations of misdeeds in court."
"It's time to move on," he wrote.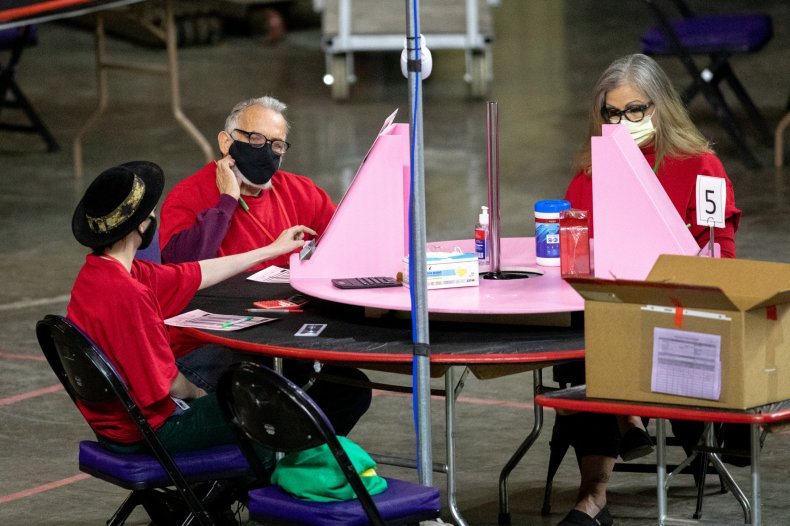 Newsweek reached out to Sellers for further comment, but had not heard back by publication time.
He said in a previous statement the Board had asked two firms to independently look at the security of election equipment, but the investigation showed that "no hacking or vote switching occurred in the 2020 election."
Sellers has been critical of those who have spread misinformation about the 2020 presidential election. In a statement he wrote following the January 6 riots, he condemned "those who are spreading misleading information and outright lies which were clearly a root cause" of the riots.
The Associated Press reported auditors had stopped counting ballots last week, but the recount's end was steeped in controversy when the Senate Liaison for the audit appeared to have stepped down last Wednesday after recent events made him question if his participation would put his credibility at risk. However, he took back the statement in the evening, saying he would not resign.
One Republican State Senator, Michelle Ugenti-Rita, withdrew her support of the audit, calling it "botched," the AP reported. She was later booed by a crowd at a rally that featured former President Donald Trump.
Several accounts related to the audit were also suspended from Twitter last week after breaking the rules, according to the Associated Press.
Monday was the deadline for Maricopa County and Dominion Voting Systems to respond to the senate's latest subpoena for election materials, The Arizona Republic reported. Neither are complying with the subpoenas.
President Joe Biden won the state of Arizona by more than 10,000 votes, and Congress certified the results. Although Trump and many allies continue to claim there was widespread fraud, they have not provided evidence to substantiate this claim. Audits and recounts in key states have failed, even when overseen by Republicans officials.