A Republican official from Arizona's Maricopa County warned that people have threatened to slaughter the families of local leaders after they stood up for the integrity of the 2020 election, as former President Donald Trump and other Arizona GOP lawmakers attempt to undermine it.
Bill Gates, a Republican member of Maricopa County's Board of Supervisors representing District 3, spoke with CNN on Friday regarding the threats he and other county leaders have received as they've pushed back against lies and misinformation being spread about the last election.
Arizona's state Senate Republicans have been working with Florida-based Cyber Ninjas to conduct a widely panned audit of the state's 2020 election results, driven by former President Donald Trump's debunked allegations that President Joe Biden won there through fraud.
"Unfortunately, the threats continue and they're not simply organic. They're being driven, unfortunately, by members of the Arizona state Senate and other Republicans across the country," Gates told CNN. "We receive phone calls into our offices at the Board of Supervisors, our staff, you know saying that our families are gonna be slaughtered. And threatening us to stop standing up for the good elections' workers of Maricopa County."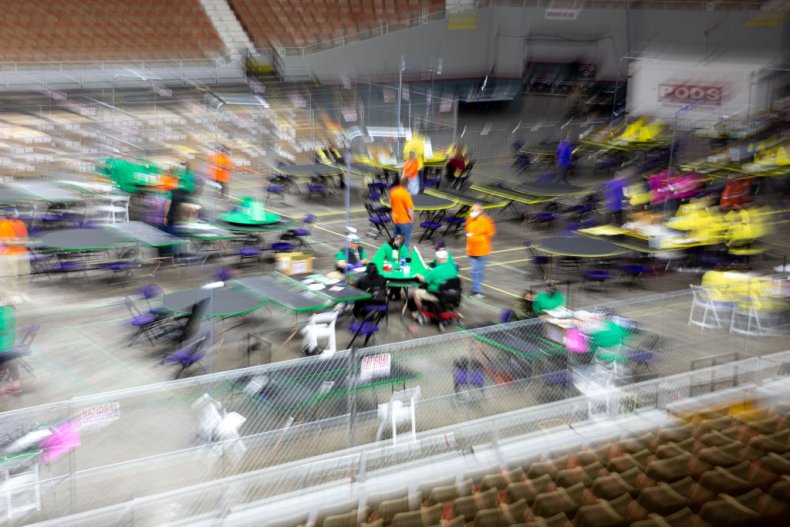 Karen Fann, the Republican president of the Arizona Senate, dismissed Gates' suggestion that the death threats were driven by GOP leaders.
"If he sincerely believes these comments are driven by actions of Republican leaders than does he also believe all the death threats I've received is because of the actions of the [Maricopa County] Board of Supervisors and Democrats?" Fann said in a Saturday email to Newsweek.
"Threats are never acceptable on any level towards anyone and they must stop," she wrote.
Republican leaders from Maricopa County have repeatedly debunked and pushed back against the baseless, and often bizarre, claims promoted by Trump and other GOP officials about the 2020 election there.
Gates again addressed some of the groundless allegations during the interview.
"This all comes down to the question of whether the machines used in the November 2020 election were connected to the internet, and they were not," Gates asserted.
The local GOP official pointed out that Maricopa County already had two independent auditors review the machines, establishing that they "were not connected to the internet."
Cyber Ninjas and state Senate Republicans have demanded that Maricopa County hand over routers to be investigated. Gates explained that county officials have already provided logs demonstrating that the routers were not connected to the internet. He said the county cannot turn over the actual routers without seriously compromising its information system, which is also shared with law enforcement.
Trump supporters and conspiracy theorists—such as MyPillow CEO Mike Lindell—have jumped behind false claims that China hacked the 2020 election using satellites. As Gates and other county election officials have explained, this is not possible because the machines were not connected to the internet. Officials have also pointed out that there are paper ballots, and that audits have already been conducted to confirm that the machine tallies were correct.
Nancy Przewrocki—the clerk of Delta County in Michigan where Trump won in 2020—asserted that ballot counting machines are "never connected to the internet" in a recent interview with CNN. Delta County is one of many in the country that has been the target of Lindell's and other Trump allies' claims of hacking and fraud.
"Never connected to the internet, at all, whatsoever," Przewrocki asserted.
Officials in Maricopa County completed a formal audit of their election results last November without uncovering any discrepancies. But GOP state Senate lawmakers have pushed forward with their own audit, driven by Trump's false claims.
Jack Sellers, a Republican who chairs the Maricopa County Board of Supervisors, blasted the "incompetence" of Cyber Ninjas in mid-July. He's also taken aim at Republicans in the state Senate, saying they "should be ashamed" of promoting "half-baked theories of the 'Deep Rig.'"
Updated 2:54 PM ET, with a statement from Karen Fann.