Mike Lindell Says 'God's Had His Hand' In Effort to Overturn 2020 Election
MyPillow CEO Mike Lindell, a prominent ally of former President Donald Trump, claimed that "God's had his hand" in the whole process that he and other Trump supporters have undertaken to overturn the 2020 election results—touting what he referred to as multiple "miracles" over the past several months.
Lindell—like Trump—continues to baselessly claim that the presidential election was "stolen" for President Joe Biden. These extraordinary allegations have already been thoroughly litigated in state and federal courts and wholly discredited. But the businessman continues to travel around the country, attending events where he promotes false claims and misinformation about the election results.
"God's had his hand in all of this," Lindell told an excited crowd at an Anaheim, California, "Health and Freedom Conference" on Saturday. A video of the remarks was uploaded to Lindell's website Frank Speech. "It was his timing. Can you imagine, if it would have happened earlier, you'd have all these people over here—they'd think they won and—and plus they don't want to accept that it was fraud."
The MyPillow CEO said that now that people are seeing Biden's policies "they are more open to seeing" that the election was fraudulent.
"And I know, not I believe, I know this will be the greatest uniting of our country in history. And we will once again be one nation under God and it will be the biggest revival for Jesus in history."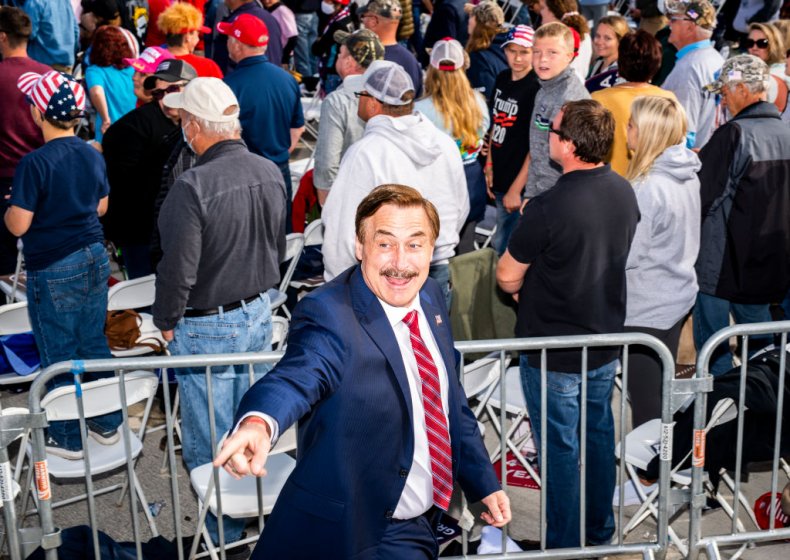 Earlier in his speech, Lindell argued that there were several "miracles" over the past few months, saying these things allowed the truth to be revealed.
"God's had his hand in all of this, that's a miracle," he said.
Lindell argued that the fact that judges ruled against Trump's and his supporters' election challenges actually has allowed what he claims is the truth to be revealed. He also said that the fact that both of Georgia's Senate seats flipped from Republican to Democrat in the January run-off was another "miracle," claiming that this was obvious evidence of more voter fraud.
Despite Lindell's and Trump's claims, they have not provided evidence that substantiates their allegations. Dozens of election challenge lawsuits filed by Trump and his allies have failed in state and federal courts. Even judges appointed by Trump and other Republicans have rejected the allegations.
Meanwhile, audits and recounts in key battleground states—such as Georgia where the election was overseen by a pro-Trump Republican—have reaffirmed Biden's victory. The victories of Georgia's two Democratic senators, Raphael Warnock and Jon Ossoff, were also reaffirmed by audits of the run-off results.
Former U.S. Attorney General William Barr, who was widely viewed as one of Trump's most loyal Cabinet members, said in December that there was "no evidence" to substantiate the claims of widespread fraud. Furthermore, the Cybersecurity and Infrastructure Security Agency at the Department of Homeland Security asserted that the election was the "most secure in American history."
Lindell and other key Trump supporters appear to be pandering their claims about the election to right-wing Christian nationalists. The former president received substantial support from conservative Christians, with roughly 8 in 10 white evangelicals casting their ballots for him in 2016 and then again in 2020. This religious demographic tends to be politically animated by their staunch opposition to women's reproductive rights, LGBTQ rights, and greater legal protections for the transgender community.
The organization Christians Against Christian Nationalism, led by Amanda Tyler, earlier this month launched a new curriculum in a bid to address the surge in Christian nationalism across the country. Tyler's organization promoted the effort alongside fellow Christian group Vote Common Good, working with church and religious leaders in key conservative states to respond through biblical examples to the right-wing movement within American Christianity.
Newsweek reached out to Trump's press office for comment, but did not immediately receive a response.