MyPillow CEO Mike Lindell, a prominent conspiracy theorist, insisted that there are "two pathways" to overturning President Joe Biden's victory in the 2020 election over former President Donald Trump.
Lindell, a staunch Trump loyalist, continues to baselessly claim that the last presidential election was "rigged" or "stolen" by the Chinese Communist Party to favor Biden instead of Trump. The extraordinary allegations about so-called "widespread fraud" in the election have already been thoroughly litigated in state and federal courts and wholly discredited. But Lindell and Trump continue to promote the groundless conspiracy theory.
"So you have two things here, two pathways to pull this election down and it's getting pulled down," Lindell claimed as he sat at a booth for his Lindell TV at the Conservative Political Action Conference (CPAC) in Dallas on Sunday. Video of his remarks was broadcast on the businessman's Frank Speech website.
Lindell explained that the "two pathways" were through the long-touted packet captures—which he plans to show to the world at a "cyber symposium" on August 10, 11 and 12—and election audits, like the one currently being conducted by Republicans in Arizona.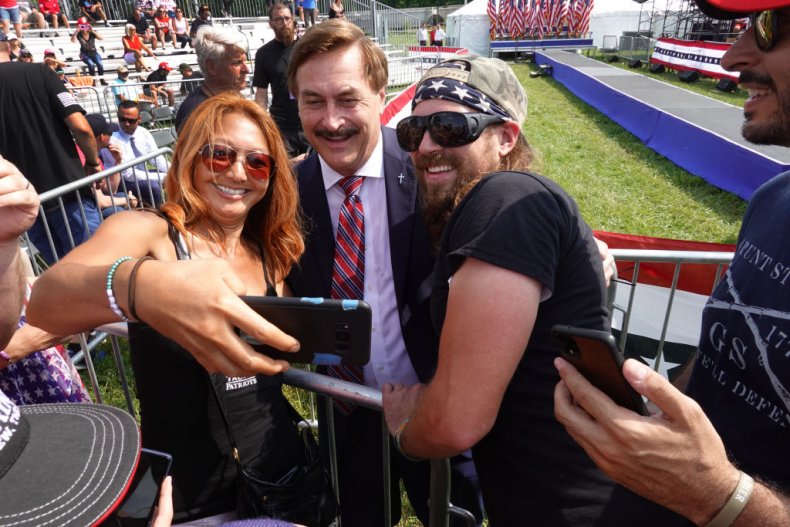 Packet capture refers to a data packet that is intercepted as it crosses or moves over a specific network. Computer scientists have repeatedly fact-checked the MyPillow CEO's claims about packet captures, pointing out the incoherence of his explanations and arguments. The Washington Post reported that the data of the packet captures that the businessman has used in his inaccurate documentaries on the election appear to just be Pennsylvania's voter information, which anyone can purchase. Meanwhile, the audit in Arizona has been repeatedly criticized and mocked, including by Republican election officials in the southwestern state.
Lindell suggested on Sunday that he views the audits as unnecessary, expressing the utmost confidence in his alleged packet captures from the election.
"The packet captures we have, we do not need those audits. But those audits—if you have the packet captures, which we do—if we didn't have them, all those audits are gonna prove the exact same thing," he insisted.
Notably, Lindell previously said during an episode of former Trump administration official Steve Bannon's War Room podcast earlier in July that he would show "at least three ways" that Trump will "absolutely be put back in" as president during his August cyber symposium.
"These three days in August are gonna change history. We're gonna say, 'Here it is,' and now everybody look at it and you see and you tell me—you can't change these packet captures, they're forever captured in time," the businessman said.
Recounts and audits in key battleground states—including in areas where the election was overseen by pro-Trump Republicans—have already reaffirmed Biden's victory over the former president. The Cybersecurity and Infrastructure Security Agency at the Department of Homeland Security said after the election that there was "no evidence that any voting system deleted or lost votes, changed votes, or was in any way compromised." The agency, which was led by a Trump appointee at the time, further described the election as the "most secure in American history."
Dozens of election lawsuit challenges brought by Trump and his allies have failed in state and federal courts. Even judges who Trump and other Republicans appointed have rejected the often bizarre claims. And former U.S. Attorney General William Barr, who was widely viewed as one of Trump's most loyal Cabinet officials, said in December that there was "no evidence" to substantiate the claims of widespread fraud.
Newsweek reached out to Trump's press office for comment.