GOP Election Analyst 'Aghast' at Arizona Audit as State Senator Threatens U.S. Attorney General
A Republican election analyst who voted for former President Donald Trump in the 2020 election said he's "just aghast" at the way the GOP-backed election audit in Arizona's Maricopa County has moved forward. Meanwhile, a Republican state senator threatened to imprison Attorney General Merrick Garland after he announced that the Justice Department would scrutinize any post-election audits to ensure they comply with voting laws.
The audit of Maricopa County's 2.1 million ballots has been widely criticized, including by a number of Republicans. Arizona's Republican state Senate President Karen Fann and fellow state GOP lawmakers pushed forward the audit based on former President Donald Trump's baseless claims that the 2020 election was "rigged" or "stolen" by President Joe Biden and the Democrats.
Maricopa County previously conducted hand recounts in November, as well as a December audit that did not uncover any irregularities.
"I'm just aghast at what is happening in the coliseum," Benny White, a GOP election analyst who has been involved in audits in Wisconsin, Maryland and Arizona, told local ABC affiliate channel 15.
"They're trying to create a completely new record. Then I suppose they were going to present that and say here is the truth, don't believe what was published in November," White said.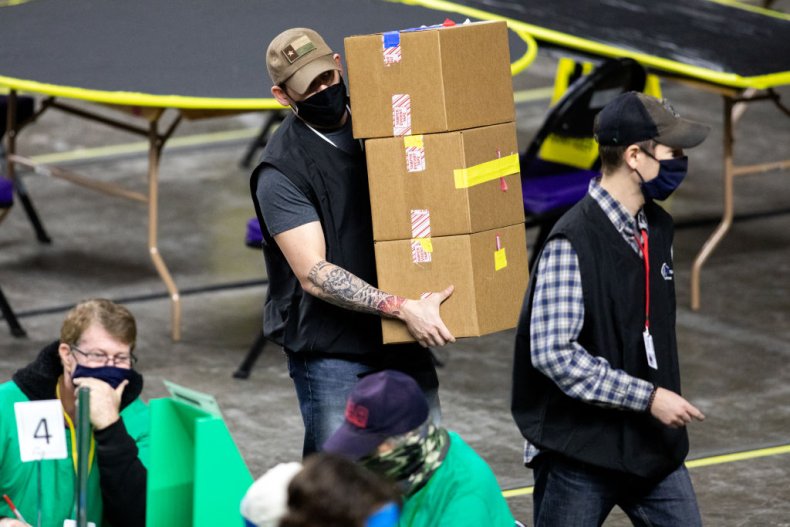 "If they were going to present the results of this audit or so-called audit as something that had credibility, that had reliability, that voters could look at and say there is some truth... They need to have some way of verifying what they're doing is complete and accurate," he warned.
Arizona state Senator Paul Boyer, a Republican, told The Hill in May that the audit process has been "embarrassing." Boyer's remark was notable, as he initially supported the process moving forward.
"The way they're doing it, it's embarrassing," the GOP lawmaker said. "It makes me embarrassed to be a state senator at this point."
In a Friday speech, Garland said that the Justice Department would scrutinize post-election audits—like the one going forward in Arizona—for any violations of voting laws. He pointed out that they were based on false claims that have already been wholly debunked and litigated.
"Many of the justifications proffered in support of these post-election audits and restrictions on voting," the attorney general said, "have relied on assertions of material vote fraud in the 2020 election that have been refuted by the law enforcement and intelligence agencies of both this administration and the previous one, as well as by every court—federal and state—that has considered them."
In response to Garland's speech, GOP Arizona state Senator Wendy Rogers threatened to put Garland in prison.
"You will not touch Arizona ballots or machines unless you want to spend time in an Arizona prison. Maybe you should focus on stopping terrorism. The Justice Department is one of the most corrupt institutions in the USA," Rogers tweeted on Friday.
In a February email, Fann admitted that she does not believe the audit will uncover fraud as Trump has claimed. "Personally I don't think we will find anything outside of the normal irregularities we have every election but am willing to go this extra mile if it puts these questions and concerns to rest," she wrote at the time.
Publicly, she has defended the audit as important to reassure Republican voters about the election results' integrity.
"It is our job to pass legislation, ensure the laws are working or update them as needed. The Senate works for our constituents, and it is our job to either prove or disprove their concerns to ensure election integrity," Fann told Newsweek in a Saturday email.
"When the audit is complete there will be plenty of time for 'experts' to agree or disagree with the findings. Until that time, it is inappropriate to interfere with the ongoing audit," she said.
Although Trump and his allies continue to claim that Biden won the election through widespread fraud, there is no evidence to support this extraordinary allegation. Dozens of election challenge lawsuits have failed in state and federal courts. Even judges appointed by Trump and other Republicans rejected the often bizarre claims.
Audits and recounts in key battleground states—including in areas where the election was overseen by pro-Trump Republicans—have reaffirmed Biden's win. Former U.S. Attorney General William Barr, who was widely viewed as one of Trump's most loyal Cabinet members, said in December that there was "no evidence" to support the claims of widespread fraud.
Furthermore, the Cybersecurity and Infrastructure Security Agency at the Department of Homeland Security has said there was "no evidence that any voting system deleted or lost votes, changed votes, or was in any way compromised."
This article has been updated with additional comments from Fann.