GOP Arizona Senate President Admitted In Email That She Didn't Believe Audit Would Uncover Widespread Fraud
Arizona State Senate President Karen Fann, a Republican, admitted in a February email that she does not believe the widely criticized election audit of Maricopa County will uncover any widespread voter fraud.
Fann and Arizona Republicans have pushed forward the 2020 election audit—motivated by former President Donald Trump and his allies' baseless claims that there was widespread voter fraud. Local GOP officials in Maricopa County have repeatedly refuted these groundless allegations. Arizona also already carried out a hand recount, which reaffirmed President Joe Biden's victory over Trump.
"I cannot begin to explain how much I really hate this whole thing," Fann wrote in an early February email, which was released publicly along with hundreds of others by the Arizona Senate due to a public records request from American Oversight. Local newspaper The Arizona Republic first reported on the email.
"Personally I don't think we will find anything outside of the normal irregularities we have every election but am willing to go this extra mile if it puts these questions and concerns to rest," Fann continued.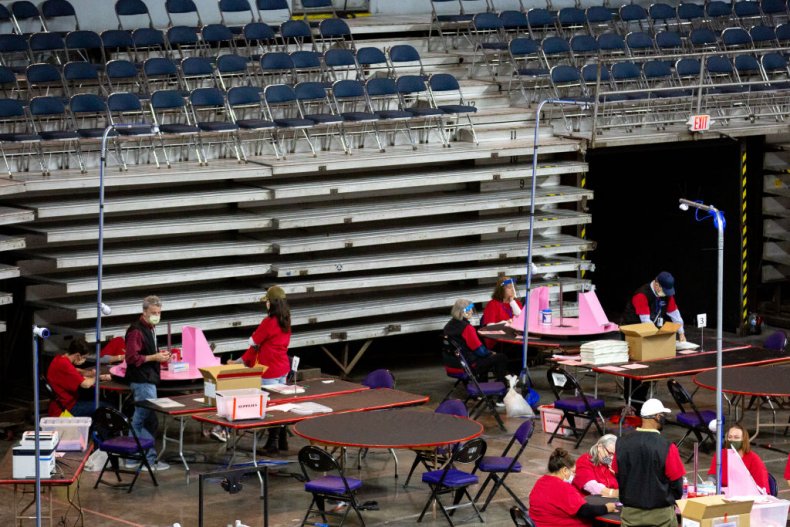 In an April 30 email, Fann asserted that the audit could not overturn the election and claimed that the Republican efforts had nothing to do with the former president.
"This absolutely has nothing to do with Trump," the GOP lawmaker wrote. "The election cannot be overturned. This audit is ONLY about election integrity, answering their questions, and hopefully proving there was nothing wrong with the election. Media is spinning this into something it's not."
However, that email appeared to be at odds with her remarks in a previous email in which she said the effort was being coordinated directly with Trump and his personal lawyer Rudy Giuliani.
"I have been in numerous conversations with Rudy Giuliani over the past weeks trying to get this done. I have the full support of him and a personal call from President Trump thanking us for pushing to prove any fraud," Fann wrote in a December 28 email in response to a constituent.
In a Saturday email to Newsweek, Fann said she "stated from day one this audit has nothing to do with overturning the election or decertifying the election."
"According to polling, Arizona has 45% of its voters who believe there were serious problems or fraud with the elections. As the Senate body, we are duty bound to pass and maintain safe and secure election laws and procedures. This audit is being done to answer all those constituents' concerns, either prove or disprove those concerns and strengthened [sic] our election laws if necessary," the Arizona Senate president wrote.
Arizona Republicans hired the Florida-based company Cyber Ninjas to conduct the audit. Although the audit was scheduled to be completed by mid-May, it remains ongoing with no clear deadline of completion. The process has been widely criticized and mocked, as auditors have bizarrely searched for traces of bamboo in ballots. Conspiracy theorists have baselessly claimed that counterfeit ballots with bamboo fibers were brought in from China.
"The way they're doing it, it's embarrassing," Arizona state Senator Paul Boyer, who previously supported the audit moving forward, told The Hill last month. "It makes me embarrassed to be a state senator at this point."
"I feel like we're in this fantasy land. I still have yet to see any evidence [of fraud], and I don't think it's coming," Boyer added.
Arizona's Secretary of State Katie Hobbs, a Democrat, told CNN on Thursday that the audit was creating an atmosphere "prime for cooking the books."
"This does not even closely resemble what you would see in a legitimate post-election audit that was trying to verify election results," Hobbs said.
"And we know that they are creating an atmosphere that is prime for cooking the books so that they can produce the result that they want to produce."