Conductors of 'Embarrassing' Arizona Audit Told to Preserve All Documents in Hint at Lawsuit
An attorney representing Maricopa County in Arizona sent the state's Senate President Karen Fann, a Republican, a four-page litigation hold and preservation notice on Friday, suggesting that the county may take legal action in the wake of several demonstrably false statements made by those auditing 2020 election results.
President Joe Biden narrowly won Arizona in the 2020 election, but former President Donald Trump and his allies have baselessly claimed this was due to widespread fraud without providing evidence to substantiate the extraordinary allegation. Despite previous recounts already having been conducted in Arizona, state Republicans in the southwestern state have pushed forward with a disorganized and widely mocked audit. One GOP state senator has even described the process as "embarrassing."
On Friday, Maricopa County's attorney Allister Adel sent the notice to Fann after false and possibly defamatory claims were made by the election auditors. The audit's official Twitter account tweeted earlier this month that election databases had been deleted by county officials. The false claim was later amplified by Trump, who released a statement pushing the groundless conspiracy theory.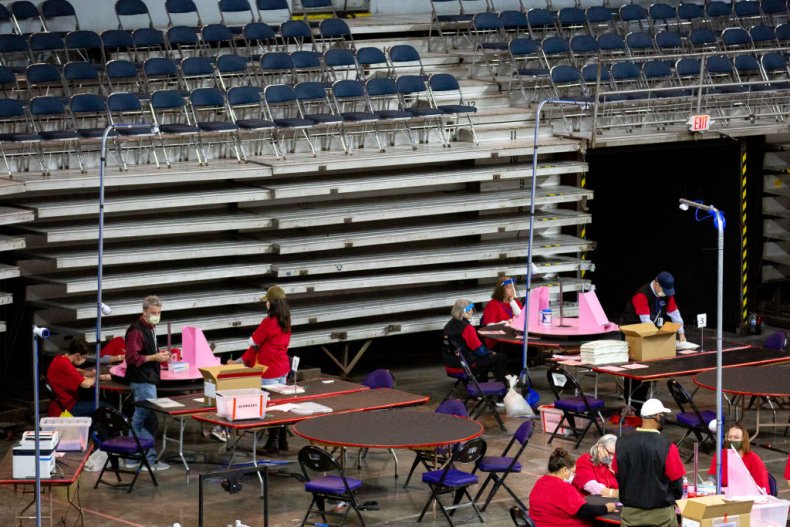 "It is clear the Arizona Senate and its contractors do not intend to retract false allegations defaming the County and its employees," Maricopa County Chairman Jack Sellers, a Republican, said in a statement on Friday.
"For that reason, Maricopa County is formally requesting Senate President Fann, Senator Petersen, Senate liaison Ken Bennett and contractors involved in the 'audit' preserve documents and evidence as they may be subject to future legal claims," he added.
Arizona state Senator Paul Boyer, a Republican, told The Hill this week that the process has been "embarrassing." His remark was notable, as Boyer initially supported the audit going forward.
"The way they're doing it, it's embarrassing," Boyer said. "It makes me embarrassed to be a state senator at this point."
"I feel like we're in this fantasy land. I still have yet to see any evidence [of fraud], and I don't think it's coming," the GOP lawmaker said.
Stephen Richer, the Maricopa County Recorder, slammed Trump after he released statement last week falsely claiming that the database had been deleted.
"Wow. This is unhinged. I'm literally looking at our voter registration database on my other screen. Right now," Richer, a Republican tweeted on May 15, sharing the former president's statement. "We can't indulge these insane lies any longer. As a party. As a state. As a country. This is as readily falsifiable as 2+2=5. If we don't call this out...," he wrote.
Biden narrowly flipped Arizona blue by a margin of just over 10,000 votes in the 2020 election. Despite previous audits, and local Republican officials asserting that there was no evidence of fraud, Trump and his allies continue to claim the election was "rigged" or "stolen" by Democrats. They have pushed forward with efforts in other states—such as Georgia—to conduct similar audits, despite multiple recounts already reaffirming Biden's victory.
Trump and his allies have filed dozens of unsuccessful election challenges in state and federal courts. Even judges appointed by Trump and other Republicans have dismissed the often bizarre allegations. Furthermore, former U.S. Attorney General William Barr, who was widely viewed as one of Trump's most loyal Cabinet members, said in December that there was "no evidence" of fraud that would change the election's outcome.
Additionally, the Cybersecurity and Infrastructure Security Agency at the Department of Homeland Security has described the 2020 election as the "most secure in American history."
Newsweek reached out to Fann for comment but did not immediately receive a response.