Arizona's Ex-GOP AG Grant Woods Calls Election Audit a 'Clown Show' and 'a Joke'
Former Arizona Attorney General Grant Woods mocked the ongoing 2020 election audit led by Republicans in his state, describing it as "a joke" and a "clown show."
Woods, a former Republican who switched his party affiliation to become a Democrat in 2018, served as the attorney general of Arizona from 1991 to 1999. Like a number of other prominent Republicans, Woods was staunchly opposed to former President Donald Trump and described him as the "least qualified ever" ahead of the 2016 presidential election. On Friday, Woods took aim at the ongoing election audit in Arizona which was launched based on Trump's groundless claims that the 2020 election was "rigged" or "stolen" by Democrats and President Joe Biden.
"The whole thing's been a joke from day one. It is a clown show. You know, they're at the right place probably now next to the carnival rather than inside the Coliseum. I'd rather have the carnies handling this than these jokers," Woods told CNN in an interview.
Arizona went narrowly for Biden in the 2020 election, with the president securing victory there by a little more than 10,000 votes. Two previous election audits have already reaffirmed Biden's victory, and Clint Hickman, a Republican who chairs the Maricopa County Board of Supervisors, also said after the election that there was "no evidence" of election fraud.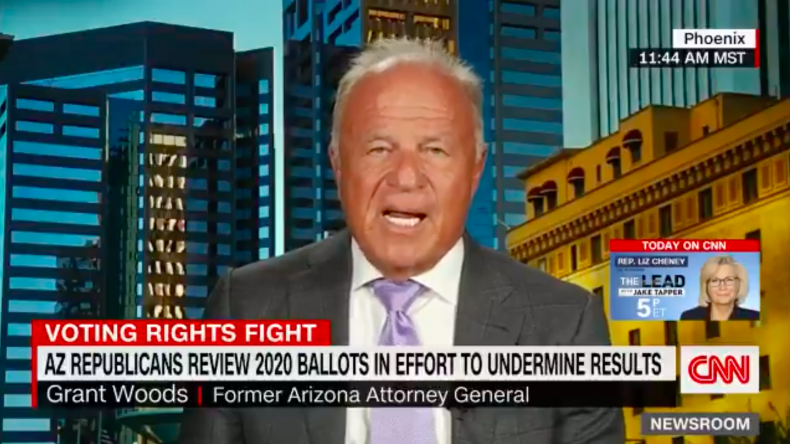 But this was not enough for many of Arizona's Republican lawmakers who have backed Trump's false claims of widespread voter fraud. They have pushed forward with another audit of Maricopa County's votes, where the majority of the state's voters cast their ballots.
Woods also mocked the "security" that local Republicans have enlisted to support their audit in this Friday interview with CNN.
"By the way, the great security you got going on there—if you've seen them, that's the 'Arizona Rangers,'" the former GOP official said. "And what are they? I don't know. There's no such thing as 'Arizona Rangers.' They just gave themselves that name. They got the hats, the boots and the belt that they bought at the Western store, I guess. So this is the great security," Woods said dryly.
The former Arizona attorney general asserted that those carrying out the recount "have no idea what they're doing."
Arizona state Senate President Karen Fann, a Republican, has spearheaded the effort to push for the additional audit. The GOP lawmaker dismissed Woods' remarks in an email to Newsweek.
"The Arizona Senate Audit is nothing more than ensuring election integrity. Almost half of our voters have no confidence in our electoral system for a variety of reasons. Our goal is to answer their questions, verify or prove false their concerns and re-instill voter confidence," Fann wrote.
"It is the Senate's job to write the laws, make sure they are being adhered to and update those laws over time or the discovery of irregularities," she added.
Although Trump and his loyalist supporters continue to claim that he lost the election due to widespread fraud, they have not provided evidence to substantiate this extraordinary allegation. Dozens of election lawsuits filed in state and federal courts by the former president and his supporters have been dismissed and thrown out. Even judges appointed by Trump and other Republicans have rejected the often bizarre allegations.
Meanwhile, former U.S. Attorney General William Barr, who was widely viewed as one of Trump's most loyal Cabinet members, said in December there was "no evidence" of fraud that would impact the election's outcome. The Cybersecurity and Infrastructure Security Agency at the Department of Homeland Security, which was led by a Trump appointee, said late last year that the 2020 election was the "most secure in American history."
Numerous recounts and audits in key battleground states—including in places like Georgia, where the election was overseen by a pro-Trump Republican—have reaffirmed Biden's election victory. Nonetheless, Trump and many GOP allies continue to promote groundless conspiracy theories about the results.