Liz Cheney Warns of 'Ongoing Threat' From Trump, Says 'Silence Is Not an Option'
Representative Liz Cheney warned that former President Donald Trump is an "ongoing threat" to the country, saying that "silence is not an option" after her ouster from her House GOP leadership position on Wednesday.
The Wyoming Republican has become one of Trump's most outspoken critics in the wake of the attack by the former president's supporters on the U.S. Capitol on January 6. The former chair of the House Republican Conference was one of 10 House Republicans who voted to impeach Trump a week after the assault on the halls of Congress.
"For reasons that I don't understand, leaders in my party have decided to embrace the former president who launched that attack," Cheney said in a Today show interview Thursday morning.
The congresswoman said that Trump has become "more aggressive, more vocal pushing the lie" that the election was stolen.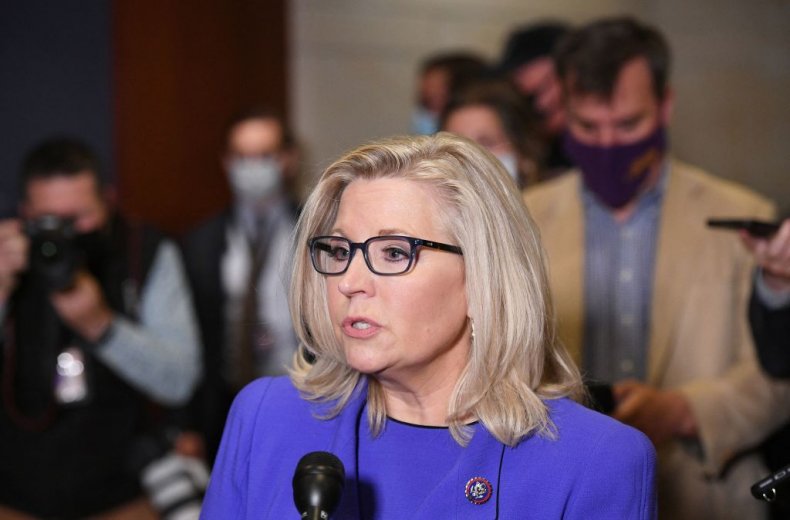 "I think that's a really important thing for people to understand," Cheney continued. "This isn't about looking backwards. This is about the real-time, current potential damage that he's doing, that he continues to do."
She asserted, "It's an ongoing threat. So silence is not an option."
Ahead of the January 6 attack on the Capitol, which aimed to overturn President Joe Biden's election victory, Trump and his allies repeatedly pushed baseless claims that the 2020 election was "rigged" or "stolen." The former president and many of his supporters continue to promote this conspiracy theory, as Cheney pointed out.
She suggested that some of her GOP colleagues do not actually want a bipartisan commission to move forward to examine the events of January 6. She also suggested that some Republican lawmakers may have been involved with promoting or organizing the attack.
"I also think that there is real concern among a number of members of my own party about a January 6th commission," Cheney said. She said the commission "needs to be bipartisan" and narrowly focused only on the events of January 6 without also examining other political unrest across the country, as some Republicans have called for.
"I think that kind of intense narrow focus threatens people in my party who may have been playing a role they should not have been playing," Cheney said.
Representative Elise Stefanik, a New York Republican, is expected to replace Cheney as chair of the House Republican Conference. Trump and GOP House leaders have already backed Stefanik's bid for Cheney's former role. Shortly after Cheney was formally voted out of the House Republican leadership on Wednesday, Trump released a statement slamming the congresswoman.
"Liz Cheney is a bitter, horrible human being. I watched her yesterday and realized how bad she is for the Republican Party," Trump said. "She has no personality or anything good having to do with politics or our Country."
Despite Trump's repeated claims, there is no evidence that the 2020 election was stolen or rigged. Dozens of election lawsuits filed by the former president and his supporters have been dismissed and rejected in state and federal courts, including by judges appointed by Trump and other Republicans. Meanwhile, ballot recounts and audits in key battleground states—including in places where pro-Trump Republicans oversaw the election—have reaffirmed Biden's win.
Former Attorney General William Barr, who was widely viewed as one of Trump's most loyal Cabinet members, said in December that there was "no evidence" of voter fraud that would change the election's outcome. The Cybersecurity and Infrastructure Security Agency at the Department of Homeland Security, which was led by a Trump appointee at the time, said in mid-November there was "no evidence that any voting system deleted or lost votes, changed votes, or was in any way compromised."
This story was updated with additional information and background.