Former Reagan Staffer David McIntosh Says Elise Stefanik 'Terrible' for GOP Leadership: 'She's Very Much a Liberal'
David McIntosh, the director of the Domestic Policy Council under former Republican President Ronald Reagan, pushed back hard against Representative Elise Stefanik's campaign for a House GOP leadership position, saying she would be "terrible" and describing her as "very much a liberal."
As Representative Liz Cheney, chair of the House Republican Conference, has repeatedly condemned former President Donald Trump, House GOP leaders have turned on her, and she is expected to be ousted from her position as the No. 3 House Republican. Stefanik has emerged as the clear front-runner to replace the Wyoming Republican, but some conservative critics point to the New York Republican's past record to argue that she's not really a conservative.
"She's very much a liberal. She voted against the Trump tax cuts. She voted against the bill that would keep us out of the [Paris] climate change accord. She is—throughout her career been a pretty far-left Republican," McIntosh, who served as a GOP congressman from Indiana, told CNN on Friday morning. He said Stefanik later "got on board" with Trump's agenda because of her "ambition."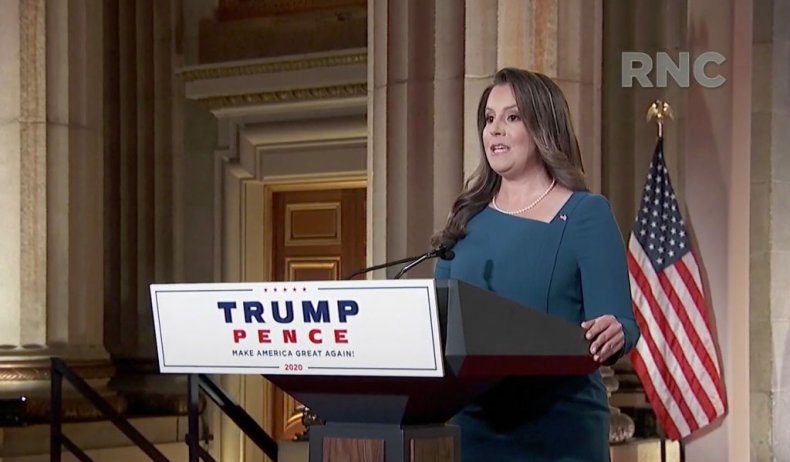 "Our worry is that when she gets into leadership—she has no principles at that point," McIntosh said. "That's the biggest problem the Republican Party has right now."
He added, "She'll be a terrible leader."
Trump and GOP House Minority Whip Steve Scalise of Louisiana have already backed Stefanik in her bid to unseat Cheney. The New York congresswoman has also appeared on conservative podcasts hosted by former Trump advisers Steve Bannon and Sebastian Gorka in an apparent effort to shore up public support.
McIntosh said he talks to Trump regularly and noted that the former president "loves the fact" that Stefanik was part of the House GOP defense team during his first impeachment. "We agreed that he shouldn't be impeached," he said, but noted that he is concerned about what policies Stefanik will support moving forward.
Notably, Cheney voted in favor of Trump-backed legislation more often than Stefanik did. An online tool by FiveThirtyEight called "Tracking Congress in the Age of Trump" shows that she voted with Trump just 77.7 percent of the time, while Cheney did so 92.9 percent of the time. The conservative group Heritage Action gave Cheney a score of 91 percent for her support for conservative policies during the most recent Congress. Meanwhile, Stefanik received a score of just 56 percent.
However, the New York congresswoman also has an A+ rating from the NRA and has been backed in campaigns by the anti-abortion organization Susan B. Anthony List. She's also voiced strong opposition to so-called cancel culture and the teaching of critical race theory, while staunchly opposing amnesty for undocumented migrants.
In a Thursday interview with Gorka, Stefanik said that "the job of the conference chair is to represent the majority of the House Republicans, and the vast majority of the House Republicans support President Trump, and they support his focus on election integrity and election security." She took an apparent jab at Cheney, saying the position should not be used to "attack members of the conference and attack President Trump."
Cheney was one of 10 House Republicans to vote to impeach Trump after he incited his supporters to attack the U.S. Capitol on January 6 in an effort to overturn President Joe Biden's election victory. She slammed the president's actions and his efforts to undermine the integrity of the election, saying that "there has never been a greater betrayal by a president of the United States of his office and his oath to the Constitution." Since then, she has regularly condemned the former president and criticized fellow GOP lawmakers who remain loyal to him.
Stefanik rose to greater national prominence during the first Democrat-backed impeachment effort against Trump, in 2019. The congresswoman drew praise from Trump and his allies after her combative response to Democratic lawmakers during those impeachment hearings.
Newsweek reached out to Stefanik's press secretary for comment but did not hear back before publication.