Bernie Sanders Defends Liz Cheney as Republicans Try to Oust Her, Calls GOP 'Anti-Democratic Cult'
Senator Bernie Sanders and Representative Liz Cheney may hold views that are typically at polar opposites of the political spectrum. But on Thursday the progressive lawmaker from Vermont jumped to the defense of the Wyoming conservative, as she's expected to be ousted from her leadership position by House Republican leaders.
Cheney, a Republican, has become one of former President Donald Trump's most prominent critics in the wake of his supporters' violent attack on the U.S. Capitol on January 6. The congresswoman has repeatedly asserted that Trump should no longer have a leadership role within the Republican Party, drawing the ire of the former president and his many supporters. Now, House GOP leaders look poised to remove her from her position as chair of the House Republican Conference.
"Rep. Liz Cheney (R-WY) will likely be voted off the House Republican Leadership. Her crime: acknowledging the reality that Trump lost the election," Sanders, an independent who identifies as a democratic socialist, tweeted Thursday afternoon.
The Vermont senator then took aim at the GOP more broadly. "The Republican Party is no longer a 'conservative' party. It is an anti-democratic cult pushing the Big Lie and conspiracy theories," he wrote. The "Big Lie" refers to Trump's and his allies' conspiracy theory that the 2020 election was fraudulent.
Following the January 6 riot at the Capitol, Cheney condemned Trump and announced that she would vote alongside Democrats to impeach the then president. "There has never been a greater betrayal by a President of the United States of his office and his oath to the Constitution," Cheney said in a statement at the time, blaming Trump for inciting his supporters to commit violence in an effort to overturn the results of the presidential race.
In total, 10 Republican House members—including Cheney—voted to impeach Trump. When the former president's Senate trial concluded in early February, seven GOP senators voted to convict Trump of inciting the violent insurrection. This marked the most bipartisan impeachment trial vote against a president in history, but it still failed to meet the high constitutional threshold for conviction: a two-thirds majority of the Senate.
Since then, Cheney has repeatedly criticized Trump and taken aim at GOP lawmakers who have continued to support the ex-president. Although she survived one House GOP attempt earlier this year to oust her from her leadership role, she is expected to face another challenge in the coming days. This time, she no longer has the support of House GOP leaders, as House Minority Whip Steve Scalise has backed her ouster, and House Minority Leader Kevin McCarthy has suggested he does as well.
On Wednesday, President Joe Biden was asked about the Republican effort to remove Cheney from her post. He simply responded, "I don't understand the Republicans."
He added, "It seems as though the Republican Party is trying to identify what it stands for. And they're in the midst of a significant sort of mini-revolution going on in the Republican Party."
Representative Adam Kinzinger, an Illinois Republican who also voted to impeach Trump, has become one of Cheney's most vocal defenders. Over the past few days, he has repeatedly lashed out at GOP leaders for their loyalty to Trump and their opposition to their colleague from Wyoming.
"Every GOP member of Congress needs to go on the record as to how they will vote on @RepLizCheney in operation #coverupJan6 and concerned donors should take notes. I will vote for Liz," Kinzinger tweeted Wednesday.
Cheney defended herself in an opinion article published by The Washington Post on Wednesday. "We Republicans need to stand for genuinely conservative principles, and steer away from the dangerous and anti-democratic Trump cult of personality," the congresswoman wrote.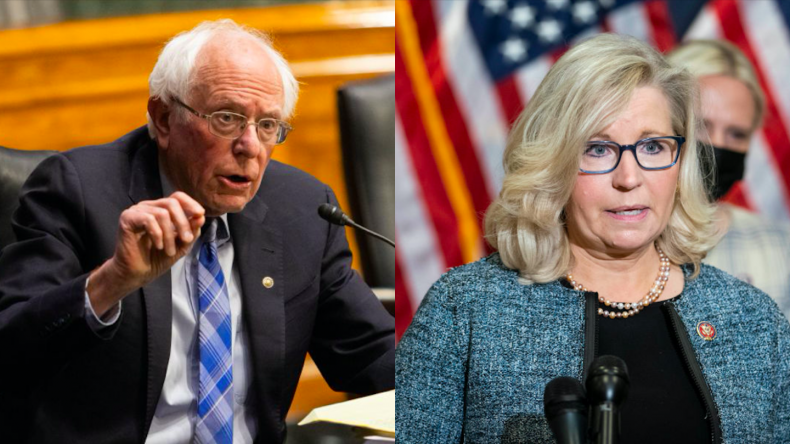 Trump and his allies continue to baselessly claim that the 2020 election was "rigged" or "stolen" by Democrats. Those claims are not supported by any evidence.
Dozens of election lawsuits filed in state and federal courts by Trump and his supporters have been dismissed or rejected. Even judges appointed by the former president and other Republicans have ruled against the groundless allegations. Furthermore, recounts and audits in key battleground states—including in places where elections were overseen by Republicans who voted for Trump—have reaffirmed Biden's victory last November.
Former Attorney General William Barr, who was widely viewed as one of the former president's most loyal Cabinet members, asserted at the beginning of December that there was "no evidence" of fraud that would change the election's outcome.
In mid-November, the Cybersecurity and Infrastructure Security Agency at the Department of Homeland Security said the 2020 election was the "most secure in American history." The agency, which was led by a Trump appointee at the time, added that there was "no evidence that any voting system deleted or lost votes, changed votes, or was in any way compromised."
Newsweek reached out to press representatives for Cheney, Scalise and McCarthy for further comment but did not hear back before publication.