Evangelical 'Prophet' Jeff Jansen Says He's 'Quadrupling Down' on Trump Prophecy: 'Rats Are Gonna Be Exposed'
Evangelical Christian pastor Jeff Jansen, a self-described "prophet," said that he is "quadrupling down" on his prophecy that former President Donald Trump will be reinstated—despite his previous prediction that this would happen by the end of April failing to materialize.
Jansen, who heads Global Fire Ministries International, has repeatedly claimed that Trump is still the legitimate president. In March, he baselessly claimed that the U.S. military was actually leading the country and that they would likely reinstate Trump by the end of April. Although that prophecy has not come true, the evangelical "prophet" still appears confident that God has given him future insight into what will come to pass.
"We're in this amazing window of time. In a very short period of time by Spring, we'll be dancing," Jansen said in a video posted to Facebook on Wednesday.
The pastor said that "things are radically changing" and that the "fake Biden administration" is "coming down."
Right Wing Watch first reported Jansen's remarks on Thursday morning.
"The rats are gonna be exposed—President Trump stepping into his place," Jansen insisted. He argued that his message about Trump was the same as "talking about Jesus."
"We're talking about righteousness. We're talking about justice. We're talking about the right side of the issue. Because there is a massive global and economic reform that's happening. There is an amazing shift that's happening in the church," he said. "God is preparing the Earth for great global glory revival. So watch what happens."
Jansen asserted that he is "tripling down, I'm quadrupling down! God bless you. Look for it in Jesus name."
A day prior on Tuesday, the pastor posted a separate video doubling-down on his views about Trump.
"What's coming can't be stopped," Jansen said in the previous clip. "There's all kinds of amazing things that are happening, and I'm talking about President Trump. I'm talking about him coming back into power.... I'm talking about everything that God promised, back-to-back terms."
A number of evangelical leaders and so-called "prophets" have repeatedly promoted Trump's groundless claims about widespread fraud during the 2020 election. Conservative Christians, and particularly white evangelicals, have long been a key base of support for the former president and Republicans. In 2016 and 2020, exit polls showed that about 8 in 10 white evangelicals voted for Trump.
Back in March, Jansen claimed there was a military coup taking place to reinstate Trump as president.
"The last defense is military. So the military, actually the military is in control right now," Jansen said at the time. "They've already made their determination. Now it's about execution. Now it's about returning civil power after the 'we the people' factor, the rightly, duly-elected president from this past election comes forward and exposes the corruption—there will be civil power restored in the United States," he said. "And that president will be Donald J. Trump."
Although Trump and his loyalist supporters continue to claim that the 2020 election was "rigged" or "stolen" by Democrats and President Joe Biden, they have not provided evidence to back this extraordinary claim. Dozens of election challenges filed in state and federal courts have failed, with even judges appointed by Trump and other Republicans rejecting or dismissing the allegations. Multiple audits and recounts in key battleground states have reaffirmed Biden's victory as well.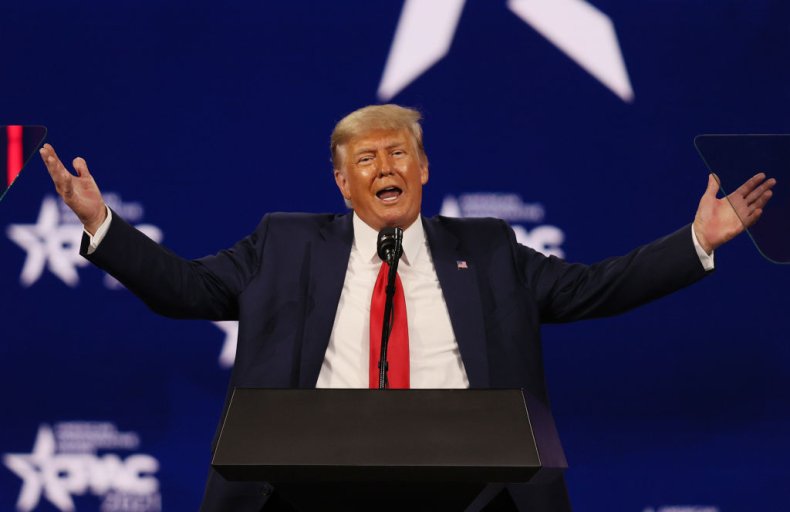 At the outset of December, former U.S. Attorney General William Barr, who was widely viewed as one of Trump's most loyal Cabinet members, explained that there is "no evidence" of widespread fraud that would change the election's outcome.
Furthermore, in mid-November, the Cybersecurity and Infrastructure Security Agency at the Department of Homeland Security described the 2020 election as the "most secure in American history." The agency, which was led by a Trump appointee at the time, asserted that there was "no evidence that any voting system deleted or lost votes, changed votes, or was in any way compromised."
Newsweek reached out to Jansen and Global Fire Ministries International for further comment.