MyPillow CEO Mike Lindell Promises New Evidence of 2020 Election Interference From 'Enemies' Who 'Used Computers'
MyPillow CEO Mike Lindell, a staunch supporter of former President Donald Trump, sent out an email on Saturday promoting his new conspiracy theory documentary Absolute Interference, which will be released on April 20.
Like Trump and other allies of the former president, Lindell continues to promote baseless claims that the 2020 election was stolen by President Joe Biden and the Democrats. The groundless conspiracy theory has been thoroughly debunked by election officials—Republicans and Democrats—across the country, while dozens of election lawsuits brought by Trump and his supporters have failed in state and federal courts. But Lindell is still promising to showcase "new evidence" of widespread fraud.
"Mike Lindell presents Absolute Interference," the promotional email for the new video said. "The sequel to Absolute Proof with new evidence foreign & domestic enemies used computers to hack the 2020 election." Lindell released Absolute Proof in early February.
A trailer for the newest Lindell production features the MyPillow CEO discussing the 2020 election conspiracy theory with retired General Michael Flyyn. The former Trump administration official previously pleaded guilty to lying to the FBI about his communication with Russia's ambassador in 2016. Although Flynn initially agreed to cooperate with investigators looking into allegations that Trump's 2016 presidential campaign conspired with Russia, he later became uncooperative and changed his plea to "not guilty." Trump gave Flynn a full presidential pardon last November.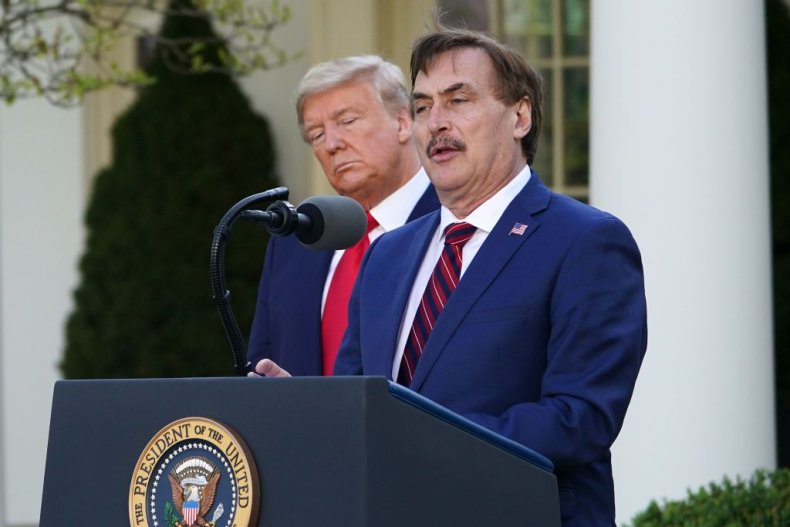 "We've always had pressure from foreign influences, foreign interference from different countries. Back in the beginning of this country it was Great Britain and France. It's just migrated to countries like China, Russia, Iran, Venezuela, North Korea," Flynn says in the trailer. "And these are all countries that have some play in our election processes for the last—probably for the last decade."
Despite Trump's, Flynn's and Lindell's repeated allegations, they have not produced credible evidence to corroborate the groundless conspiracy theory. Meanwhile, the Cybersecurity and Infrastructure Security Agency at the Department of Homeland Security asserted in mid-November that the 2020 election was the "most secure in American history." The agency, which was led by a Trump appointee, added that "there is no evidence that any voting system deleted or lost votes, changed votes, or was in any way compromised."
Trump and his loyalist supporters filed dozens of election challenges in state and federal courts, but these were nearly all rejected—even by judges appointed by the former president and fellow Republicans. Former U.S. Attorney General William Barr, who was widely viewed as one of Trump's most loyal Cabinet members, said in early December that there was "no evidence" of widespread fraud that would change the election's outcome. Multiple recounts and ballot audits in key battleground states reaffirmed Biden's victory over Trump. And Republican election officials who voted for and donated to Trump have pointed out that Trump's claims are baseless.
Lindell told Newsweek earlier this month that Absolute Interference will include testimony from "whistle blowers whose faces won't be shown."
"We have got piles and piles and piles of evidence. We are going to dump it on the public because they have suppressed it," he insisted. The businessman described the evidence as relating to "all the cyber footprints with IP addresses, IDs of computers" as well as "private audits being done."
The MyPillow CEO is currently facing a $1.3 billion defamation lawsuit from Dominion Voting Systems, which he and other Trump supporters have falsely claimed was instrumental to "rigging" the election. Trump loyalists have alleged incorrectly that the voting systems company is linked to Venezuela. A review by The Washington Post of counties in key battleground states where the company's software was used found that Trump actually won in more than 80 percent.
Newsweek reached out to Lindell for further comment, but did not immediately receive a response.