MyPillow CEO Mike Lindell Says He'll Counter-Sue Dominion With Two Cases—For Company and Himself
MyPillow CEO Mike Lindell said Monday that he plans to launch two counter lawsuits against Dominion Voting Systems, one in his personal capacity and the other on behalf of MyPillow.
Lindell was hit with a $1.3 billion defamation lawsuit by Dominion last month after repeatedly claiming that the company was involved in a massive voter fraud conspiracy that moved votes in the 2020 presidential election from former President Donald Trump to President Joe Biden.
During an appearance on the latest edition of former Trump adviser Steve Bannon's War Room: Pandemic podcast, Lindell announced his plans to legally strike back, claiming that the voting machine company had violated the First Amendment rights of all Americans as well as federal anti-racketeering laws.
"You're also going to have MyPillow going after Dominion in a countersuit and that's going to your First Amendment speech. You're going to have me go after them, counter-suing them," Lindell said. "There are two cases, one will be MyPillow, one will be Mike Lindell. We're both going after them. They're a little bit different because one of them, what Dominion did was violate the First Amendment rights of everyone in this country by using bullying lawsuits and RICO law."
"[What] they say to news outlets is, 'If you let this guy on, we're going to sue you too,'" he added. "That's racketeering, that goes back to the mafia days."
On the same podcast, Lindell announced that celebrity lawyer Alan Dershowitz, who represented Trump during his first impeachment trial, was joining his legal team. Lindell said that Dershowitz described his upcoming legal battle as "one of the biggest cases, if not the biggest case in history for free speech for the First Amendment."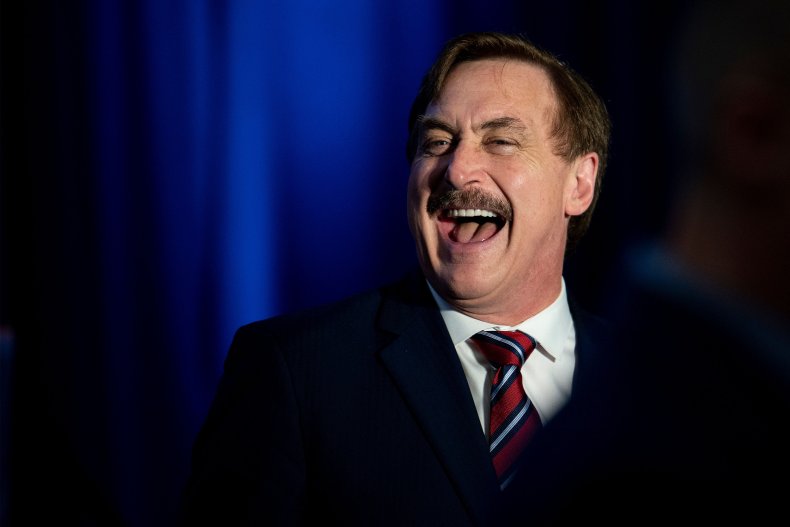 Dershowitz told Newsweek on Monday night that he does not know anything about the two countersuits that Lindell plans to file against Dominion. Dershowitz also clarified that while he is acting as a consultant to the law firm representing Lindell on First Amendment matters, he is not personally representing the MyPillow CEO.
Dominion's lawsuit against Lindell alleges that the CEO profited off of outrage from those who believed the false election conspiracy theories that he promoted. In the months after the election, MyPillow frequently advertised its products on conservative media outlets, sometimes with promotional discount codes like "FightforTrump," "QAnon" and "Proof."
Prior to being sued by Dominion, Lindell asked the company to "please" take the legal action, claiming that it would be an opportunity for him to present evidence that Dominion was involved in election fraud.
Newsweek reached out to MyPillow for comment.