MyPillow CEO Mike Lindell Announces Alan Dershowitz to Join Legal Team in Dominion Suit
Mike Lindell, the CEO of MyPillow, has announced that famed attorney Alan Dershowitz has joined his legal team in his court battle against Dominion Voting Systems.
Dominion Voting Systems filed a $1.3 billion lawsuit against Lindell over his repeated public claims that their voting machines fraudulently flipped votes from former President Donald Trump to current President Joe Biden during the November 2020 presidential elections.
Speaking Monday morning on Steve Bannon's War Room: Pandemic podcast, Lindell announced that Dershowitz had joined his legal team.
"Alan Dershowitz told me that this will be one of the biggest cases, if not the biggest case in history for free speech, for the First Amendment," Lindell said. "He's one of a team of lawyers, who has a great blessing to have him on."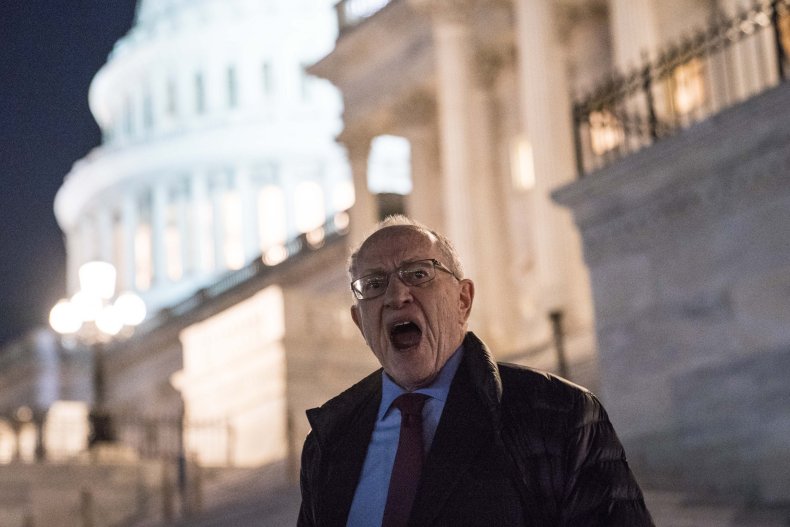 Dershowitz is a Harvard Law School professor and served as an attorney for Trump during his first impeachment trial.
Dershowitz told Newsweek on Monday that he's working as a consultant to the law firm representing Lindell. He also clarified that he's only consulting on the case's First Amendment issues.
In February, Dershowitz told Newsmax host Greg Kelly that Dominion would have trouble proving their case against Lindell.
"Look, whether Lindell was right or wrong, he had the right to express his views, and this is a part of the public debate," Dershowitz said. "I don't think unless they can demonstrate that with malice he deliberately, wilfully, knowingly defamed them, I don't think they're going to get any pillows out of this."
Dershowitz told Newsweek that if Dominion won, it would "be a disaster for the First Amendment."
"Remember too that the First Amendment doesn't only give Lindell the right to express his views," Dershowitz said. "It gives 50 million people the right to hear his views."
Dominion said that Lindell's claims had inflicted damage to the company's reputation and business operations. The company said it also had to spend money on security to protect staff who received death threats as a result of Lindell's claims.
In late January, Lindell said that Dominion "hired hit groups and bots and trolls" to get him "canceled" by getting him banned from Twitter and convincing retail stores to stop selling his product. He claims that more than 20 retailers have now pulled his products from sale. Some of the retailers say they pulled his products due to low sales rather than as a consequence of his actions.
Dominion's lawsuit against Lindell seeks over $651 million in punitive damages and an additional $651.7 million in compensation over making baseless allegations. The filing also states that the company wants an injunction to have Lindell's "false and defamatory" remarks about Dominion removed from different media sources.
The money sought by Dominion is roughly four times MyPillow's annual revenue. MyPillow's revenue exceeded $300 million in 2019, Lindell told The New York Times earlier this year.
Lindell has said that he welcomes the company's lawsuit because it might provide a closer look at their voting machines' technology.
Update (3/15/2020, 10:18 p.m.): This article has been updated to include a statement from Dershowitz.