MyPillow CEO Mike Lindell Accuses Dominion of Hiring 'Hit Groups, Bots and Trolls' to 'Cancel' Him
On Tuesday's installment of Tucker Carlson Tonight on Fox News, MyPillow CEO Mike Lindell claimed that Dominion Voting Systems "hired hit groups and bots and trolls" to help get him "canceled" by getting him banned from Twitter and getting retail stores to stop selling his product.
Last week, Dominion Voting Systems threatened to sue Lindell over his repeated, public and baseless claims that their machines fraudulently flipped votes from former President Donald Trump to current President Joe Biden during the November 2020 presidential elections.
"A week ago, Dominion... went on TV and said they were going to go after Mike Lindell," the MyPillow CEO told Carlson. "Well, they did. They hired hit groups and bots and trolls, went after all my vendors, all these box stores, to cancel me out."
On Monday, the microblogging social media platform Twitter permanently suspended Lindell's account for repeated violations of its misinformation policy.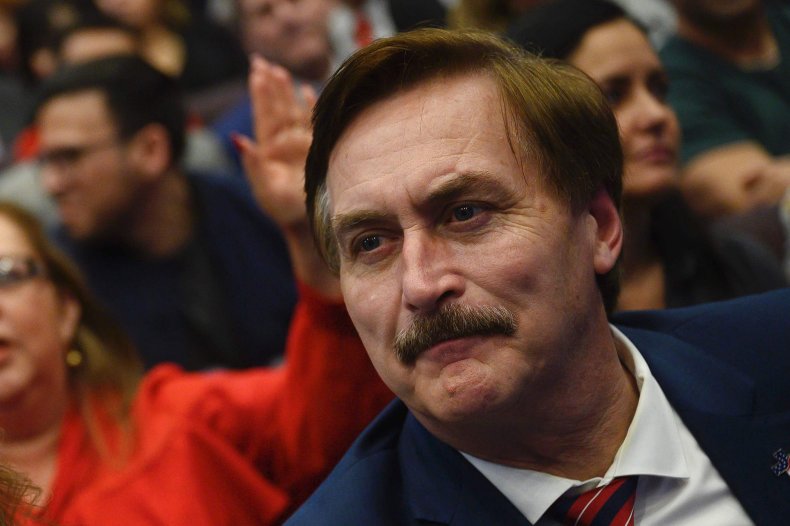 Lindell's support of both Trump and Trump's baseless claims of widespread election fraud is well documented.
On December 19, Lindell posted a tweet calling on Trump to impose martial law on seven battleground states Biden won in the election. Lindell also told Trump to seize the voting machines and ballot boxes in those states. Lindell deleted the tweet about an hour later.
On January 6, Lindell attended Trump's "Stop the Steal" rally which occurred before Trump's followers later staged an insurrection on the U.S. Capitol that resulted in five deaths and dozens of injured police officers.
At the rally, Lindell claimed that Fox News helped Democrats steal the election because the network called the state of Arizona early in Biden's favor.
"I'm serious, they had to be on it!" Lindell said. "They should all go to prison when they are found out."
On January 15, the activist group Sleeping Giants posted a tweet asking Walmart, Amazon, Bed Bath & Beyond and Lowe's if they would continue to carry MyPillow products after Lindell "called for the insurrection."
The group's tweet included a video of Lindell, reportedly filmed after the Capitol riot, in which he said, "This is the only time we have in history to beat these guys, to suppress the evil and beat the evil. This is a fight for everything we've grown up with, everything we live for, everything this country stands for. The whole world is watching and, 100 percent, Donald Trump is going to be your president for the next four years."
On January 20, Lindell announced that a number of leading U.S. retailers stopped selling MyPillow products, and he suggested the reason was because of his support for Trump. However, two of the retailers he named, Bed Bath & Beyond and Kohl's, said poor sales were the reason for discontinuing the product offerings and not Lindell's politics.
Newsweek contacted Lindell for comment.