Fox News Conspired to Overthrow Trump, MyPillow CEO Tells 'Stop the Steal' March
MyPillow CEO Mike Lindell, an ally of President Donald Trump, accused Fox News of conspiring to overthrow Trump at a "Stop the Steal" rally in Washington D.C.
Thousands of demonstrators marched down the Capitol a day after the U.S. Supreme Court rejected a lawsuit filed by Texas aimed at reversing Trump's defeat in four battleground states—Pennsylvania, Georgia, Michigan and Wisconsin—that voted for President-elect Joe Biden. The country's highest court on Friday evening refused to hear the case filed by Texas Attorney General Ken Paxton in the latest blow to the president's legal efforts to stay in office.
"We cannot give up ever on this," Lindell told the pro-Trump crowd Saturday afternoon. "This is a spiritual warfare in our country and in the world."
He also called Trump's claims of widespread voter fraud "real," saying "it's of epic proportions that this election was stolen."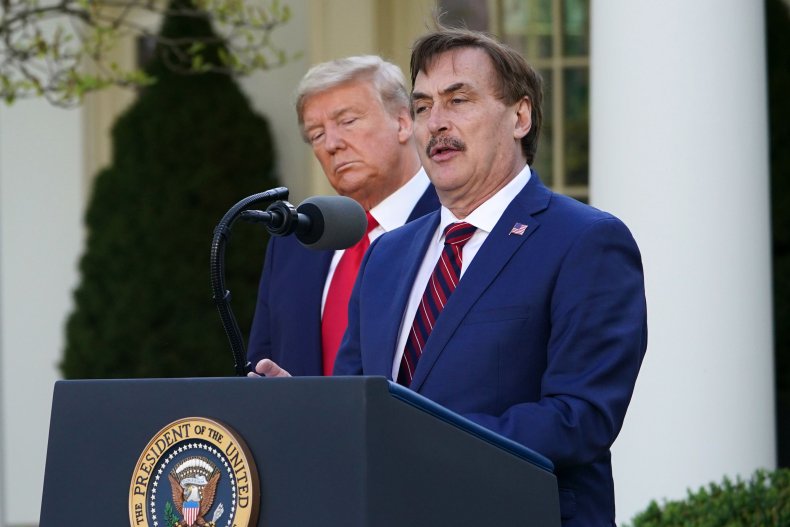 Lindell claimed that Fox News helped Democrats steal the election. "They were going for everything. They were going to take everything we had," he said. "Why do you think Fox declared Arizona with only 14 percent of the vote in? They already knew what they did! They were in on it!"
"I'm serious, they had to be on it!" Lindell concluded. "They should all go to prison when they are found out."
Newsweek reached out to Fox News for comment.
Lindell's remarks come one week after he insisted on Fox News that Trump will remain president. "I want the word to get out that Donald Trump will be our president for the next four years," he said during an interview with the network, before adding that he was 100 percent sure of it.
Meanwhile, MAGA supporters, once aligned with the GOP, turned on their party for allegedly not doing enough to help Trump overturn the results of the 2020 election.
"Destroy the GOP! Destroy the GOP!" a crowd at the rally chanted.
The president and his allies had sold the Texas lawsuit as "the big one" that would finally deliver a second Trump term. But with the Electoral College set to officially confirm President-elect Joe Biden's win, their latest failed legal effort appeared to have marked the end of the road for Trump's 2020 campaign.
On Saturday afternoon, U.S. District Court Judge Brett Ludwig ruled that Trump's lawsuit seeking to overturn Biden's win in Wisconsin had no merit.
Trump has alleged that a stolen election caused his loss to Biden. But so far, the contents and claims of the president's lawsuits have been narrower, lacking in evidence and routinely tossed out of court.