MyPillow Products Dropped Because of Poor Sales Not Politics, Stores Say
MyPillow CEO Mike Lindell revealed this week that a number of leading U.S. retailers had severed ties with his company, suggesting this was down to his support for President Donald Trump. But two of the retailers he named—Bed Bath & Beyond and Kohl's—have cited poor sales as the reason.
Lindell, who has repeatedly pushed Trump's baseless claims that the 2020 election was stolen, said retailers were boycotting his company because of pressure from social media campaigns by "leftist groups."
"They're trying to cancel me out," Lindell, a long-time Trump supporter, told the Right Side Broadcasting Network's Brian Glenn in a lengthy interview on Monday. "These guys don't understand ... they're scared. Like Bed Bath & Beyond, they're scared."
But a spokesperson for Bed Bath & Beyond told Newsweek that MyPillow products were being removed from its stores because they were underperforming.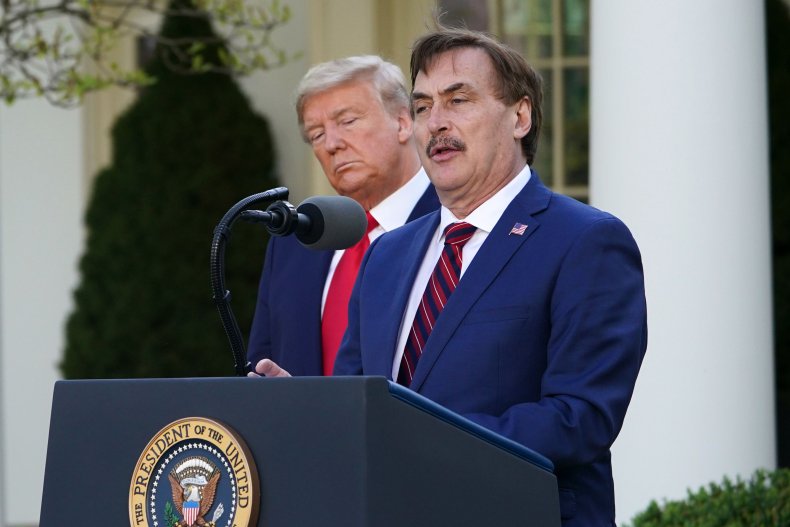 "We have been rationalizing our assortment to discontinue a number of underperforming items and brands. This includes the MyPillow product line. Our decisions are data-driven, customer-inspired and are delivering substantial growth in our key destination categories," the spokesperson added.
A spokesperson for Kohl's told the Associated Press: "There has been decreased customer demand for MyPillow."
Lindell said H-E-B and Wayfair had also dropped MyPillow. Neither company responded to requests for comment.
But a spokesperson for MyPillow told Newsweek that other companies were "getting attacked by these bot and troll groups on social media," without elaborating further.
In recent months, Lindell has repeatedly amplified Trump's unfounded allegations of voter fraud. He posted videos supporting the outgoing president and claiming the election result would be overturned even after the deadly riot at the U.S. Capitol on January 6.
Last Friday, campaign group Sleeping Giants posted a tweet asking Walmart, Amazon, Bed Bath & Beyond and Lowe's if they would continue to carry MyPillow products after Lindell "called for the insurrection."
The tweet included a video of Lindell, reportedly filmed after the Capitol riot that led to Trump being impeached for a second time.
"This is the only time we have in history to beat these guys, to suppress the evil and beat the evil," Lindell says in the video. "This is a fight for everything we've grown up with, everything we live for, everything this country stands for. The whole world is watching and, 100%, Donald Trump is going to be your president for the next four years."
Lindell also came under fire last week after a photograph taken as he headed into a meeting with Trump showed him carrying notes that appeared to encourage the president to invoke "martial law if necessary." These were interpreted by many as an attempt to help Trump stay in power.
Meanwhile, Dominion Voting Systems has told Lindell it intends to sue him over his false claims that the company's machines allowed widespread fraud in the election—a move Lindell said he welcomed.