Dominion Sues Mike Lindell for $1.3 Billion, More than Four times MyPillow's Annual Revenues
Dominion Voting Systems filed a $1.3 billion lawsuit against MyPillow and CEO Mike Lindell on Monday as it alleged that the businessman defamed the voting machine manufacturer by claiming that its systems played a role in rigging the 2020 presidential election.
The voting machine supplier has sought more than $651 million in punitive damages, and a further $651.7 million in compensation from Lindell over his baseless allegations. According to the filing, the company is also seeking an injunction to have all of Lindell's "false and defamatory" remarks about Dominion removed.
The $1.3 billion claim is roughly four times MyPillow's annual revenue—which exceeded $300 million in 2019, Lindell told The New York Times earlier this year.
Dominion filed equally large lawsuits against the pro-Trump lawyers Sidney Powell and Rudy Giuliani in January over claims they made about the company's voting systems being part of a baseless conspiracy theory.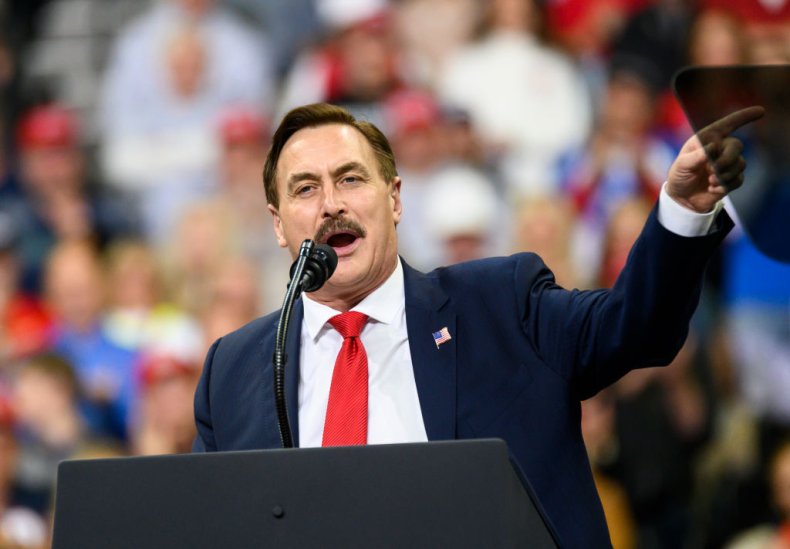 In its latest 115-page lawsuit filing, Dominion claimed that Lindell had caused the firm "unprecedented reputational and financial harm," and accused the Trump ally of peddling baseless theories about the election to sell more pillows.
"As a result of the false accusations disseminated to a global audience by Lindell, his allies, and like-minded media outlets... Dominion has suffered unprecedented reputational and financial harm, and its employees' lives have been put in danger," the company's lawsuit read.
Dominion later added that Lindell's claims against the firm forced it to spend money on on-site policy and security to protect staff receiving death threats and "other threatening messages" allegedly as a results of lies told by the MyPillow CEO.
"Through discovery, Dominion will prove that there is no real evidence supporting the Big Lie," the manufacturer's lawsuit said. "Dominion brings this action to vindicate the company's rights, to recover damages, to seek a narrowly tailored injunction, to stand up for itself and its employees, and to stop Lindell and MyPillow from further profiting at Dominion's expense."
Dominion filed its lawsuit against Lindell and his company after he released a documentary on election fraud on Friday that the voting machine manufacturer said included "false and defamatory" statements about the company.
In January, the MyPillow CEO said he would "welcome" a lawsuit from the voting systems supplied after it warned litigation was "imminent" after he positioned himself as "a prominent leader of the ongoing misinformation campaign" against the November election.
"I welcome Dominion to sue me. I welcome it," Lindell said. "Please. Please sue me... and then you can show us all about your machines."
Newsweek has contacted Dominion Voting Systems and MyPillow for further comment on the lawsuit.