Rudy Giuliani Warns Dominion Against Lawsuit: 'I'm a Crazy Guy, I Really Am, Just Really Crazy'
Rudy Giuliani, attorney for former President Donald Trump, responded Monday to a $1.3 billion defamation lawsuit filed against him by Dominion Voting Systems.
Giuliani had publicly supported Trump's baseless claims that widespread voter fraud had been a factor in President Joe Biden's victory. Among the conspiracy theories peddled by Giuliani was an allegation that tabulation machines manufactured by Dominion Voting Systems had been programmed to flip votes from Trump to Biden. Many of the lawsuits filed by Giuliani and other members of Trump's legal team, attempting to overturn the results of the election, failed. In its Monday filing, Dominion said that Giuliani's allegations had damaged the company's reputation.
During Monday's edition of Giuliani's Chat with the Mayor program on WABC, Giuliani scoffed at the billion-dollar lawsuit.
"What do you think I am, some kind of jackass?" Giuliani asked. "That's intended to frighten me, you want to frighten me. You want to scare me, like you have some of these companies and stations that have gone ahead and kissed your you-know-what. Because they're afraid of you."
"Well, I tell you I'm a crazy guy, I really am, I'm just really crazy," Giuliani continued. "So not only haven't you scared me, you've actually given me something that I couldn't get through the censorship that's been set up so nobody can see your machines."
Giuliani asserted that the lawsuit would allow his "independent experts" to examine the voting machines and delve deeply into Dominion's investors and business connections.
"You got the wrong guy here," Giuliani said. "I think a couple of the others you sued are the wrong people too. I just don't think they're able to be frightened."
Newsweek reached out to Dominion Voting Systems for comment.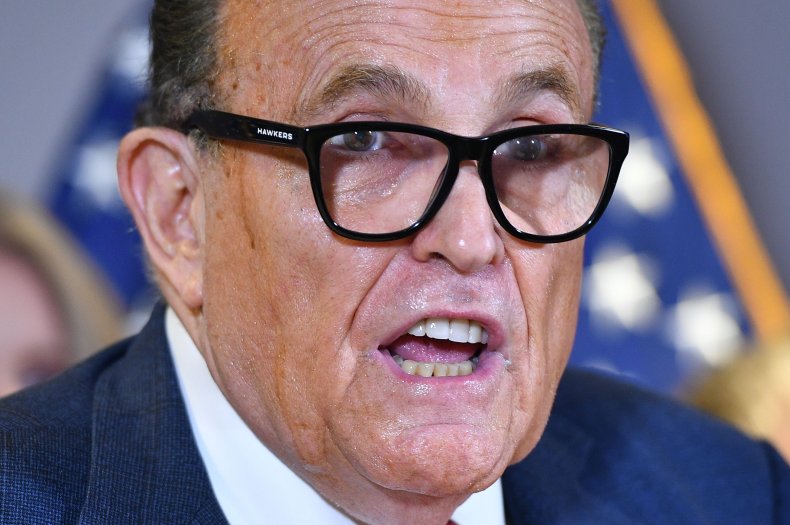 In a Monday statement, Dominion CEO John Paulos said Giuliani's continued allegations that Dominion was implicit in voter fraud had "undermined trust in American democratic institutions." Paulos added that Giuliani "continues to make demonstrable false claims, and we intend to hold him, and others who spread disinformation, to account."
Dominion also filed a $1.3 billion lawsuit against attorney Sidney Powell in January. Powell, who worked alongside Trump's legal team, alleged that Dominion got its start in Venezuela and that its voting machines were used in that country to ensure the election of late Venezuelan president Hugo Chavez. Dominion has denied the allegations.
"Dominion has never participated in any elections in Venezuela and has no connection or relationship with the now-deceased former Venezuelan dictator Hugo Chavez," Dominion said in a November statement. "Other companies have serviced elections in Venezuela, but Dominion is not one of them."
Giuliani furthered the theory of rigged voting machines during remarks at a Stop the Steal rally in Washington, D.C. in January, telling those in attendance that he had not been allowed to examine "one machine or one paper ballot." In his rally comments, Giuliani equated the lack of access to machines to criminal behavior.
"Who hides evidence?" Giuliani said. "Criminals hide evidence. Not honest people."
After the rally, at which Trump also insinuated widespread voter fraud, a number of Trump supporters walked to the U.S. Capitol and interrupted the Congressional confirmation of Biden's election victory. Members of the mob, some of whom were armed, were able to enter the Capitol building. Some lawmakers were forced to shelter in place until the incursion could be quelled. Five fatalities were reported in connection with the riot.