Mike Lindell, the CEO of MyPillow, who has repeatedly promoted unfounded and disproven claims of election fraud and interference, has said he will reveal "piles" of evidence showing his ally President Donald Trump won the 2020 ballot.
He also told Newsweek he expects his new social media platform, called Frank, to be launched by the middle of this month.
Dominion Voting Systems (DVS) has filed a $1.3 billion lawsuit against MyPillow and Lindell, saying that he spread false information that its voting machines rigged the presidential election.
But Lindell said he would not be deterred by the lawsuit and would undertake a media blitz in the coming weeks to outline his view that there was election interference involving voting machines "in an attack by the CCP [Chinese Communist Party]."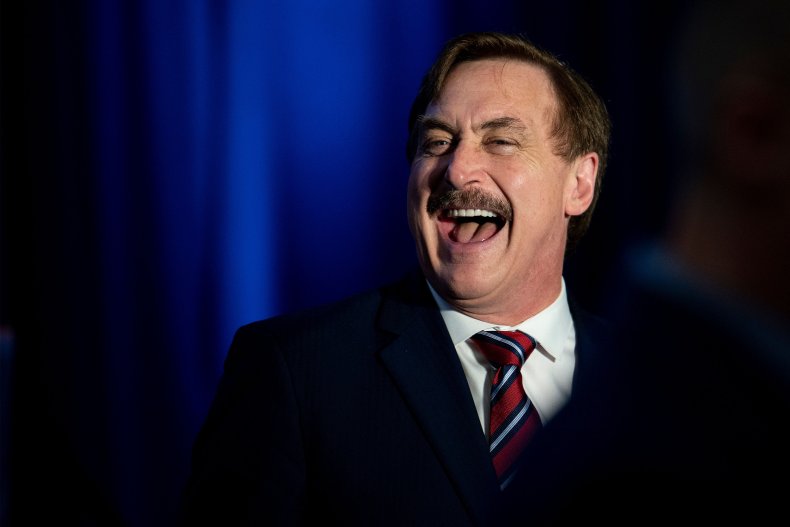 Following the release of a film this week on his website MikeLindellTV in which he interviews a man he says is a cyber expert, another production called "Absolute Interference" will be uploaded and will apparently show the testimony of "whistle blowers whose faces won't be shown."
Lindell told Newsweek that the investigations by two firms he had hired had found "all-new material" that in his view, "are going to show every state what happened—not just the swing states."
"We have got piles and piles and piles of evidence. We are going to dump it on the public because they have suppressed it," he told Newsweek. He described the evidence as relating to "all the cyber footprints with IP addresses, IDs of computers" as well as "private audits being done."
"It is just going to be a mountain of evidence," he added.
When asked of his response to criticism that he was simply peddling conspiracy theories, he replied, "they are just hit jobs, they are lying. I have it all or I wouldn't be going out publicly."
More than 60 lawsuits filed by Trump and his supporters contesting the 2020 election results across the country have been thrown out by courts.
The Cybersecurity and Infrastructure Security Agency at the Department of Homeland Security said in November that the election was the "most secure in American history."
Twitter suspended Lindell from its platform in January "due to repeated violations of our Civil Integrity Policy."
But Lindell has said his own social media platform will be launched soon. It is pitched as a mixture of video uploads, personal posts and community discussion forum and combines ideas from both YouTube and Twitter.
"We are looking at the week of the 12th [of April]" he said of its launch, "I'm hoping sooner, that's been under attack too, but we are still on course."
"When that comes out that is going to change everything, then we can get our voices out there," he added. Newsweek has contacted Dominion Voting Systems for comment.