MyPillow CEO Mike Lindell Promises to 'Dump' New Election Fraud Evidence in Coming Weeks
Mike Lindell, the CEO of MyPillow who has peddled conspiracy theories about the 2020 presidential election, has said he is about to release previously unseen evidence of fraud and interference in the vote.
Lindell, a staunch supporter of Donald Trump, has been promoting the former president's baseless claim that last November's election was rigged. More than 60 lawsuits filed by Trump and his supporters to contest results in various states have been thrown out.
But during an interview with radio host Eric Metaxas, Lindell said he had a team working to uncover evidence—and believed it had now found material that was strong enough to sway Supreme Court judges.
"Over the course of the next four to five weeks, I'm going to dump all this evidence for all to see every day on my new platform Frank, where the world can't suppress it,"he said.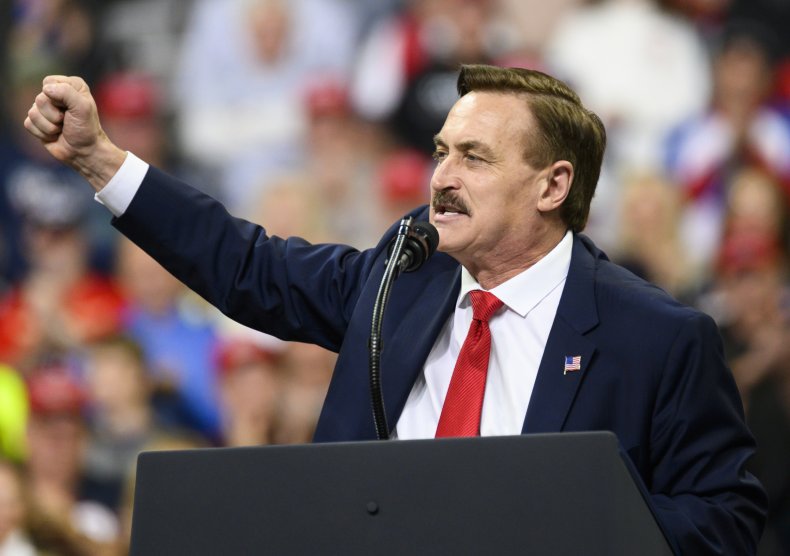 Lindell says Frank, his proposed social media platform, will combine ideas from YouTube and Twitter, and will be able to handle half a billion users. People kicked off YouTube will be given a "bonus" if they join the service, he says.
Lindell, who claimed in a separate interview on Friday that Trump would be back in office by August, said a media blitz about his election claims would begin on Wednesday with the release of a documentary on LindellTV.com. The film includes an interview with a cyber-expert he named only as "Dr Frank."
"It's a beautiful thing, we can see what the machines did," he added, suggesting that the documentary would include further claims about voting machines.
Dominion Voting Systems has filed a $1.3 billion defamation lawsuit against Lindell over his allegations that it was involved in a conspiracy that transferred Trump votes to President Joe Biden.
Lindell told Metaxas: "Right now, I am launching that first documentary this week. Then next week, I'm launching Absolute Interference, the week after that we are going to be launching Absolute Cover Up," referring to two other films that make fraud claims about the 2020 election.
"We have different evidence which no one has brought before any judge in history and now we have it from multiple places," he said, adding: "We have checked on every IP address, the IDs of the computers, we have everything."
When pressed for details of his evidence, he replied: "This is all the cyber prints—that has never been before judges," adding that he had information about "the cyberware that was used from November 1 to November 5."
"We have people who have worked on the inside," he said. "I spent millions of dollars investigating Dominion, Smartmatic, Twitter, Facebook.
"We are going to put the whole case before the American people and the whole world. It's going to make WikiLeaks look like a Tinker toy," he added.
Lindell was banned from Twitter in January for violating its misinformation policies. Newsweek has contacted him for comment via MyPillow.