Michael Flynn Endorses Virginia Governor Candidate Who Called Capitol Rioters 'Patriots'
Retired General Michael Flynn, former President Donald Trump's former national security adviser, this week endorsed Virginia state Senator Amanda Chase to become the southeastern state's next governor.
Chase has previously described herself as "Trump in heels," and has repeatedly promoted the former president's baseless conspiracy theory that the 2020 election was "stolen" by President Joe Biden and Democrats, as has Flynn. The Virginia lawmaker previously described the pro-Trump rioters who attacked the U.S. Capitol on January 6 as "patriots who love their country" in a Facebook post following the insurrection.
"I fully and wholeheartedly endorse Amanda Chase to be the next Governor of Virginia. She is the strongest voice for VA's small businesses, she is a leader and champion for our 2nd Amendment, Amanda is a strong advocate for the Pro-Life movement, for family values and she will fight against the socialist agenda denying our Liberty and Constitutional Freedoms," Flynn said in a statement that Chase touted on Twitter.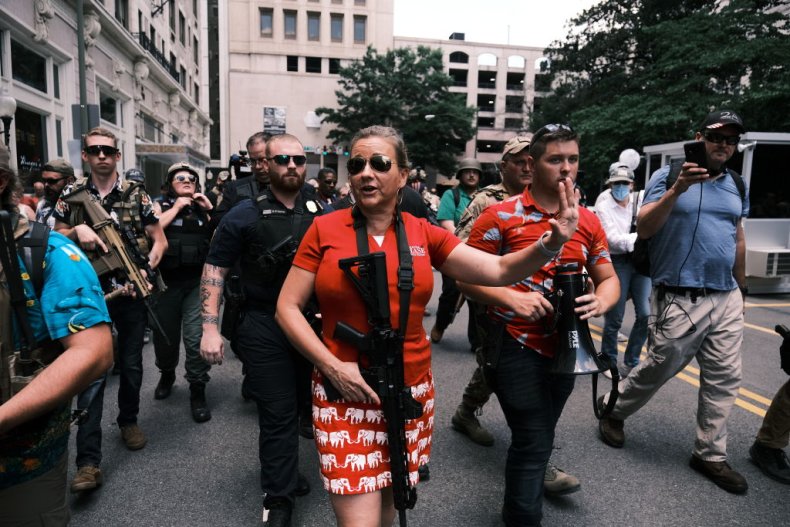 The controversial state senator attended and spoke at the Washington, D.C. "Stop the Steal" rally of Trump supporters ahead of the attack on the Capitol. Chase's Facebook account was suspended after she posted: "These were not rioters and looters; these were Patriots who love their country and do not want to see our great republic turn into a socialist country. I was there with the people; I know. Don't believe the fake media narrative," The Washington Post reported on January 8.
Chase has been condemned by Republicans in Virginia. The state senate voted 24 to 9 in January to censure her for "fomenting insurrection against the United States" and a "pattern of unacceptable conduct." Following that vote, a group of GOP senators issued a statement that read: "Senator Chase's selfishness and constant need for media attention, with which the Senate Republican Caucus is keenly familiar, brought us to the situation in which the Senate found itself today." They said "all" of Virginia's state GOP senators "are united in their disappointment in Senator Chase and their disdain for her actions."
Flynn served just briefly in the Trump administration before he was fired following revelations about his contact with Russia's ambassador in late 2016. The former military officer later pleaded guilty to lying to the FBI and initially signaled his willingness to cooperate with investigators looking into allegations that the Trump campaign potentially conspired with Russia ahead of the 2016 election. However, he later became uncooperative and changed his plea.
In November, Trump pardoned Flynn, saying it was a "great honor" to do so.
Republicans in Virginia plan to choose their gubernatorial candidate during a May 8 convention. A poll from February carried out by Wason Center for Civic Leadership at Christopher Newport University showed that Chase led the GOP field with 17 percent support among Republican voters. She was followed by GOP Virginia House Speaker Kirk Cox, who was backed by 10 percent.
Newsweek reached out to Chase's office for further comment.