Donald Trump Endorses Elise Stefanik to Replace Liz Cheney as GOP Conference Chair
Former President Donald Trump endorsed Representative Elise Stefanik to replace Representative Liz Cheney as the No. 3 Republican in the House on Wednesday morning.
"Liz Cheney is a warmongering fool who has no business in Republican Party Leadership. We want leaders who believe in the Make America Great Again movement, and prioritize the values of America First," Trump said in a statement. "Elise Stefanik is a far superior choice, and she has my COMPLETE and TOTAL Endorsement for GOP Conference Chair. Elise is a tough and smart communicator!"
Trump's endorsement comes as the House Republican Conference considers ousting Cheney from her position as chair for a second time this year. The Wyoming Republican is currently the highest-ranking Republican woman in Congress.
Stefanik, a New York Republican, has also received public support to replace Cheney from House Minority Whip Steve Scalise.
Scalise's spokesperson, Lauren Fine, told Punchbowl News, "House Republicans need to be solely focused on taking back the House in 2022 and fighting against Speaker Pelosi and President Biden's radical socialist agenda, and Elise Stefanik is strongly committed to doing that, which is why Whip Scalise has pledged to support her for Conference Chair."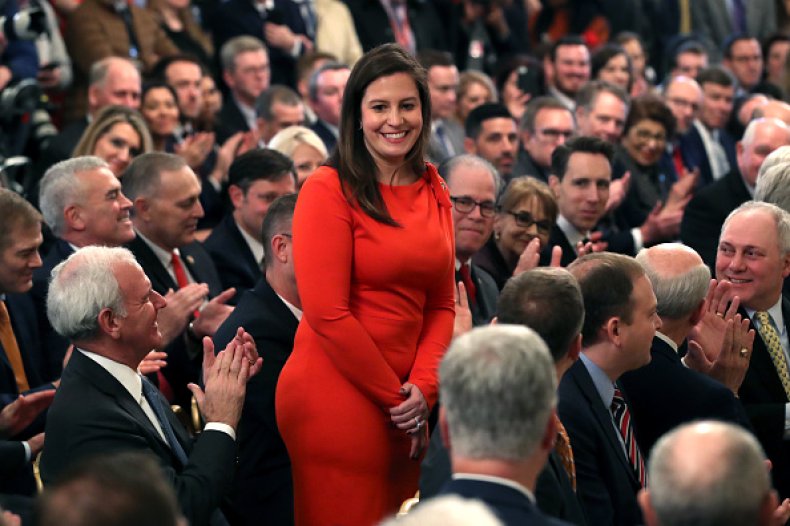 Cheney has continued to face blowback from fellow Republicans for her criticisms of Trump's role in the January 6 Capitol riots. She was among 10 House Republicans who voted to impeach Trump a second time earlier this year.
Despite the backlash, Cheney has stood by her vote and continually denounced Trump's statements about the election.
On Monday, the congresswoman tweeted, "The 2020 presidential election was not stolen. Anyone who claims it was is spreading THE BIG LIE, turning their back on the rule of law, and poisoning our democratic system."
On the other hand, Stefanik has long been an adamant defender of Trump. She stood by the former president during both impeachment votes and signed her name onto a Texas lawsuit seeking to invalidate millions of votes in the 2020 presidential election, which was later thrown out by the Supreme Court.
Stefanik thanked Trump for the endorsement in a tweet, writing, "Thank you President Trump for your 100% support for House GOP Conference Chair. We are unified and focused on FIRING PELOSI & WINNING in 2022!"
While Stefanik is drumming up support to replace Cheney, Cheney also has some Republicans in her corner, including Senators Mitt Romney and Susan Collins. Both Romney and Collins voted to convict Trump at the end of his second impeachment.
"Every person of conscience draws a line beyond which they will not go: Liz Cheney refuses to lie," Romney tweeted on Tuesday. "As one of my Republican Senate colleagues said to me following my impeachment vote: 'I wouldn't want to be a member of a group that punished someone for following their conscience.'"