Fox Host Confronts GOP Rep. Over Opposition to Cheney, Asks if It's Because She's 'Not as Loyal' to Trump
Fox News Sunday anchor Chris Wallace confronted Representative Jim Banks, an Indiana Republican, over his and other GOP lawmakers' opposition to House Republican Conference Chair Representative Liz Cheney, questioning whether it was just because "she's not as loyal to Donald Trump?"
Cheney, a Wyoming Republican, is expected to be ousted from her House GOP leadership role due to her condemnation of Trump for inciting his supporters to attack the U.S. Capitol on January 6 in a bid to overturn President Joe Biden's election victory. House Republican leaders are expected to replace her with Representative Elise Stefanik, a New York Republican, despite her less conservative voting record.
Wallace pointed out to Banks that Cheney clearly has a more staunchly conservative voting record in Congress, noting that she voted in line with Trump's agenda more often than Stefanik. "If Cheney is being replaced and she's clearly, it seems, more conservative than Stefanik—is it just because of the fact that she's not as loyal to Donald Trump?" he asked.
Banks, chair of the conservative Republican Study Committee caucus, argued that the assessment "completely misses the point." The congressman argued that it was about having a more "unified" Republican Party, saying that Cheney's repeated criticism of Trump was distracting from the party's goals.
"Republicans are almost completely unified in a single mission to oppose the radical, dangerous Biden agenda and win back the majority in the midterm elections," Banks said. "And any other focus other than that is a distraction from stopping the Biden administration agenda."
Looking confused, Wallace continued to press Banks, asking, "What is it about Liz Cheney that isn't focusing on this mission? She opposes Joe Biden's agenda very strongly," he pointed out.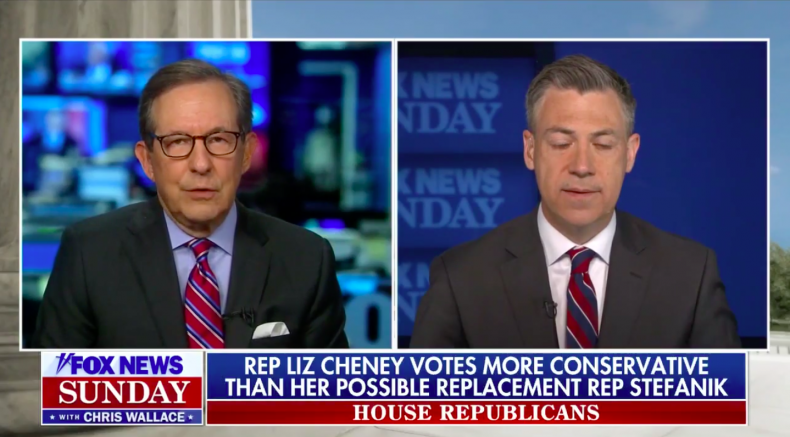 Banks argued that her opposition to Biden has not been "as seen as much as most of us in the Republican Conference would like to see."
"I'm the leader of the largest conservative caucus, the Republican Study Committee. Chris, It is uncomfortable at times, but one of my jobs is to hold my Republican leadership accountable for being focused on the Republican ideals that we stand for and the single mission that we have to win back the majority," the GOP lawmaker said.
Wallace then asked Banks why he was "unwilling to discuss" Cheney's "criticism" of Trump.
"I'm not. And as a rank and file member of the House Republican Conference, Liz Cheney or anyone else in our conference can stay focused on other issues unrelated to us winning back the majority in the midterm election," he said. "But I know that the belief that I have, Chris, that a majority of our conference has—that she's lost focus on the single mission that we have."
Later in the interview, Wallace pointed out that Cheney has simply been pointing out the reality that Trump continues to lie about the 2020 election. "Liz Cheney is saying in fact that Donald Trump contributed to the riot [against the Capitol on January 6]," he said. "Is it a lie that the election was stolen? Did he [Trump] contribute to the insurrection on the Capitol?"
Banks responded by saying he's never said that the election was "stolen." However, he said that he has "very serious concerns with how the election was conducted." The Indiana Republican was one of the 147 GOP lawmakers who objected to Biden's victory in key battleground states, backing groundless claims that there were valid concerns about widespread voter fraud.
House Republicans are expected to remove Cheney from her role as the No. 3 House Republican this week. On Sunday, House Minority Leader Kevin McCarthy, a California Republican, asserted in an interview with Fox Business that he backs Stefanik's bid to unseat Cheney. McCarthy previously supported Cheney after a group of GOP House members attempted to oust her earlier this year. In addition to McCarthy, House Minority Whip Steve Scalise, a Louisiana Republican, and Trump have both endorsed Stefanik to replace Cheney.
Cheney was one of the 10 House Republicans to vote with Democrats to impeach Trump following the attack by his supporters on the Capitol. Ahead of that vote, Cheney blasted the then president, saying that "there has never been a greater betrayal by a President of the United States of his office and his oath to the Constitution." Notably, McCarthy blamed Trump for the attack on the Capitol at the time as well, but he declined to vote for the then president's impeachment.
Although Trump and his allies continue to claim that the 2020 election was fraudulent, they have not provided evidence to substantiate this extraordinary allegation. Dozens of election lawsuits filed in state and federal courts have failed. Even judges appointed by Trump and other Republicans dismissed or rejected the often bizarre allegations. Meanwhile, numerous audits and recounts in key battleground states—including in states where elections were overseen by Trump-supporting Republicans—have reaffirmed Biden's victory.
Former Attorney General William Barr, who was widely viewed as one of Trump's most loyal Cabinet members, said in December that there was "no evidence" of fraud that would impact the election's outcome. And the Cybersecurity and Infrastructure Security Agency at the Department of Homeland Security released a statement in mid-November describing the 2020 election as the "most secure in American history." The agency, which was led by a Trump appointee at the time, explained that there was "no evidence that any voting system deleted or lost votes, changed votes, or was in any way compromised."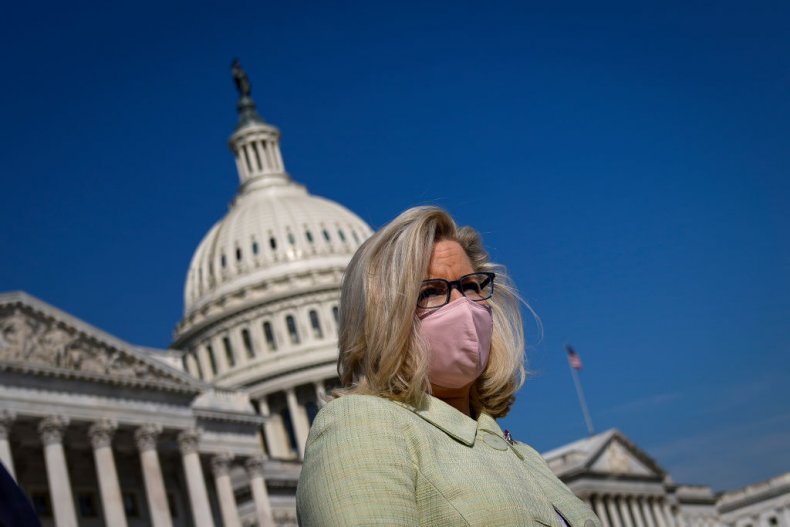 Cheney published an opinion article in The Washington Post last week, urging Republicans to reject Trump and push back against his baseless conspiracy theory about the 2020 election.
"The Republican Party is at a turning point, and Republicans must decide whether we are going to choose truth and fidelity to the Constitution. In the immediate wake of the violence of Jan. 6, almost all of us knew the gravity and the cause of what had just happened—we had witnessed it firsthand," Cheney wrote in the article published on Wednesday.
"History is watching. Our children are watching. We must be brave enough to defend the basic principles that underpin and protect our freedom and our democratic process," the GOP congresswoman wrote.
Newsweek reached out to Cheney's press secretary for further comment.