An alliance of former Republican lawmakers and officials vowed on Thursday to "save America" from "extremists" within the GOP, taking aim at former President Donald Trump and his loyalist supporters.
A number of leading Republican lawmakers and officials—dubbed "Never Trumpers"—have opposed Trump since his 2016 presidential campaign. This faction of the GOP has grown somewhat since the 2020 election and the January 6 attack against the U.S. Capitol by the former president's supporters. On Wednesday, a group of anti-Trump Republicans published an opinion article with The Washington Post asserting their intentions to move forward with a more formal effort to oppose the Trump-dominated Republican Party.
"Alongside dozens of prominent Republicans, ex-Republicans and independents, we are announcing 'A Call for American Renewal,' a nationwide rallying cry against extremist elements within the GOP, and highlighting the urgent need for a new, common-sense coalition," they wrote, urging Americans to join them.
"Our alliance includes former governors, members of Congress, Cabinet secretaries, state officials, seasoned political strategists and grass-roots leaders dedicated to offering a hopeful, principles-based vision for the country—and ensuring that our votes have decisive impact in key elections across the United States," they explained.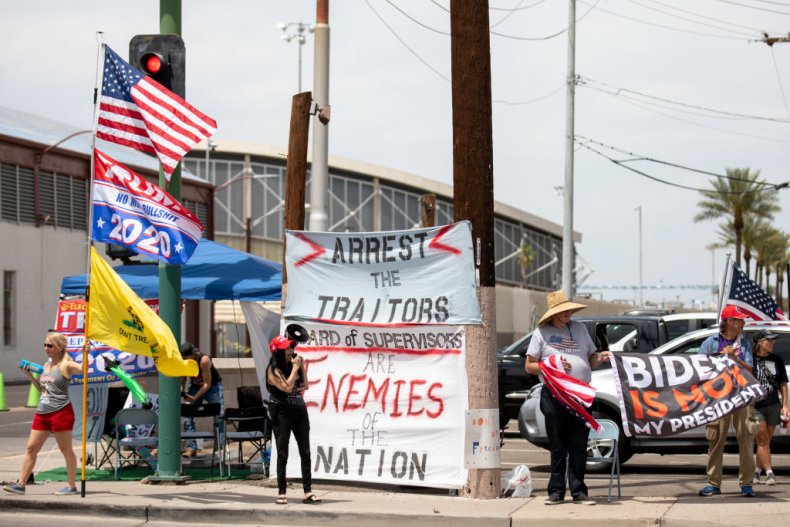 The opinion article was written by former GOP Representatives Charlie Dent and Denver Riggleman, former GOP chair Michael Steele, former Republican Governor Christine Todd Whitman of New Jersey and Mary Peters, who served as secretary of transportation in the George W. Bush administration.
"Tragically, the Republican Party has lost its way, perverted by fear, lies and self-interest. What's more, GOP attacks on the integrity of our elections and our institutions pose a continuing and material threat to the nation," the authors warned.
They explained that they are not willing to "wait forever" to see changes within the Republican Party. "If we cannot save the Republican Party from itself, we will help save America from extremist elements in the Republican Party," the former GOP officials wrote.
Newsweek has reached out to the Republican National Committee and Trump's office for comment.
The opinion article came a day after House Republicans ousted Representative Liz Cheney, a Wyoming Republican, from her No. 3 leadership role as House Republican Conference chair due to her opposition to Trump. Cheney has repeatedly condemned Trump and Republicans who continue to back his lies about the outcome of the 2020 election. The congresswoman was one of 10 GOP House members to vote with Democrats to impeach Trump after he incited his supporters to attack the U.S. Capitol on January 6.
"I think that's a really important thing for people to understand," Cheney said in an interview broadcast Wednesday morning on NBC's Today show. "This isn't about looking backwards. This is about the real-time, current potential damage that he's doing, that he continues to do."
"It's an ongoing threat. So silence is not an option," she said.
Although Trump and his loyalist supporters continue to claim that the 2020 election was "stolen" or "rigged" by Democrats, they have not provided evidence to substantiate this extraordinary claim. To the contrary, dozens of election lawsuits filed by the former president and his supporters have failed in state and federal courts. Even judges appointed by Trump and other Republicans have dismissed and rejected the allegations.
Meanwhile, election audits and recounts in key battleground states have reaffirmed Biden's victory, including in places where the election was overseen by pro-Trump Republicans. In early December, former Attorney General William Barr said that there was "no evidence" of fraud that would affect the election's outcome. And the Cybersecurity and Infrastructure Security Agency at the Department of Homeland Security said following the election last year that there was "no evidence that any voting system deleted or lost votes, changed votes, or was in any way compromised."