Michael Steele, the former chair of the Republican National Committee, welcomed the idea of former President Donald Trump organizing a new political party that his voters could join to leave the GOP.
Recent polls have shown that a significant number—if not a majority—of Republican voters would follow Trump and leave the GOP if the former president chose to form a new political party. However, that appears to be an unlikely possibility as most Republican voters remain loyal to Trump, with those opposed to him appearing to be a relatively small minority within the political party. Steele commented on some of the recent polling and the reality facing Republican leaders during a Monday morning segment on MSNBC.
The former RNC chair, who has long been critical of Trump, said that the internal struggle within the GOP appears to be leaning toward the former president. He noted that polls show that the vast majority of Republican voters still back Trump. "I think, from my estimation, it sounds very Trumpian," he said of the conflict.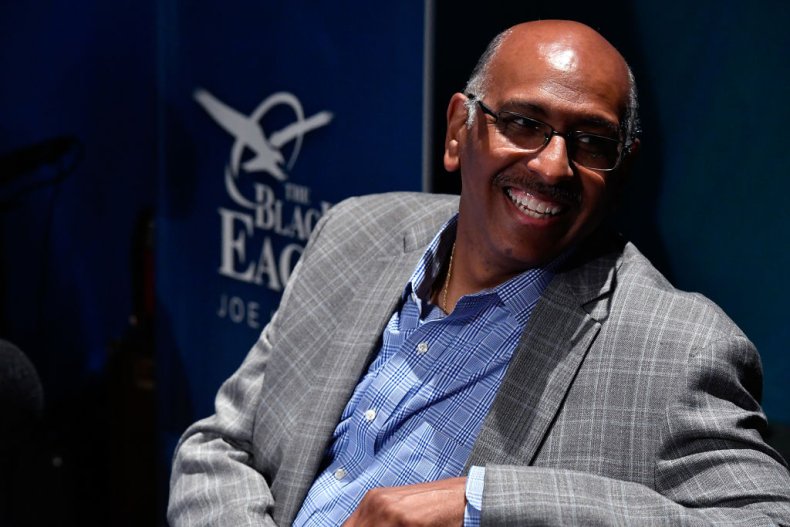 "You've got the national [Republican] leadership making their way down to Mar-a-Lago [Trump's residence in Florida] to confer with Trump," Steele pointed out. The former GOP leader praised Republican Representatives Liz Cheney of Wyoming and Adam Kinzinger of Illinois for taking a stand against the former president's movement.
"And then there's this: the Trump party. And so you have 46 percent of the folks saying that they will follow Trump. I'm like, 'OK, there's the door. Y'all go do your thing and we'll just pick up the pieces on this side and keep moving' and that's the battle," he said.
Steele was citing a USA Today/Suffolk University poll published on Sunday, which showed that 46 percent of Republicans said they would leave the GOP to follow Trump if he formed a new political party. Just 27 percent said they would definitely remain Republicans. Half also said that the Republican Party should become more loyal to the former president.
Another poll published earlier this month by CBS News/YouGov showed that 70 percent of GOP voters would join or consider joining a new political party if Trump formed one. Additionally, 71 percent said they viewed Republican lawmakers voting to impeach or convict Trump for inciting the January 6 riot against the U.S. Capitol as "disloyal."
Ten House Republicans joined Democrats in voting to impeach Trump in the wake of the attack on the U.S. Capitol on January 6. Following the former president's Senate trial this month, seven Republicans voted with all 50 members of the Senate's Democratic Caucus to convict Trump. Although this was the most bipartisan presidential conviction vote in U.S. history, it fell short of the high two-thirds majority (67 senators) threshold required for a successful conviction.
While a number of prominent Republicans are publicly opposing Trump and hope to remove him from the party moving forward, this appears to be largely out of step with the party's base. Jason Miller, a senior adviser to the former president, told Axios this week that "Trump effectively is the Republican Party."
"The only chasm is between Beltway insiders and grassroots Republicans around the country. When you attack President Trump, you're attacking the Republican grassroots," Miller added.
Newsweek reached out to Miller and Trump's press office for further comment but did not immediately receive a response.