Arizona GOP Official Slams Cyber Ninjas' 'Simply Not Accurate' Election Numbers
Jack Sellers, a Republican who chairs the Maricopa County Board of Supervisors, criticized the briefing by Cyber Ninjas to Arizona state senators on Thursday, saying the company conducting an audit of his county's 2020 election results shared numbers that are "simply not accurate."
Arizona Senate Republicans have been pushing forward with a widely criticized and mocked audit of the presidential election results. County officials in Maricopa County—the most populous in Arizona—completed a formal audit of the results last November, and it did not uncover any discrepancies. But GOP lawmakers in the state have pushed forward with their own audit because of former President Donald Trump's baseless claims that the 2020 election was "stolen" for President Joe Biden.
On Thursday, the CEO of Florida-based Cyber Ninjas briefed some Arizona state senators on the progress of its audit, which has been going on for more than two months, The Arizona Republic reported. The company's CEO, Doug Logan, argued that more information was needed from Maricopa County, as did state Senate President Karen Fann, a Republican.
"At today's briefing, the Senate's uncertified contractors asked a lot of open-ended questions, portraying as suspicious what is actually normal and well known to people who work in elections," Sellers said in a statement released in response to the Thursday briefing. "In some cases, they dropped bombshell numbers that are simply not accurate."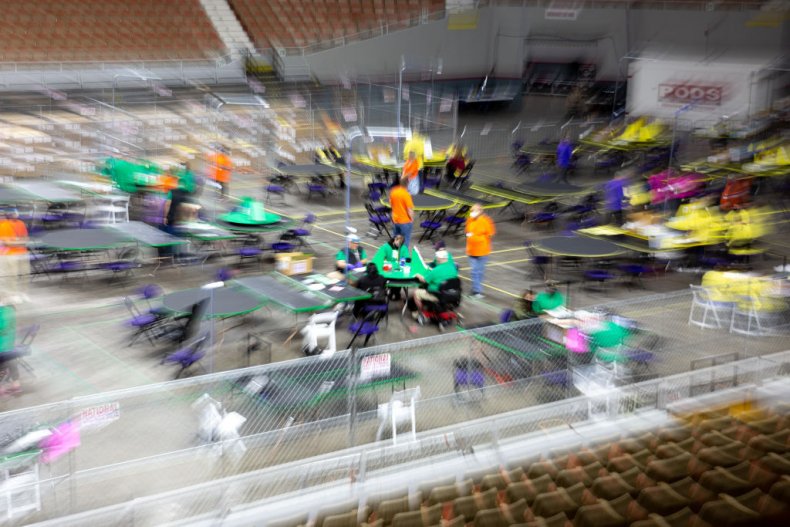 The GOP county official told state Senate leaders to "finish your audit, release the report, and be prepared to defend it in court." Sellers has repeatedly pushed back against often bizarre claims being promoted by fellow Republicans in his state, asserting that the audit process is not being conducted in a proper manner.
On Thursday, Sellers slammed the "incompetence" of the Cyber Ninjas auditors. "What we heard today represents an alternate reality that has veered out of control since the November general election. Senate leadership should be ashamed they broadcast the half-baked theories of the 'Deep Rig' crowd to the world today," the Republican official said.
In June, Benny White, a GOP election analyst who has been involved in audits in Wisconsin, Maryland and Arizona, told local ABC affiliate station KNXV that he is "aghast" at how the audit is moving forward in Arizona.
"They're trying to create a completely new record. Then I suppose they were going to present that and say, 'Here is the truth, don't believe what was published in November,'" White said at the time.
Fann pushed back against Sellers' assessment in a statement emailed to Newsweek. She argued that the Republican was being "dangerous" with his remarks and that there are "no certified election auditors."
"Instead of working with us, they have done everything in their power to derail the audit by withholding items they were required to provide by a lawful subpoena and confirmed by the courts," the state Senate president said.
Trump and his allies continue to groundlessly claim that the 2020 election was "rigged" in favor of President Joe Biden. The allegation has already been thoroughly litigated and wholly discredited. The former president and his supporters have not brought forward any evidence to substantiate the claim.
Dozens of election challenge lawsuits have failed in state and federal courts. Even judges appointed by Trump and fellow Republicans have rejected the allegations. Audits and recounts in key battleground states—including in places where the election was overseen by pro-Trump Republicans—have reaffirmed Biden's victory.
Former Attorney General William Barr asserted last December that there is "no evidence" to substantiate the claims that Biden won through widespread voter fraud. The Cybersecurity and Infrastructure Security Agency at the Department of Homeland Security described the 2020 election as the "most secure in American history." The agency, which was led by a Trump appointee at the time, asserted that there was "no evidence that any voting system deleted or lost votes, changed votes, or was in any way compromised."
Nonetheless, thousands of Trump supporters continue to regularly attend massive rallies organized by conservatives—such as My Pillow CEO Mike Lindell—and supporting the belief that the election was "stolen." Polling has consistently shown that a majority of Republicans do not view Biden as the legitimate president, and many believe that Trump should still be in the White House.
Newsweek reached out to Sellers and Fann for comment but did not hear back before publication.