Five Things to Look for in This Week's Primaries
Voters are set to go to the polls this week in six states to make key decisions ahead of the November midterm elections.
On August 2 and 4, primary elections will take place across multiple levels of government in Arizona, Kansas, Michigan, Missouri, Tennessee and Washington, with an additional ballot held in Kansas to decide on the state's constitutional right on abortion.
Below, Newsweek has detailed five things to look out for ahead of this week's primaries that could have a significant impact on the upcoming elections.
Kari Lake Predicted to Become GOP Pick for Arizona's Governor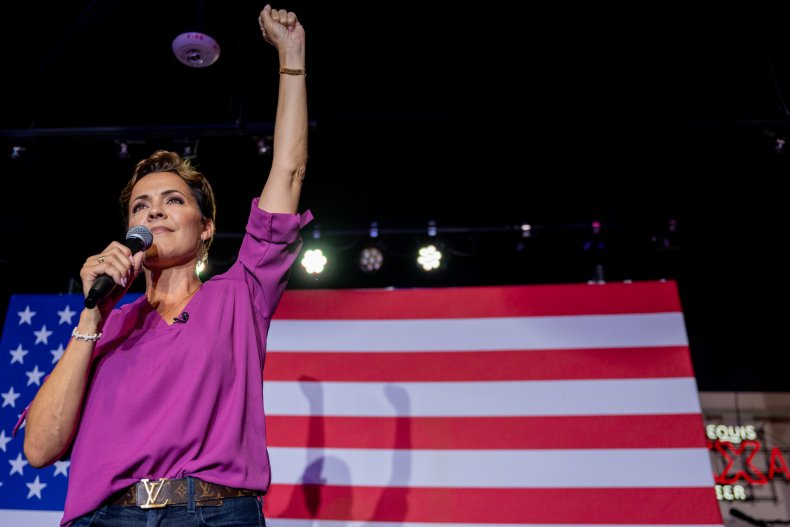 One of the most talked about races on Tuesday is the Republican gubernatorial primary in Arizona, where the Donald Trump-backed Kari Lake is the frontrunner alongside Governor Doug Ducey-endorsed Karrin Taylor Robson.
As with most primaries in which the former president has become involved, the topic of the 2020 presidential election has been a significant factor in the Republican race to become the next governor.
Lake, who has long supported the false claim that the 2020 election was "stolen" from Trump, has already begun suggesting there could be voter fraud in the primary, without citing any evidence.
"We're already detecting fraud and believe me, we've got cyber folks working with us, we've got lots of attorneys," Lake told her supporters at a recent campaign event in Phoenix, The Washington Post reported. "I'm hoping that we have the sheriffs that will do something about it. We'll keep you posted."
The Republican primary was long thought to be a close race, but recent polls are suggesting Lake is now the clear leader and favorite to win.
According to an OH Predictive Insights poll conducted July 27, Lake holds a 51 to 33 percent lead over Robson, giving the Republican an 11-point lead. In comparison, Lake was only narrowly beating Robson 33 to 31 percent in another poll taken in early July.
A Rasmussen Reports poll from around the same time also shows Lake with a commanding lead over Robson (43 percent to 34 percent) with an Alloy Analytics survey giving Lake a 10-point lead (45 percent to 35 percent).
Will a Far-Right Election Denier Win the Republican Primary for Arizona Secretary of State?
Another Arizona primary that could have nationwide implications is the vote for the Republican secretary of state candidate.
Mark Finchem, a far-right state representative, is another Trump-endorsed candidate who has repeatedly claimed the last election was rigged and introduced a resolution in February to decertify the 2020 election in the state.
Finchem, a member of the extremist militia group Oath Keepers who attended the January 6, 2021 protest in Washington D.C., is currently the front runner to secure the GOP nomination from the role which oversees elections in Arizona.
An OH Predictive Insights poll conducted from June 30 to July 2 listed Finchem as the candidate with the most support at 14 percent. No other candidate in the survey managed double figures, albeit with 72 percent of potential voters still saying they were unsure who to back.
Finchem is one of a number of Trump supporters who falsely claim the last election was rigged and are seeking to be voted into office to oversee statewide policies, including conspiracy theorist Kristina Karamo, who is running for secretary of state in Michigan.
Can Two House Republicans Who Voted to Impeach Trump Survive Washington's Open Primary System?
On Tuesday, two of the 10 House Republicans who voted to impeach Trump for inciting the January 6, 2021 riot at the U.S. Capitol will be on the ballots in Washington state: Representative Jaime Herrera Beutler in the 3rd Congressional District and Representative Dan Newhouse in the 4th.
Trump has embarked on a revenge mission to see all 10 House Republicans removed from office one way or another. In June, Representative Tom Rice suffered a rare incumbent defeat after losing to state Representative Russell Fry in South Carolina's 7th District.
Four other lawmakers who voted to impeach Trump are not running for office again, while Representative Liz Cheney is far from certain to win her upcoming primary in Wyoming. Representative Peter Meijer is also facing a GOP primary in Michigan on Tuesday.
What could help Beutler and Newhouse's chances of winning their respective primary is that the state has an open primary system—meaning anyone, no matter which party they are affiliated with, can choose who they want as the candidate, with the two leading candidates going onto the general election.
The state's voting system means that the pair could still rely on independent and Democrat supporters to help them make up numbers and counteract any revenge voting from Trump's loyal followers.
Washington's open primary system also means that both Beutler and Newhouse could be on the ballot in November even if they finish second on Tuesday.
"It forces you as a candidate to compete as if you're running in a general election because the August primary is not just your voters," Washington State Republican Party chairman Caleb Heimlich told Politico. "It's not just Republicans choosing their favorite Republican—it's all voters voting."
Governor Gretchen Whitmer Looks to Solidify Position With Base Ahead Of Fierce GOP Competition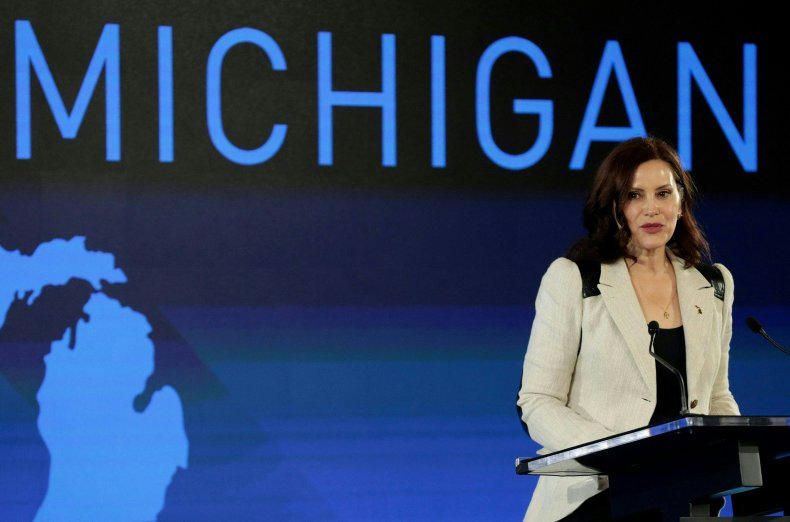 In Michigan, Governor Gretchen Whitmer is hoping to show she still has significant support from Democrats ahead of a potentially close midterm race in November.
Polls show that Whitmer currently enjoys strong approval ratings among Michigan voters and Democrats, with nearly half of potentially key independent voters (49.1 percent) approving of her role as governor, according to a recent WDIV/Detroit News poll.
The survey also found that Whitmer, who has frequently come under attack from Trump, would also beat all five potential GOP candidates in a hypothetical midterm match-up.
When up against the Republican front runner Tudor Dixon, who recently got an endorsement from Trump, Whitmer beats her by 50.7 percent to 40.3 percent.
Kansas to Hold First Post Roe v. Wade Vote on Abortion
While not a primary, voters in Kansas will still take to the polls on Tuesday to make a significant decision.
After the Supreme Court voted to dissolve Roe v. Wade, voters in Kansas will be asked whether the state's constitution should keep an amendment that will continue to protect abortion rights.
If the amendment is removed, it could pave the way for a total ban on abortion in the state.
Tuesday's vote will be the first time that the public has been asked to decide on abortion rights since the Supreme Court decision on June 24.
A recent poll found the decision on whether to support the amendment is a close one. The survey conducted by the Kansas City-based co/efficient found that 47 percent of respondents plan on voting to keep the amendment, while 43 percent said they would not. Ten percent said they were undecided.