Liz Cheney's Chances vs. Donald Trump of Winning 2024 GOP Primary
Wyoming Representative Liz Cheney would face a mammoth task to win the GOP nomination over Donald Trump, should they both choose to run in 2024, according to polls and betting odds.
In a recent interview with ABC, Cheney acknowledged there is a possibility that she may run for president in 2024 in order to stop her old nemesis Trump from returning to the White House.
Cheney, one of two Republicans on the House Select Committee investigating the January 6 attack, said she has not "made a decision" about running for president in 2024.
"I'm obviously very focused on my re-election. I'm very focused on the Jan. 6 committee," she said. "I'm very focused on my obligations to do the job that I have now. And I'll make a decision about '24 down the road."
"But I think about it less in terms of a decision about running for office and more in terms of as an American—and as somebody who's in a position of public trust now—how do I make sure that I'm doing everything I can to do the right thing, to do what I know is right for the country, and to protect our Constitution?"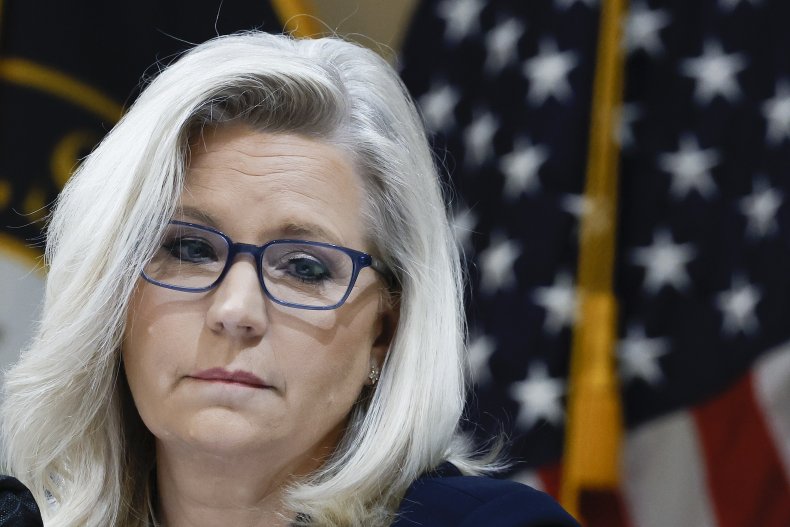 While the election is still more more than two years away, Cheney—who Trump has long expressed his desire to see voted out of office—is currently barely even considered an outside shot at clinching the nomination.
According to a recent Morning Consult poll, conducted between June 24-26, Trump is still far and away the favorite among GOP voters, with 53 percent saying they would back him for the nomination, followed by Florida Governor Ron DeSantis on 22 percent and former Vice President Mike Pence on eight percent.
In comparison, Cheney was among several potential candidates, including Senators Ted Cruz and Mitt Romney and South Carolina Gov. Nikki Haley, who did not even manage to achieve three percent in support from Republican voters.
Elsewhere, the Smarkets betting exchange currently does not list Cheney as a potential candidate for the next Republican presidential nominee. However, Smarkets does include Cheney in an expanded list of potential winners of the 2024 election, giving her a 0.33 percent chance of winning and odds of 200/1.
Trump and DeSantis are currently neck and neck favorites to become the next president, with Smarkets listing them both as 20 percent likely to be the next person to enter the White House, with Joe Biden behind on third at 14 percent.
According to a collection of national surveys since November 2021, compiled by Polling USA, Trump is by far the favorite to clinch the GOP nomination should he run. As of June 16, his average polling stood at 55.3 percent, with DeSantis second at 19.3 percent, and Pence third on 12.5 percent.
Before Cheney can even consider a run for the presidency and a potential showdown against Trump, she must first win her own GOP primary.
Cheney, who has been censured by the Republican National Committee and no longer recognized as part of the party by the Wyoming GOP due to her role on the January 6 panel and criticism of the former president, is aiming to defeat four candidates in August's vote, including the Trump-endorsed Harriet Hageman.
While there has been no reliable polling for the GOP primary, an internal survey from a pro-Hageman group released in June found the Trump-backed candidate has the support of 56 percent of voters, compared to 28 percent who said they would back Cheney.
Correction: This article has been amended to correctly state how far away the 2024 Election is.