Representative Liz Cheney left the door open on the possibility of a 2024 presidential run on Sunday.
Following last year's attack on the U.S. Capitol, the Wyoming Republican emerged as one of the most vocal critics of former President Donald Trump within the Republican Party. She also sits on the House select committee that is investigating the January 6 attack, and has warned against what she views as Trump's negative influence on both the country and GOP.
During an interview on ABC News' This Week, journalist Jonathan Karl asked Cheney if she plans to run for president in 2024 "as a way to prevent what you say would be destruction to the party."
The GOP lawmaker said she has not yet made a decision about 2024, and that she is currently focused on her reelection bid to Congress. She faces a tough primary election against Trump-endorsed Harriet Hageman in Wyoming where Trump remains deeply popular.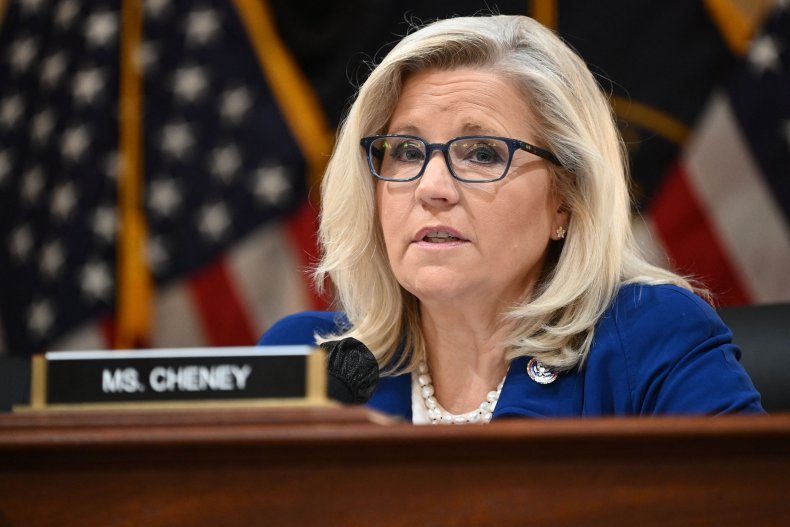 "I haven't made a decision about that yet. I'm obviously very focused on my reelection. I'm very focused on the January 6 committee," she said. "I'm very focused on my obligations to do the job that I have now."
She added that she would make a decision about whether or not to run for president "down the road."
"I think about it less in terms of a decision about running for office and more in terms of, as an American and as somebody who is in a position of public trust now, how do I make sure that I'm doing everything I can do the right thing—to do what I know is right for the country and to protect our constitution," the congresswoman said.
Should Cheney run for president, her candidacy would test whether or not Republican voters would be willing to vote for a Trump critic, as the former president remains popular with GOP voters, according to recent polls.
Cheney Could Lose Congressional Race
Although Cheney said her priority right now is winning reelection to Congress, she remains at risk of losing to Hageman, despite her conservative voting record, in the August primary, according to polls.
Wyoming is among the most conservative states where Trump won about 70 percent of the vote. Cheney has found herself at odds with many constituents over her staunch criticism of the former president.
A poll released last month, conducted by Fabrizio, Lee & Associates for the Hageman-aligned Wyoming Values super PAC, found Hageman winning 56 percent of Republicans' support in the primary, while Cheney won only 28 percent.
Meanwhile, Cheney maintains a fundraising advantage in the primary. She has raised $10 million to Hageman's $2 million.
What Polls Say About Cheney 2024 Run
Even though the presidential election is still two years away, pollsters have already begun asking voters who they plan to support in the GOP primary election to take on President Joe Biden—with most Republicans saying that they plan to back Trump, who dominates nearly every poll.
Cheney, on the other hand, would have an uphill battle to win the GOP primary, according to polls.
A Morning Consult survey released June 26 found that only 1 percent of Republican voters would back Cheney in the primary. Older polls have also found her polling in the low single-digits.
Newsweek reached out to Cheney's campaign for comment.