Representative Liz Cheney is criticizing what she describes as the "cult of personality" surrounding Donald Trump within "large segments" of their political party.
The GOP congresswoman from Wyoming has become one of Trump's harshest critics, publicly rebuking the former president in the wake of the U.S. Capitol attack on January 6, 2021. In response to her consistent condemnation of Trump, Cheney has faced substantial backlash from fellow Republicans. In August, she will go head-to-head with a Trump-endorsed challenger in Wyoming's GOP primary.
During an interview set to air on CBS Sunday Morning this weekend, Cheney was asked whether she views the Republican Party as a "personality cult" focused on Trump. CBS published a brief preview of the interview on Friday.
"I think that large segments of it have certainly become that," she responded. She went on to say, "I think there is absolutely a cult of personality around Donald Trump."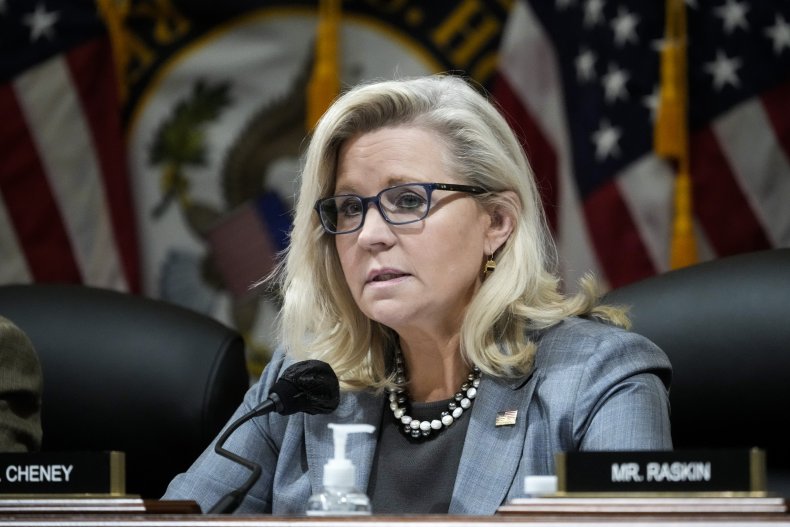 Earlier in the interview, Cheney said: "We have too many people now in the Republican Party who are not taking their responsibilities seriously and who have pledged their allegiance and loyalty to Donald Trump. I mean, it is fundamentally antithetical, it is contrary to everything conservatives believe, to embrace a personality cult. And yet that is what so many in my party are doing today."
In response to Cheney's latest comments, Trump spokesperson Liz Harrington told Newsweek in a Friday email that "the biggest crowd in Wyoming history just came out to see President Trump." She added that the congresswoman "has nothing but contempt for the people, and the people will soon throw her out."
Trump Attacks Cheney
Trump held a Casper rally last Saturday in support of Cheney's top Republican opponent, Harriet Hageman. Although polling has been scarce in Wyoming, the data that has emerged suggests Cheney has an uphill battle if she hopes to defeat Hageman in August. Trump outperformed Cheney in Wyoming in 2016 and 2020, suggesting he has always been somewhat more popular than her in the state.
Cheney condemned Trump after the events of January 6, joining nine other House Republicans and Democrats in voting to impeach the president on a charge of inciting the attack on the legislative building. Cheney now serves as the vice chair of the House select committee investigating the Capitol riot and the former president's efforts to overturn President Joe Biden's election win.
The Wyoming Republican Party voted last November to no longer recognize Cheney as part of the GOP. However, the vote was nearly evenly split, passing in the Wyoming GOP Central Committee in a 31-29 vote. In February, the state's Republican Party went on to formally censure the congresswoman over her impeachment vote and criticism of Trump.
As Cheney pointed out on CBS Sunday Morning, Trump remains widely popular with Republicans. Polling by CBS News in February showed that more than two-thirds (69 percent) of GOP voters said the former president should seek another White House term in 2024. Less than a third (31 percent) said he should not. Survey data published by Morning Consult in April revealed that a large majority (about 8 in 10) of GOP voters in Georgia, North Carolina, Ohio and Pennsylvania continue to view Trump favorably.
As for Cheney, she has been consistent in her insistence that Trump should no longer be a leader within her party.
"I think the country needs a strong Republican Party going forward, but our party has to choose," she told CBS News in January. "We can either be loyal to Donald Trump or we can be loyal to the Constitution, but we cannot be both."