Liz Cheney's Chances of Beating Trump-Backed Harriet Hageman in Wyoming
Representative Liz Cheney, a staunch Donald Trump critic, continues to fight to maintain her House seat as she faces a primary opponent endorsed by the former president, who is traveling to Wyoming on Saturday for a rally to bolster challenger Harriet Hageman's campaign.
Although Cheney voted with Trump more than 90 percent of the time, she came out strongly against the former president in the immediate aftermath of the attack on the U.S. Capitol carried out by his supporters on January 6, 2021. The Wyoming Republican voted along with nine other GOP House members to impeach Trump for inciting the violence. The former president responded by condemning Cheney and later endorsing Hageman's bid to unseat her last September.
Although four of the House Republicans who voted to impeach Trump decided not to seek reelection, Cheney has pushed forward with her campaign for another term. The congresswoman has continued to push back against Trump's influence while also calling out GOP leaders who continue to support the former president.
Little public polling about Cheney's chances against Hageman has been conducted in Wyoming, but the data that has emerged hasn't boded well for the GOP congresswoman's chances in the state's August primary. Polling conducted from May 24 to 25 by Club for Growth, which opposes Cheney's reelection, showed the incumbent trailing Hageman by 30 points.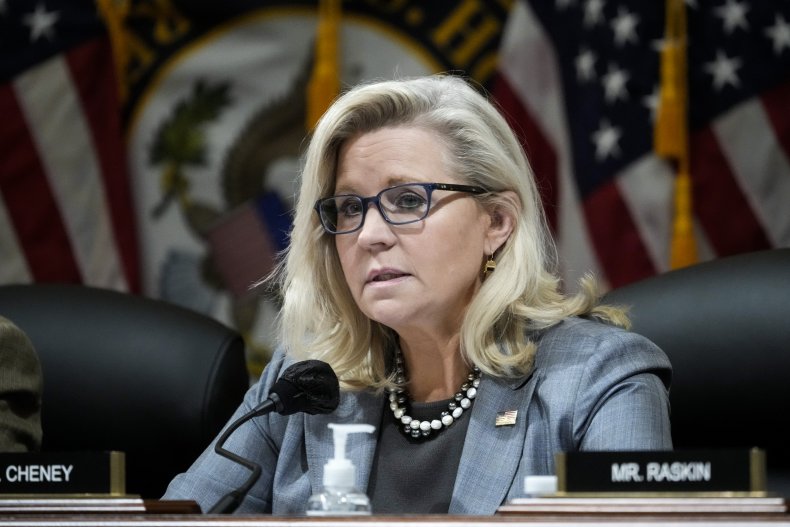 The survey had Hageman with 56 percent among Wyoming Republicans compared to just 26 percent for Cheney. The poll included 400 likely GOP primary voters and had a margin of error of plus or minus 4.9 percent, with a 95 percent confidence level.
Earlier this year, a small GOP straw poll showed Cheney losing by a massive margin to her Trump-backed challenger. The Wyoming Republican State Central Committee held the straw poll on January 22, with Hageman supported by 59 out of the 71 committee members who voted, the Casper Star-Tribune reported at the time. Cheney only won six votes as other local Republicans garnered some support as well.
That small poll came after the Wyoming Republican Party voted last November to no longer recognize Cheney as part of the GOP. However, the vote was nearly evenly split. It passed the Wyoming GOP Central Committee by a margin of 31 to 29. In February, the state's Republican Party went on to formally censure the congresswoman over her impeachment vote and criticism of the former president.
Prior to her opposition to Trump, Cheney appeared to be widely popular in Wyoming. The GOP congresswoman won her 2020 reelection with nearly 69 percent of the vote. That was also an improvement compared to the just under 64 percent she garnered in 2018 and the approximately 62 percent she won in 2016.
But Trump outperformed Cheney in Wyoming in 2020, with nearly 70 percent of the vote. The result was similar in 2016, with Trump garnering just over 68 percent compared to Cheney's nearly 64 percent. Some 70 percent of voters in Wyoming are registered as Republican, according to news and polling analysis site FiveThirtyEight.
Some analysts have speculated that Democrats in Wyoming could potentially save Cheney by casting ballots for her during the August primary. This strategy could potentially work in Cheney's favor if she loses the primary and continues to run anyway. Although two third-party candidates are currently in the running to unseat the incumbent Republican, no Democrat has declared as of yet, according to Ballotpedia.
Whether Cheney would ultimately be able to convince enough Democrats, independents and Republicans to back her reelection against Trump's preferred candidate remains to be seen. One thing the incumbent GOP lawmaker has on her side is fundraising. In the first quarter of the year, Cheney's campaign announced that it had raked in a whopping $2.9 million, Politico reported. That brought her total haul as of early April to about $10 million.
Some of Trump's major endorsements in this primary cycle against Republican incumbents have failed to pan out. Georgia's GOP Governor Brian Kemp and Secretary of State Brad Raffensperger, who drew the former president's wrath after they declined to help him overturn President Joe Biden's 2020 election win in their state, both won their primaries by double-digit margins on Tuesday.
At least one national poll also shows that Cheney continues to have a notable base of support within the GOP. In February, conservative Rasmussen Reports found that Cheney was in third place for the Republican Party's 2024 presidential nomination. However, the Wyoming lawmaker—with just 7 percent support—trailed Trump (47 percent) and Florida Governor Ron DeSantis (20 percent) among likely Republican voters.