Liz Cheney Losing GOP Popularity Contest to Donald Trump, Deemed 2024 Longshot
Congresswoman Liz Cheney is losing the Republican Party popularity contest to former President Donald Trump by a double-digit margin, according to the new polling data.
The latest Economist/YouGov survey found that 58 percent of GOP voters viewed the Wyoming Republican either very or somewhat unfavorably, while only 20 percent of the party base took a positive view of her.
By comparison, former President Trump was backed by the bulk of the Republican caucus. Fifty-five percent of GOP voters told YouGov pollsters that they had a very favorable view of him, and a further 22 percent had a somewhat favorable opinion.
Twenty-one percent of Republicans took a negative view of Trump, and the remaining 2 percent of GOP voters said they didn't know what they thought of the former president.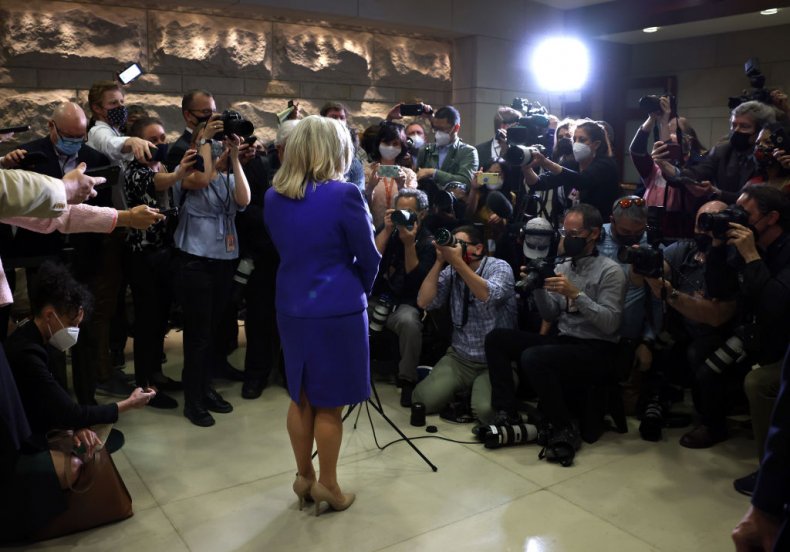 Their positions are reversed among Democratic voters. Rep. Cheney is viewed favorably by 51 percent of Democrats and unfavorably by only 26 percent, according to the poll. Trump is highly disliked by almost two-thirds of Democrats, and viewed favorably by only 19 percent.
The Economist/YouGov poll surveyed 1,500 Americans and 1,204 registered voters between May 8 and May 11. Its margin of error among registered voters is 3 percentage points.
The new poll data was released on the same day Republican lawmakers voted to oust Rep. Cheney from her leadership position in the party, following repeated criticisms of Trump and his refusals to accept the 2020 election result.
Speaking to reporters after the closed-door meeting on Wednesday secured her ouster from the GOP leadership, Cheney said: "I will do everything I can to ensure that the former president never again gets anywhere near the Oval Office."
The former House GOP Conference chair clarified on Fox News on Thursday that she had no plans to run for president in 2024 after previously not ruling out the idea.
"What I think is really important is that we make sure that the former president, because we know what he's capable of... that we make sure that he never again gets anywhere near the Oval Office," she told the network.
The bookmakers' odds of her winning the presidency show she'd have little chance if she did decide to run.
Ladbrokes rates Rep. Cheney's (R-WY) chances of winning the presidency in 2024 at 200-1, while Betfred and Bet365 put her hopes of victory at 100-1 and 50-1 respectively, according to the OddsChecker website.
"There's a huge list of runners and riders from Michelle Obama to Oprah Winfrey but the latest odds suggest it'll take something pretty spectacular to see Liz Cheney winning the 2024 Election if the latest odds are anything to go by," Alex Apati of Ladbrokes said.
Former President Trump has far stronger odds, with several British bookmakers putting his chances of winning the presidency for a second term in 2024 at around 7-1.