Who Is Kristina Karamo? GOP Candidate for Michigan Secretary of State
Kristina Karamo, the Republican nomination for Michigan's secretary of state, has been found to have made a number of wild claims, including describing abortion as a "satanic practice" and the suggestion that demonic possession can be sexually transmitted.
Karamo, who has the backing of Donald Trump to oversee election policies in the state, made a number of controversial statements on her It's Solid Food podcast, which have been unearthed by CNN.
In one October 2020 remark, Karamo described abortion as "nothing new," before claiming it's similar to a satanic ritual.
"The child sacrifice is a very satanic practice, and that's precisely what abortion is," Karamo said.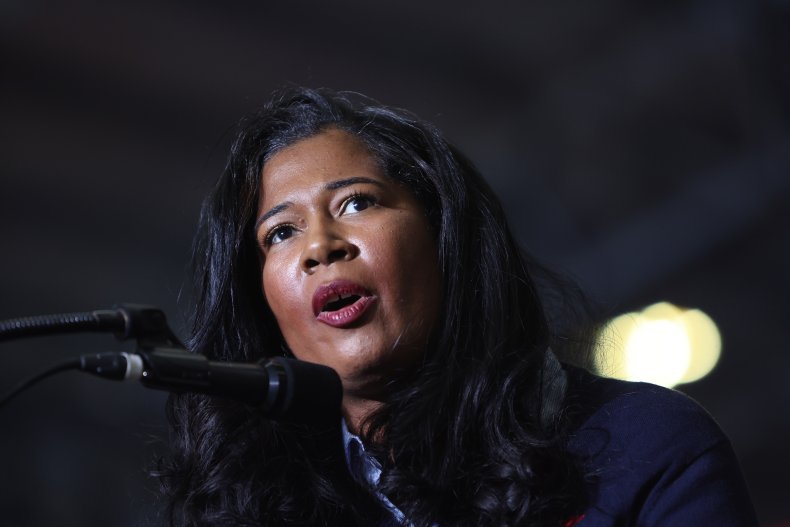 Karamo went on to claim that people have abortions today as they are "hoping to get prosperity," while calling the procedure "the greatest crime of our nation's history."
In a September 2020 episode of her podcast, Karamo claimed that demonic possession is real and can be transmitted through "intimate" relationships.
"If a person has demonic possession—I know it's gonna sound really crazy to me saying that for some people, thinking like what?" Karamo said in September 2020.
"But having intimate relationships with people who are demonically possessed or oppressed—I strongly believe that a person opens themselves up to possession. Demonic possession is real."
In a 2018 video posted on her website, Karamo also pushed a unsubstantiated conspiracy theory that figures including billionaire philanthropist George Soros and former President Barack Obama were using Netflix to push pro-abortion views.
This is not the first time that Karamo has made outlandish claims. As reported by Media Matters, Karamo previously described pop singers Ariana Grande and Billie Eilish as putting children under a "satanic delusion," after saying that rapper Cardi B is a "tool of Lucifer" who "peddles filth in the culture" because of her sexually explicit lyrics.
Karamo is also connected to the QAnon conspiracy theory, a radical theory that believed Trump was battling a secret cabal of satanic child abusers, who included leading Democrat figures and celebrities.
In October 2021, Karamo was a speaker at the "For & Country: Patriot Double Down" event in Las Vegas, which was organized by leading figure in the QAnon movement John Sabal, known as QAnon John, and his wife Amy.
In a previous statement to Newsweek on why she was attending the QAnon event, Karamo said: "In America, people are free to believe whatever they want. My concern is to speak to all Americans about the importance of protecting the security of our elections.
"Drawing upon Michigan, the current Secretary of State has recently submitted rules that not only weaken our elections but also disenfranchise low and middle-income people who want to run for office. I am happy to speak to all Americans regarding the travesty occurring in the state of Michigan."
Karamo first rose to prominence for frequently pushing claims that the 2020 Election was rigged against Trump, including claiming she had witnessed fraud as a poll challenger at the TCF Center in Detroit during Michigan's count of absentee ballots. She has also suggested the January 6 attack at the Capitol was "completely Antifa posing as Trump supporters."
A devout Christian, Karamo has stated she is against teaching evolution and has described public schools as "government indoctrination camps."
Karamo previously worked as an instructor at Wayne County Community College. She graduated from Oakland University with a bachelor's degree in communications, and later achieved a master's in Christian Apologetics from Biola University in La Mirada, California.
In 2018, Karamo unsuccessfully ran to serve as Oakland County Commissioner for the 10th District.
What Has Trump Said About Kristina Karamo?
Karamo's pushing of voter fraud claims gained the attention of Trump, who endorsed her for the GOP nomination for Michigan's secretary of state last September.
"Highly respected Kristina Karamo has my Complete and Total Endorsement to run for Secretary of State of the Great State of Michigan! She is strong on Crime, including the massive Crime of Election Fraud," Trump said in a statement.
"Kristina will fight for you like no other, and of equal importance, she will fight for justice. Good luck Kristina, and while you're at it, check out the Fake Election results that took place in the city of Detroit."
In April, Karamo and Matthew DePerno, another Trump-backed candidate for the Republican candidate for Michigan attorney general, both won their party's endorsements.
In a statement, Trump congratulated them both, while calling the state of Michigan "one of the worst on Election Fraud and corruption" and suggested the pair would "put an end to it."
"At the same time, they'll get to the bottom of the 2020 Election Fraud!" Trump added.
Karamo will face incumbent Democrat Jocelyn Benson for the role of Michigan's secretary of state in November's midterms.
Speaking to NPR in April, Benson outlined the potential danger of having someone willing to support Trump's false election fraud claims in charge of overseeing election policies in Michigan.
"It's like putting arsonists in charge of a fire department. It's like putting a bank robber in charge of a bank and giving them the keys to the vault," Benson said.
"This is a choice between whether or not we'll have a democracy moving forward."
Karamo has been contacted for comment.