QAnon Couple Are Behind 3-Day Dallas Event Billing Michael Flynn and Sidney Powell
The leaders of a group that has organized what is essentially a QAnon convention have been identified, according to reports.
The Patriot Voice is behind the For God & Country Patriot Roundup, scheduled for Memorial Day weekend at the Gilley's Dallas complex and the Omni Dallas Hotel. General admission tickets for the three-day event in May cost $500 per person, with VIP tickets at $1,000.
Keynote speakers include prominent QAnon figures such as former national security adviser Michael Flynn and "Kraken" lawsuit attorney Sidney Powell. There will also be appearances from QAnon advocates Jordan Sather, "IET" and "RedPill78," whose real name is Zak Paine.
The Patriot Voice was founded by a person who uses the handle "QAnon John." According to the Dallas Observer, this is John Sabal—and he and his wife Amy are "the power couple" behind the group.
Using the alias "QAnon John," they promoted the Dallas event on Andre Popa's Who's A Badass podcast and appeared on BEK News' The Right Side with Doug Billings to discuss President Joe Biden's immigration policies.
In September 2020, Saba gave an interview to the website Business Insider using his real name, speaking from a tent adorned with a Q banner in a Pennsylvania parking lot outside a Donald Trump campaign rally.
"Q is everywhere," Sabal told Business Insider. "There's people in your grocery store who follow QAnon. Your next-door neighbor could follow it and never even tell you."
The article uses a photo of Sabal with a caption that refers to him as "QAnon John."
In the interview with Popa, Amy Sabal—identified only as "Amy"—said she was deeper into QAnon than her husband when they had first met. She claimed he had been unaware of some of the group's wild theories, such as the false claim that Senator John McCain did not die of brain cancer in August 2018 but was sentenced to death by a military tribunal following a secret trial.
Amy told Popa she hoped the event in Dallas would help QAnon followers who felt "lost, confused, lonely" after recent disappointments. These include Trump losing the election and then failing to carry out mass executions of satanic pedophiles at Biden's inauguration in January—a highly anticipated event known as "the storm."
Some QAnon supporters also believed Trump would return as president on March 4, basing this idea on false claims made by the sovereign citizen movement.
"They feel like the plan didn't work out. They feel like Trump abandoned us. I'm here to tell you that is not the case," she said.
"We've gotten so many comms from Trump and team since he 'left the White House.' I'm totally convinced that the plan is still moving forward. I believe this was actually part of the plan, as crazy as that sounds."
The website for the Dallas event states: "Although this has been a time of uncertainty for many, it is also a time of excitement as we witness political history being made before our eyes. What better time and place to get together to fellowship and celebrate with your Patriot family?!?"
The Patriot Voice was also behind the pro-Trump "For God & Country Victory Cruise" from New York to Bermuda, which was due to take place between April 17 and 21 but has been postponed. The cruise used QAnon slogans such as WWG1WGA—Where we go one we go all—in its promotion.
A Change.org petition has been set up urging the City of Dallas to cancel the event in May. QAnon is listed as a domestic terrorist threat by the FBI and its supporters were part of the mob that stormed the Capitol on January 6.
"Please, use common sense and decency and do not allow this event to happen," the petition states. "There is a difference between free speech and perpetuating dangerous lies from the mouths of dangerous people."
A spokesperson for the City of Dallas told Newsweek: "Dallas is a welcoming city, bringing together people of many varied interests and ideas. As always, we will do our best to ensure Dallas residents and guests attending this event are safe while in our city."
Newsweek has contacted the Patriot Voice for comment.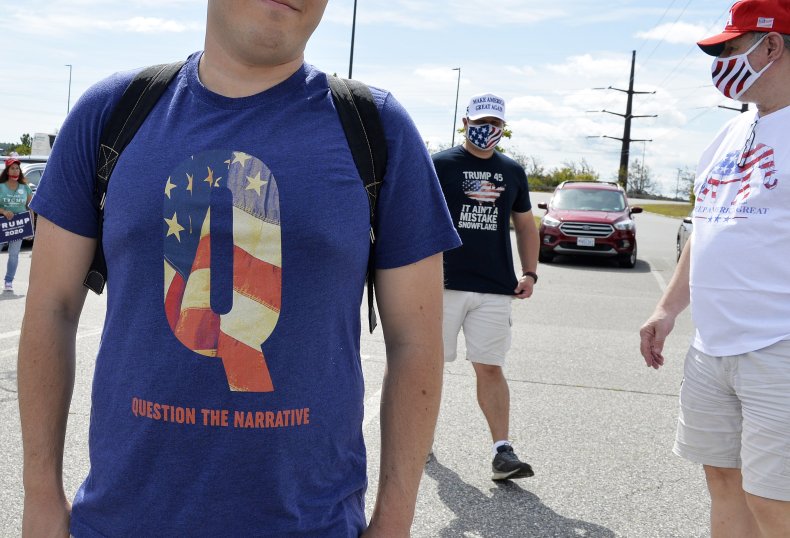 This story has been updated to add a comment from the City of Dallas.