These 13 Candidates Who Were at Stop the Steal on January 6 Are Running for Office in 2022
Thousands of Donald Trump supporters were in Washington D.C. on January 6, 2021 to attend a rally protesting the outcome of the 2020 election, which later led to a violent insurrection at the U.S. Capitol.
Now, some of those attendees are running for state and local elected offices in the 2022 midterms.
These candidates, all running on the Republican ticket, were reportedly in the city on January 6 either for the "Stop the Steal" rally promoting falsehoods that the presidential race was rigged, or at the U.S. Capitol itself. Two of the candidates have even been charged for their participation in the events.
Some "Stop the Steal" candidates found some success in the 2021 races for state and local offices. Three rally attendees won seats in the Virginia House of Delegates, and three other participants won local city and county races.
But party operatives, such as Karl Rove, have warned that Trump's need to settle scores and rehash the outcome of the 2020 presidential race in upcoming elections could be disastrous for the GOP.
Susan Del Percio, a Republican strategist, told Newsweek that these candidates have a better chance of winning the primaries than the general election—especially if they are running in a swing district.
"As far as the primary goes, the more extreme, the more likely the Republican is to win a primary," she said, "and that's why you see a lot of these candidates jockeying all the way to the extreme."
Del Percio added that making 2020 a focal point moving forward is "horrible if you want to win."
"Republicans should focus on the present and what they want to do to improve it," she said. "At some point, they're going to have to show that they have ideas."
These are the candidates running in 2022 who have ties to the "Stop the Steal" rallies near the U.S. Capitol on January 6. Newsweek has contacted the candidates for additional comments.
Teddy Daniels
Daniels, a military veteran and retired police officer, is running to represent Pennsylvania's 8th congressional district in the U.S. House of Representatives. He is challenging Democratic incumbent Matt Cartwright.
Daniels posted a video of himself at the Capitol building on January 6 with the caption: "I am here. God bless our patriots."
Mark Finchem
Finchem, who is running for Arizona secretary of state, said he was in Washington D.C. from January 5 to January 8. The day of the January 6 insurrection, Finchem said he was late to Trump's rally and "walked at the rear of the crowd that made its way down Pennsylvania Avenue" but missed the crowd entering the Capitol building. He also blamed the turn of events on "Antifa."
Democrats in the Arizona House attempted to expel Finchem, currently a state representative, for attending the rally.
Finchem filed to run for office in March and was endorsed by Trump in September. Trump praised the Republican for his "incredibly powerful stance on the Voter Fraud that took place in the 2020 Presidential Election Scam."
Tina Forte
Forte is running for the U.S. House of Representatives in New York's 14th congressional district. The seat is currently held by Democrat Alexandria Ocasio-Cortez. On her campaign website, Forte said she's running "to stop radical socialists from destroying the American Dream."
Forte live-streamed the January 6 event on her Facebook page, Snopes reported. "We need to fight for our freedom, fight for our country, fight for our president, fight for our Constitution," she said in an 11-minute video.
Joey Gilbert
Gilbert, a personal injury attorney currently fighting an attempt by the state bar to reprimand him, is seeking to become Nevada's next governor. He made the announcement in June during a pro-Trump event, where he peddled Trump's lie that the election was stolen.
"If election integrity isn't the No. 1 issue of these guys running, then they're either lost, confused or too stupid to be running," he said at the time, prompting cheers from the crowd gathered.
The Reno Gazette-Journal reported Gilbert spoke at a rally near Trump on January 6 and went to the Capitol. He said on Facebook that he did not go inside the building but that the crowd gathered there was "one of the most beautiful things he's ever seen."
Charles Herbster
Herbster, a Republican businessman, launched his campaign for governor of Nebraska in April. He's one of several GOP candidates running to replace Governor Pete Ricketts, a conservative who cannot seek reelection due to term limits.
Herbster attended the rally of Trump supporters in Washington D.C. on January 6, the Omaha World-Herald reported, but left before the violence broke out at the Capitol. Herbster also wrote in a since-deleted Facebook post that he met in Trump's private residence in his hotel with campaign advisers on January 5.
Trump has endorsed Herbster in the race, calling him "an extraordinarily successful businessman who will fight for our farmers and ranchers, support our military and vets, and protect and defend your under siege Second Amendment rights."
Jason Howland
Howland, who is running for a seat in the Michigan Legislature, was spotted inside the U.S. Capitol byBridge Michigan. He's a founding member of the American Patriot Council, a group that describes itself as an effort "to restore and sustain a constitutional government."
Ryan Kelley
Kelley is part of a growing number of Republicans who are entering the Michigan gubernatorial race to run against Democratic incumbent Gretchen Whitmer.
After being spotted by advocacy groups at the U.S. Capitol on January 6, Kelley said he went there to support Trump and that he never entered the building or interacted with law enforcement.
Audra Johnson
Johnson is running for the U.S. House of Representatives in Michigan's 3rd congressional district. She is challenging Republican incumbent Peter Meijer, one of the 10 House GOP members who voted to impeach Trump after the insurrection.
Johnson told the New York Times she traveled with others to Washington D.C. for Trump's protest of the congressional certification of Biden's win, but never went inside the Capitol. Bridge Michigan reported that in since-deleted Facebook posts from January 6, Johnson said, "This is God-fearing American-loving citizens who have had enough."
Mark Middleton
Middleton is running for a seat in the Texas House. He will be challenging Republican incumbent David Spiller in the primary election this spring.
Middleton was arrested on April 21 and has pleaded not guilty to all counts, including obstruction of Congress and assaulting, resisting or impeding certain officers. Body cameras worn by law enforcement caught Middleton and his wife assaulting officers with their hands, according to a criminal complaint.
On his campaign website, Middleton doesn't mention the Capitol riot but does make the case for secession: "It is past time Texans start seriously exploring our exit from the Union."
Middleton declined to give additional comment to Newsweek.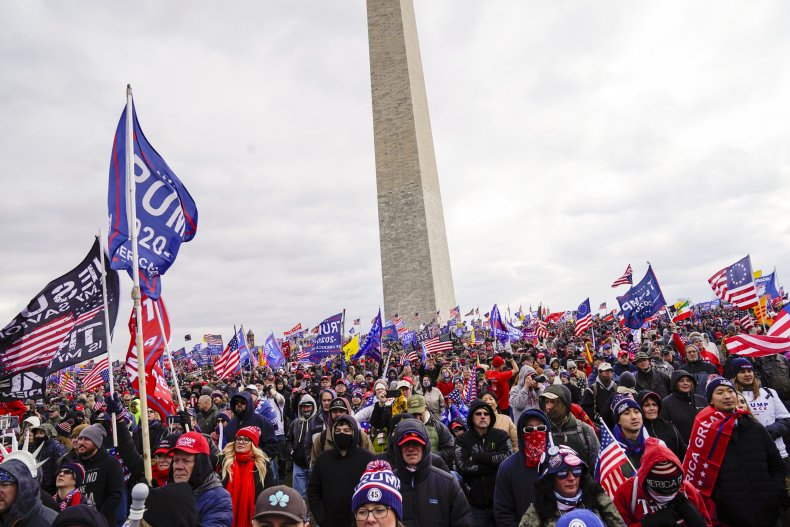 Jason Riddle
Riddle, a New Hampshire native, told NBC10 Boson that he would be mounting a campaign against Democrat Annie Kuster. Kuster has served as a U.S. congresswoman from the state's second district since 2013.
Riddle pleaded guilty to theft of government property and parading, demonstrating, or picketing in a Capitol building as a result of his participation in the events of January 6. His sentencing hearing is scheduled for February 2022. According to a criminal complaint, Riddle stole a book and a toy football from the Office of the U.S. Senate Parliamentarian, and also drank from a bottle of wine he also found in that office.
"In the long run, if you're running for office, any attention is good attention, so I think it will help me," Riddle told NBC10 about how his arrest may impact his campaign in June. Riddle doesn't have a formal campaign website.
Angela Rigas
Rigas, a Michigan resident who made headlines for battling to keep hair salons open during pandemic-related shutdowns, is running for the Michigan Legislature. She has received Trump's endorsement.
Rigas told The Washington Post that she traveled to D.C. for the January 6 rally, and described what she saw outside the Capitol as "an enormous amount of people, people as far as you could see, loving their country and wanting fair elections."
She also said in a speech that she was tear-gassed while in D.C. on January 6 while "chanting USA" and standing on a half-wall outside the Capitol building. She also said in the remarks that she considered being called an "insurrectionist" a "compliment."
"I absolutely do not believe me or any other individual exercising their God-given Constitutional rights should apologize for assembling on January 6," Rigas told Newsweek in an email. "We were there to Redress our grievances to the government which is guaranteed to us in our Constitution. People will look for leaders who will stand firm for their rights and refuse to back down when those rights are being infringed. My campaign continues to push for independence from the government and put the rights of the people back in their hands. Our forefathers created a government of the people by the people and my campaign looks to restore those founding principles."
Jon Rocha
Rocha, who was initially was running for a U.S. House seat but is now running for the Michigan Legislature in 2022, was at the Capitol on January 6. But he told NBC News that he "never got close to the actual steps" and wasn't aware of the violence until he left the area.
"We need to restore the faith in the election because people are not moving on," he told NBC. "They are just as angry today, a year later, as they were a year ago."
Rocha has been endorsed by Trump, who praised his rhetoric on the 2020 election.
Derrick Van Orden
Van Orden is running for the U.S. House of Representatives in Wisconsin's 3rd congressional district. The district is currently represented by Democrat Ron Kind, who called Van Orden's presence at the Capitol "deeply disturbing."
Van Orden has said he left the "Stop the Steal" rally after rioters began entering the Capitol and that he never went inside the building. He condemned the violence during an interview with WQOW.
Update: 1/3/22, 1:50 p.m. ET: This story was updated with more information and background as well as a statement from Angela Rigas.