Multiple Trump Loyalists Lose in Primaries Amid Jan. 6 Revelations
A number of supporters of Donald Trump who backed his false claims that the 2020 election was rigged lost their primaries on Tuesday even as others won.
A total of eight states held primaries, runoffs or special elections on June 28, with several Trump loyalists on the ballots.
While all 12 candidates the former president explicitly endorsed come out on top, such as in Representative Mary Miller's victory over Representative Rodney Davis in Illinois' 15th district and state senator Darren Bailey winning the GOP primary for Illinois governor, others he did not publicly back but who had denied or raised doubts about the legitimacy of the last election suffered defeats.
The defeats arrived as Trump faces continuing pressure over his attempts to overturn the 2020 election results, amid damning testimony and evidence presented during the January 6 committee's live hearings.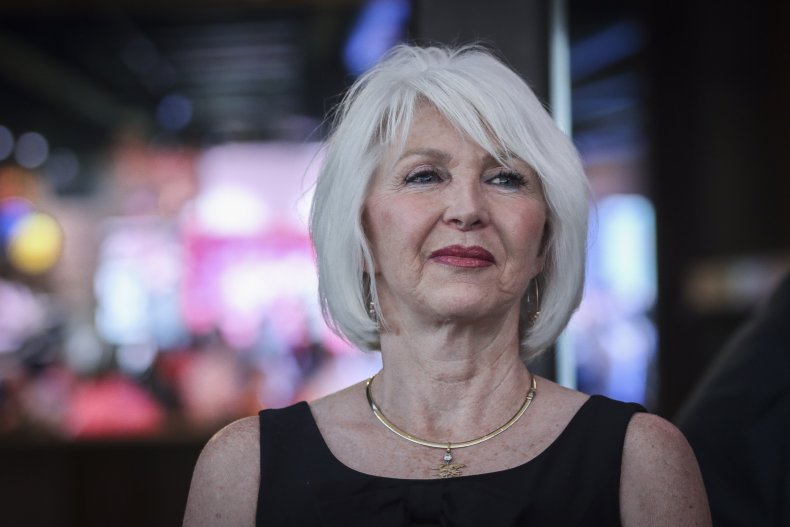 The highest-profile election denier to have lost on Tuesday was Colorado's Tina Peters, the Mesa County Clerk who was hoping to become the Republican nominee for secretary of state in a bid to become Colorado's top election officer.
Peters was defeated by Pam Anderson, the former Jefferson County clerk. Anderson is now set to face incumbent Democratic Secretary of State Jena Griswold in November's midterms.
Peters was one of a number of Trump supporters who falsely claimed the last election was rigged and hoped to be voted into office to oversee statewide policies for elections.
Peters was barred from overseeing elections in Mesa County this year after she was indicted on 10 felony and misdemeanor counts including tampering with election equipment and official misconduct.
She is accused of allowing an unauthorized person into a secure facility during an annual upgrade to Mesa County's secure software update conducted by Dominion employees in May. After the breach, data including passwords from the machines were posted online. Peters denies the charges against her.
Following Tuesday's vote, Peters accused Colorado election officials of "cheating" without evidence beyond suggesting "looking at the results, it's just so obvious that it should be flipped," reported the Associated Press.
"It's not over. Keep the faith," she said.
State Rep. Ron Hanks—a 2020 Election denier who attended the "stop the steal" protests in Washington D.C. on January 6—was also defeated in his bid to become the GOP's Republican nomination for the Senate in Colorado.
Hanks lost the primary to business owner Joe O'Dea, who ran a more mainstream conservative campaign than his political opponents.
In a video to kick off his campaign in October 2021, Hanks recorded himself shooting at an electronic copier dressed up as a Dominion voting machine.
In 2021, Hanks explained his decision to attend the January 6 protest was to "get a read of the nation's Trump supporters, to get in conversations with fellow Americans, to get a sense of what may happen next to combat this stolen election."
A Democrat group in Colorado had pumped millions of dollars in Hanks' campaign as part of a plot for the GOP to have weaker candidates win primaries who would ultimately lose the midterm in November.
Also in Colorado, election denier Greg Lopez lost his bid to become the GOP gubernatorial candidate in Tuesday's primary.
Businessman Lopez, a former Democratic, previously questioned the legitimacy of the 2020 election and promised to pardon Peters' election machine tampering charges if elected.
Lopez was beaten by Heidi Ganahl 53 percent to 47 percent. Ganahl is now hoping to become the first woman elected governor in Colorado when she challenges Gov. Jared Polis in the November midterms.
Elsewhere, Mississippi Rep. Michael Guest beat challenger Michael Cassidy in a run-off for the state's 3rd congressional district on Tuesday.
Guest was accused of being disloyal to Trump by his challenger for voting to support the creation of a bipartisan commission on the January 6 attack.
In a campaign video released in May, Cassidy vowed to push for the entirety of the 2020 Election, as well introduce articles of impeachment against President Joe Biden "on day one" of his time in office.
As noted by FiveThirtyEight, even if election deniers such as Peters, Hanks and Lopez did not win their primaries, at least 15 candidates who either denied or questioned the legitimacy of the 2020 election still won their Republican primaries on Tuesday.
Trump had backed 12 candidates who were on the ballot in Tuesday's elections, including Colorado Rep. Lauren Boebert and Utah Senator Mike Lee., all of whom went on to win their election.
However, apart from Bailey in Illinois, all the candidates were sitting incumbents, meaning they were already the overwhelming favorite to win.