Video of Mary Miller Calling Roe Ruling 'Victory for White Life' Goes Viral
Footage of U.S. Representative Mary Miller calling the Supreme Court's overruling of Roe v. Wade a "victory for white life" has gone viral online.
Miller, Republican for Illinois, made the remark during a speech at a rally in Mendon, Illinois, alongside former President Donald Trump on Saturday.
She praised Trump for his role in selecting three justices for the Supreme Court during his term in office who later went on to vote to overturn Roe V Wade on Friday, June 24.
She added: "President Trump, on behalf of all the MAGA patriots in America, I want to thank you for the historic victory for white life in the Supreme Court yesterday."
The crowd then applauded Miller after she gestured for them to clap.
Miller's spokesperson told Newsweek that she had meant to say "victory for right to life."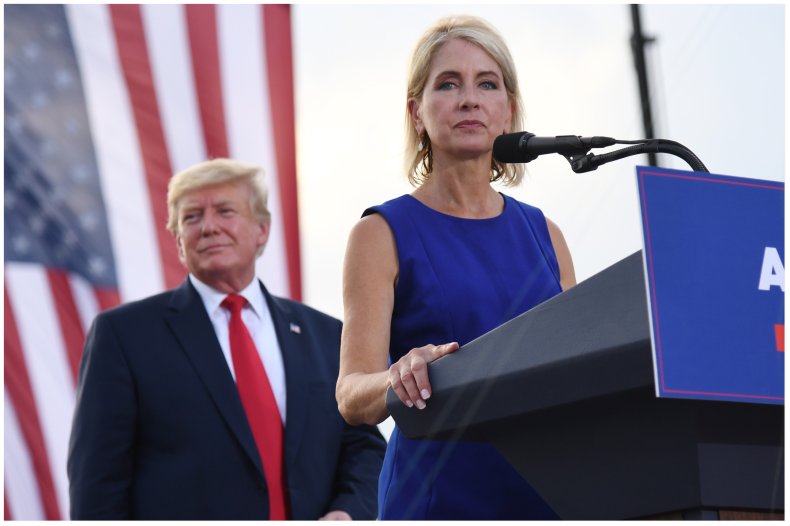 In 2019, Black or Hispanic abortion rates were 132,878 and 72,509 respectively, according to Centers for Disease Control and Prevention figures.
That same year the number of reported abortions among those who were classified as white stood at 115,486, and there were 72,509 abortions in the group labeled "other."
Miller's comment was shared by Twitter account @Acyn overnight on Saturday. It has since been viewed more than 8.4 million times on the social media platform.
The Republican's comments were criticized online.
Former U.S. Attorney for the Northern District of Alabama, Joyce Alene, tweeted: "White life. There it is. The quiet part out loud followed by applause."
The New Yorker staff writer Philip Gourevitch added: "She doesn't just say it - she reads it carefully from a prepared script, then claps to stoke applause."
Atlantic writer Jemele Hill posted: "Even if you were foolish enough to believe Rep. Mary Miller accidentally slipped up, peep the crowd and former president's reaction. Just awful human beings."
Miller's spokesperson Isiah Wartman addressed her comment in a statement sent to Newsweek and said she had meant to say "victory for right to life" and added "you clearly see Rep. Miller looking down at her paper and can see the stumble. Happens to everyone."
Wartman later addressed the criticism that had been leveled at Miller branding it as "fake news."
He continued: "To suggest that she is somehow not committed to defending all life is disgusting. She has the most pro-life voting record in Congress and is the proud grandmother of two beautiful children with down syndrome.
"The fake news media is targeting Mary Miller because she is doing everything she can to stop the Democrats from allowing the massacre of babies like her grandchildren."
Miler is currently running for re-election in Illinois redrawn 15th Congressional District against Republican Rep. Rodney Davis and has been endorsed by Trump.
The Republican has previously courted controversy after she quoted Nazi leader Adolf Hitler during a speech at the Moms for America "Save the Republic" rally on January 4, 2021.
She told the crowd: "Hitler was right on one thing. He said, 'whoever has the youth has the future.' Our children are being propagandized. This is the battle."
Miller later apologized for the comment, having initially defended them.
The Illinois Congresswoman is a member of the House Freedom Causes, a group that enthusiastically supports Trump and includes some of the Republican Party's most controversial representatives.
Among the caucus's members are Georgia's Marjorie Taylor Greene, Lauren Boebert from Colorado and Florida's Matt Gaetz.
Miller and other members of the caucus voted against the certification of Joe Biden's 2020 election victory.