Former Mike Pence aide Diego Morales' shocking victory in the Indiana secretary of state Republican primary is the latest example of a candidate who backed Donald Trump's false election claims that potentially could end up overseeing statewide policies for elections.
Morales, who beat incumbent Holli Sullivan following a second round of voting on Saturday, was previously quoted by the Associated Press as calling the 2020 election a "scam."
The Republican has also called for more voting restrictions in the state, including vowing to cut in half the number of early voting days before each election, from 28 days to 14, as well as requiring new voters to prove their United States citizenship when registering.
Following the primary election, Morales will now face Democrat candidate Destiny Scott Wells and Libertarian candidate Jeff Maurer in November's midterms to determine who will be Indiana's next secretary of state.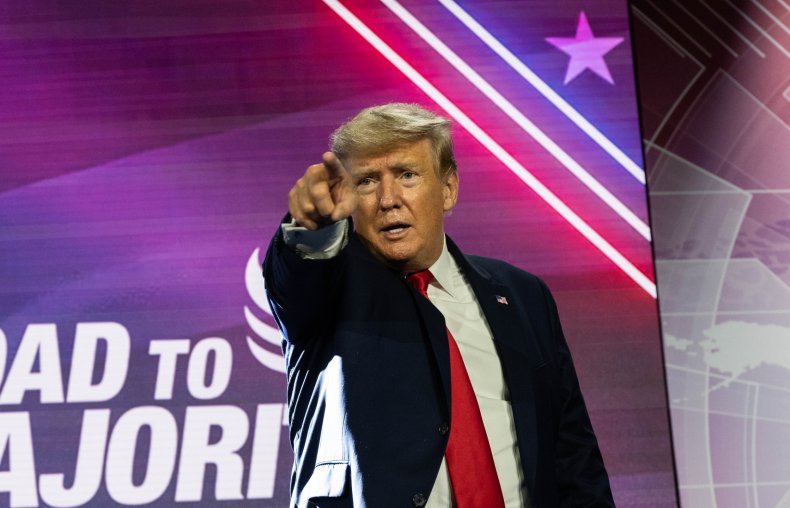 Political scientist Norman Ornstein tweeted that if ultimately victorious, Morales could lead the Indiana GOP into the same "racist, homophobic and insurrectionist territory" as the Republican Party in Texas, which recently declared falsely that President Joe Biden did not legitimately win the 2020 election. Numerous state audits have determined that Biden was elected fairly and that there was no election fraud in 2020.
"We reject the certified results of the 2020 Presidential election, and we hold that acting President Joseph Robinette Biden Jr. was not legitimately elected by the people of the United States," Texas GOP said in a resolution passed at the state party's convention in Houston on Saturday.
However, Morales has downplayed suggestions that he does not consider Biden the rightful president despite previously backing Trump's unfounded election fraud claims.
"I proudly voted for Trump twice, but Joe Biden was elected president in 2020 and legitimately occupies that office today," he said in a statement to the Evansville Courier & Press.
Morales added that he still believes there were a "number of irregularities" in that election, including the Pennsylvania secretary of state changing the election rules only 30 days before election day.
"Those kinds of actions are unacceptable. I am running for secretary of state to ensure that Hoosiers can trust their vote will be counted," he added.
Morales' victory arrived after Jim Marchant, an even greater supporter of the "Big Lie," also won the Republican nomination for secretary of state in Nevada.
Marchant, who told NBC News last week that he would not have certified the 2020 results if he was the secretary of state two years ago, is one step closer to being the state's top election official after winning the GOP primary on June 15.
There are fears that Trump's allies are putting themselves forward for secretary of state roles across the country in order to declare him the winner of the 2024 election, even if the ballots state otherwise.
There are at least 23 candidates in 19 states who falsely claim that the last election was rigged against Trump who are running for secretary of state, according to the States United Action, a nonpartisan group that tracks secretary of state and gubernatorial races.
The former president also endorsed Doug Mastriano in the Pennsylvania GOP gubernatorial primary, a far-right candidate who was part of the January 6 "stop the steal" protests and had attempted to overturn the 2020 election results.
Mastriano went on to win the highly-contested GOP primary in May, and will now face Democratic Attorney General Josh Shapiro in November. In Pennsylvania, it is the governor who decides who should be the secretary of state.
In Indiana, Democrats do not appear concerned about Morales' primary victory. The party noted that Morales was previously fired in 2009 by former Indiana Secretary of State Todd Rokita after eight months due to "incomplete" work, "inefficient execution" and a "lack of focus."
Two years later, Morales had left another role under former Secretary of State Charlie White, who was removed from office in 2012 after being convicted of numerous felonies, including voter fraud.
"With Diego Morales, the Indiana Republican Party has nominated an individual who was fired from Todd Rokita's—yes, Todd Rokita's—office, thinks the 2020 election was a 'scam', wants every Hoosier voter to prove their U.S. citizenship when they vote, and would cut the state's early vote calendar in half," Indiana Democrats said in a statement to the Indianapolis Star.
Newsweek reached out to Morales and the Indiana GOP for comment.