Mesa County Clerk Tina Peters has reportedly turned herself in to the Mesa County Sheriff on Wednesday, hours after a grand jury indicted the county clerk, who has been at the center of a months-long investigation into an alleged security breach of elections equipment.
Peters called the grand jury and subsequent indictment a "tactic long employed by the Democrat Party" in a statement issued by Peters' campaign for her recently-announced candidacy for Colorado Secretary of State that was tweeted by 9 News Denver reporter Steve Staeger.
Peters was previously arrested over a refusal to turn over an iPad she was allegedly using to record a court hearing to law enforcement,and in Novemberhad her Colorado home searched by a law enforcement task force that included the FBI, which she later described during appearances on MyPillow CEO Mike Lindell's online news channel.
She was indicted on 10 criminal counts by the grand jury Wednesday, including three felony counts of attempting to influence a public servant, criminal impersonation, two counts of conspiracy to commit criminal impersonation and identity theft, along with other misdemeanor charges, according to the Mesa County District Attorney's Office.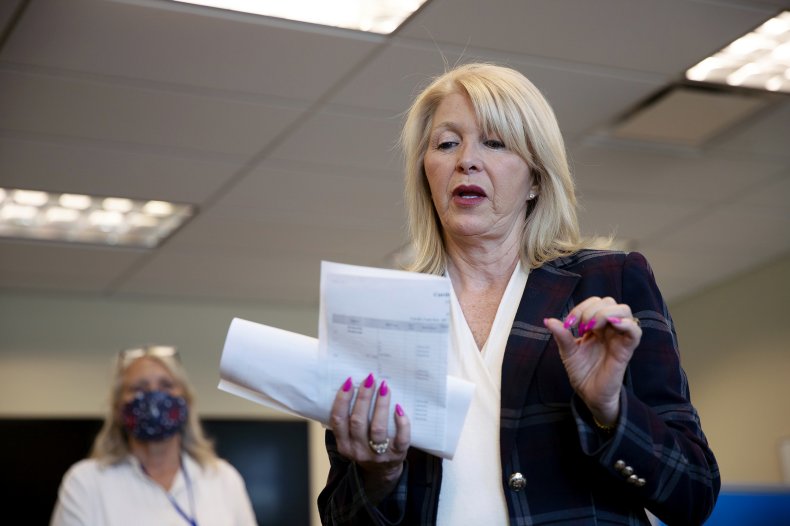 The statement also called the charges and allegations against her the latest in a "series of politically motivated accusations" from current Colorado Secretary of State Jena Griswold and District Attorney Daniel Rubenstein.
In January, Peters reportedly rejected an offer from the state that would have allowed her to return to her duties overseeing elections if she retracted and disavowed several public statements she had made regarding the 2020 election. Peters has become an outspoken advocate for former President Donald Trump's unsubstantiated claims that the 2020 election was stolen through widespread voter fraud.
In a Facebook Live event recorded around the time she rejected the offer, Peters reportedly discussed voting machines, saying that "we've got to get those machines so they are transparent to the people and they're not able to do what they're designed to do."
In May 2021, Peters allegedly accessed a secure room in a Mesa County building and allowed a non-employee to enter the room. In the weeks after, pictures and videos of voting equipment that was stored in the room were discovered on right-wing social media and websites.
Following an investigation that determined the machines were in Mesa County, Griswold sued to have Peters and her deputy clerk Belinda Knisley, also charged in Wednesday's indictment, removed from their posts overseeing elections. The lawsuit prevented the pair from being involved with the elections that took place in the county in November 2021.
Griswold filed a similar lawsuit in January to bar Peters and Knisley from working the 2022 elections, as well.
In August 2021, Peters attended a "cybersymposium" hosted by Lindell where a "copy" of the hard drive of Mesa County's voting systems was allegedly distributed and a version was posted online, according to attendees.The release of the hard drive could have serious implications, as it reportedly included software from Dominion Voting Systems that is used across the country, the Associated Press reported.
The indictment alleges that Peters and Knisley "devised and executed a deceptive scheme which was designed to influence public servants, breach security protocols, exceed permissible access to voting equipment, and set in motion the eventual distribution of confidential information to unauthorized people."
Peters has maintained that while the 2020 election overall was fraudulent, Mesa County, which voted largely in favor of Trump, had a secure election with results that could be trusted.
Update 03/09/22, 7:07 p.m. ET: This article was updated following reports that Peters has turned herself in to the Mesa County Sheriff, along with a statement released by her campaign.
Update 03/09/22, 2:04 p.m. ET: This article was updated with additional information.