Donald Trump Slammed by MAGA Supporters After Tudor Dixon Endorsement
A number of Donald Trump supporters have turned on the former president after he endorsed Tudor Dixon to become the next governor of Michigan.
Trump announced on Friday night that he will be backing Dixon, a former political commentator who backs the false claims the 2020 Election was rigged, in the GOP primary on August 2.
The winner of Tuesday's race will go up against Gov. Gretchen Whitmer in November's midterms.
In a statement announcing his endorsement, Trump described Tudor as a "Conservative Warrior" who will "stand up to the Radical Left as they try to indoctrinate our children and is ready to take on one of the worst Governors in the nation."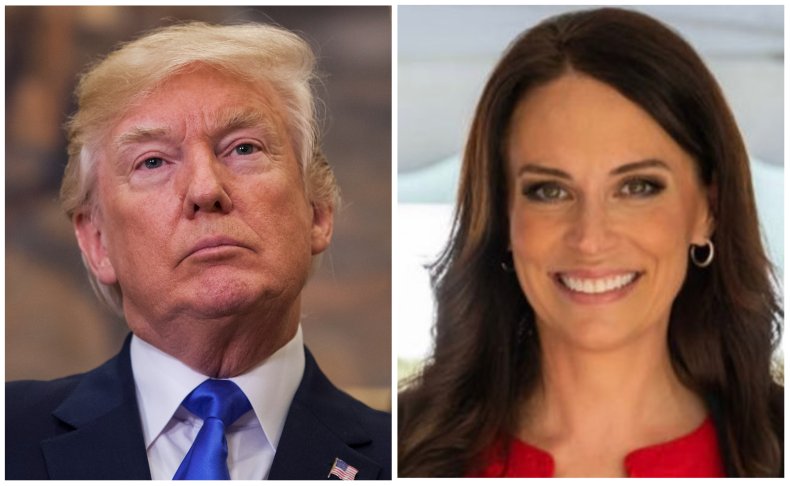 However, a number of MAGA supporters have reacted negatively to Trump's backing of Tudor, believing that she is an establishment candidate while pointing to the huge support and funding she has received from Trump's former Education Secretary Betsy DeVos, who resigned from her role one day after the January 6 attack.
Trump supporters irate at the endorsement, which had been rumored to arrive for months, also accused Dixon of being a Republican in Name Only [RINO].
In the comments underneath Trump's announcement of his Dixon endorsement, Truth Social user LibertyPoltie wrote: "Bad move Trump—lost my vote in 2024 #RINO supporter."
A second Truth Social user added: "He lost mine and my families! [sic] She's a Devos funded establishment RINO and he just supported it. I'm out. Thousands of Michiganders I know are."
The DeVos family is one of the biggest and most influential political donors in Michigan.
The family and their allies have already paid more than $1 million into political action committees which have paid for adverts supporting Dixon, according to the Detroit Free Press.
Trump supporters also expressed their anger at the endorsement of Tudor on Twitter.
"I don't like who President Trump endorsed for Governor of Michigan. Tudor Dixon is a Rino and is paid off by Devos! I will be voting for Ryan Kelley for Governor of Michigan," tweeted user @Lisa111974.
Fellow Twitter user @SuppressedName wrote: "Donald Trump, did technically say the other night, that he is a politician now! I'm curious if he meant, he's a part of the Washington swamp? Taking the Devos money for Tudor Dixon says to me he is!"
In response to a question on Twitter if people trust Trump, the @NauticalMiles, who has the hashtag MAGA in their Twitter bio, said: "I'm not sure after he endorsed Tudor Dixon in Michigan, a Never Trumper Candidate!"
In his endorsement statement, Trump said when he first met Tudor she "was not well known, but I could tell she had something very special."
"She delivered a powerful speech on how she would lead Michigan, fight for Election Integrity, turn around the Economy, and protect the future of Michigan for every child," Trump added. "Then, after recognizing her during my Rally speech in April, her campaign took off like a rocket ship. The great people of Michigan got it—just like I did."
In a tweet after acknowledging the statement, Dixon said: "I am honored to have President Trump's endorsement. We will unite Michigan and defeat Gretchen Whitmer."
Newsweek has contacted Trump and Dixon for comment.